AMD hat mit dem Catalyst 15.9.1 kurzfristig einen Beta-Treiber nachgeschoben, in dem das Speicherleck geschlossen worden sein soll, welches im Catalyst 15.9 Beta für Probleme gesorgt hatte. Außerdem beinhaltet das Beta-Treiberpaket Optimierungen für den DirectX-12-Benchmark in Fable Legends und behebt einige Bugs. Eine vollständige Liste der vom Treiber unterstützten Hardware sowie sämtlicher behobener und bekannter Probleme kann den offiziellen Release Notes entnommen werden. Solltet Ihr von Problemen betroffen sein, die darin nicht aufgeführt werden, dann könnt Ihr das offizielle Catalyst Crew Feedback Form verwenden, um das Treiber-Team darauf aufmerksam zu machen. Eine Hilfestellung für das Formular könnt Ihr hier finden.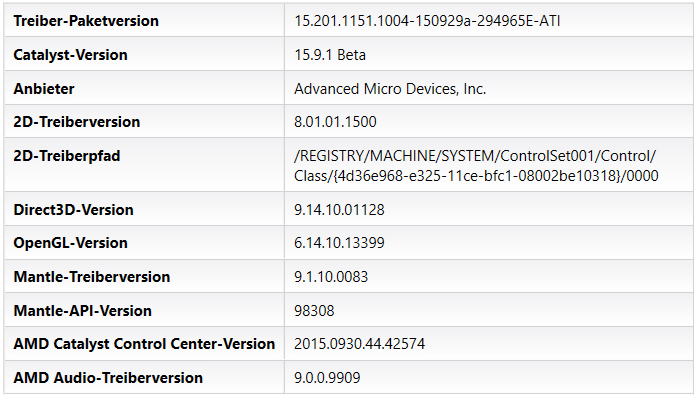 AMD Catalyst 15.9.1 Beta - CCC-Softwareinformation
Die Treiber stehen für Windows 10, 8.1 und 7 zum Download bereit. Windows 8 wurde letztmals mit dem Catalyst 14.4 WHQL offiziell unterstützt. Vista-Nutzer können den Treiber ebenfalls installieren, allerdings hat uns AMD zu verstehen gegeben, dass Microsofts ungeliebter Spross in der Qualitätssicherung und Entwicklung nur noch eine untergeordnete Rolle spielt.
Was ist neu?
Highlights of AMD Catalyst 15.9 Beta Windows Driver
Performance Optimizations
Star Wars: Battlefront Beta - Performance and quality optimizations
Fable Legends : Includes the latest DirectX 12 optimizations for the Fable Legends: Benchmark
Resolved Issues:
[77609] A video memory leak can occur when browser and other windows are resized

[59474] Diablo 3 crashes in the Act 2 Desolate Sands area of the game
[59081] The AMD Catalyst Control Center 'update' option fails to download the latest driver
[58800] Dragon Age: Inquisition may crash if launched in Mantle mode
[58781] The DirectX Diagnostic tool does not report DirectX 12 available on supported products
[58677] World of Warships may crash on some AMD Radeon HD5000 and HD6000 series products
[58646] Assassin's Creed Unity may experience minor frame stutter when AMD CrossFire mode is enabled
[58485] Anti Aliasing settings not being retained after changes are applied
[58450] Some BENQ 144hz Freesync monitors may lose the signal while uninstalling the driver
[58495] DiRT Rally crashes during gameplay and benchmarking when launched in DirectX 11 mode on some BENQ 144HZ Freesync monitors
Known Issues:
[57189] GTA V crashes on some AMD Radeon R9 390X GPU's
[76899] Star Wars: Battlefront Bata - Flickering may be experience if AMD Crossfire is enabled

[56099] Corruption may occur in DiRT Rally with CMAA enabled with Portrait SLS and AMD CrossFire mode enabled

[59792] A black screen may be encountered on bootup on Windows 10 systems. The system will ultimately continue to the Windows login screen.
[76930] Intermittent playback issues with Cyberlink PoweDVD when connecting to a 3D display with an HDMI cable
[76924] A TDR error may be experienced while toggling between minimized and maximized mode while viewing 4K Youtube content
[59475] Elite: Dangerous - poor performance may be experienced in SuperCruise mode
[59298] Final Fantasy XIV - Heavensward may crash when run in DirectX 11 mode and borderless window mode
[58870] Some applications may fail to launch on some Mobility platforms when launched in High Performance mode
[425417] Windows 10 driver installation may halt on some systems with an AMD 990FX chipset and AMD CrossFire enabled
[58506] Mad Max - Color corruption is observed when Alt+Ctrl+Del is pressed followed by the Escape key
Achtung! Wie bei allen Beta-, Release-Candidate-, Preview- und Hotfix-Treibern sei auch hier der Hinweis angebracht, dass es sich nicht um eine vollumfänglich getestete Software handelt, in der auch schwerere Fehler noch enthalten sein können. Der angebotene Beta-Treiber richtet sich in erster Linie an Enthusiasten, die stets die aktuellen Features und Optimierungen nutzen wollen. Er sollte jedoch nicht auf Produktivsystemen installiert werden!
Download:
Links zum Thema: