AMD hat die erste Version des neuen Grafiktreibers Radeon Software Crimson Edition veröffentlicht, die eine Vielzahl neuer sowie verbesserter Features beinhaltet. Detaillierte Informationen hierzu können der zugehörigen News entnommen werden. Besitzer älterer Grafikkarten sollten beachten, dass VLIW-basierte Radeons nicht mehr unterstützt werden – selbiges gilt für entsprechende APUs mit VLIW-Grafikkern. Für jene Modelle hat AMD einen separaten Betatreiber bereitgestellt. Das Treiber-Team will sich künftig vollständig auf die GCN-Architektur konzentrieren.
Eine vollständige Liste der vom Treiber unterstützten Hardware sowie sämtlicher behobener und bekannter Probleme kann den offiziellen Release Notes entnommen werden. Solltet Ihr von Problemen betroffen sein, die darin nicht aufgeführt werden, dann könnt Ihr das offizielle Catalyst Crew Feedback Form verwenden, um das Treiber-Team darauf aufmerksam zu machen. Eine Hilfestellung für das Formular könnt Ihr hier finden.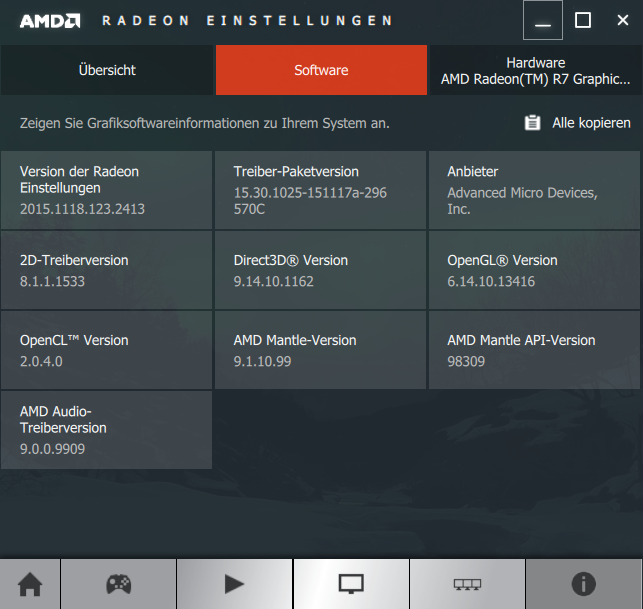 AMD Radeon Software Crimson Edition WHQL - CCC-Softwareinformation
Die Treiber stehen für Windows 10, 8.1 und 7 zum Download bereit. Windows 8 wurde letztmals mit dem Catalyst 14.4 WHQL offiziell unterstützt. Vista-Nutzer können den Windows-7-Treiber ebenfalls installieren, allerdings hat uns AMD zu verstehen gegeben, dass Microsofts ungeliebter Spross in der Qualitätssicherung und Entwicklung nur noch eine untergeordnete Rolle spielt.
Was ist neu?
Highlights of AMD Radeon Software Crimson Edition
Radeon Software Crimson Edition is AMD's revolutionary new graphics software that delivers redesigned functionality, supercharged graphics performance, remarkable new features, and innovation that redefines the overall user experience.
Radeon Settings:
Radeon Settings is the new, streamlined user interface, engineered to bring out the best of AMD graphics hardware. User-friendly and feature-rich, Radeon Settings is lightning fast and starts upto 10x times faster1 than the previous AMD Catalyst™ Control Center. Radeon Settings provides a brand new game manager, improved AMD Overdrive options per game and new video, display and Eyefinity tabs.
New Install UI:
The driver installer now provides a brand new, streamlined user experience with a reduced number of clicks required, providing better usability and an easy to install user experience.
Liquid VR:
The AMD Radeon Software Crimson edition is the first publicly available driver that enables all LiquidVR features, which are currently being validated and tested by VR headset manufacturers and ecosystem partners.
Asynchronous Shaders:
A feature that has been extensively used by game console developers is now available to PC Gamers. Asychronous Shaders break complex serial workloads into smaller parallel tasks, thereby allowing idle GPU resources to be used more efficiently and parallel workloads allow taskes to be completed much faster.
Shader Cache:
The shader cache feature allows complex shaders to be cached, thereby resulting in reduced game load times, lower CPU usage and reduced stuttering and latency during gameplay2.
Optimized Flip Queue Size:
The optimized Flip Queue Size provides users with the very latest keyboard and mouse positional information during gameplay to reduce input latency on DirectX 9 , DirectX 10 and DirectX 11 applications. This feature is a driver optimization, therefore it is automatically enabled and requires no user configuration or setup.
Freesync Enhancements:
Minimum/Maximum display rate is now listed in Radeon Settings
Low framerate compensation to reduce or eliminate judder when application FPS falls below the minimum refresh rate of an AMD Freesync enabled display
New support for AMD Freesync with AMD Crossfire in DirectX 9 titles
Custom Resolution Support:
This feature provides users more control over display capabilities allowing the user to create custom display profiles to attempt to drive their display with chosen resolution, timings, refresh rates and pixel clocks.
Frame Pacing Enhancements:
Frame pacing support is now extended to DirectX 9 titles.
Frame Rate Target Control Enhancements:
FRTC enhancements include: power saving capabilty, support for DirectX 9 titles and an extended range for target control (30 - 200 FPS).
Updated Video Feature support for 'Carrizo' products:
FluidMotion for smoothing playback of 24/30 FPS video using Cyberlink PowerDVD 15 for Blu‐Ray playback
Improved edge enhancement for sharper images
Improved de‐interlacing for interlaced content
Power Optimization:
Improved power optimizations for video, gaming and FRTC enabled gaming environments (AMD Radeon R7 360, AMD Radeon R9 380, AMD Radeon R9 390 series and AMD Radeon Fury series)..
Directional Scaling:
Enhanced image quality for 1080p media content scaled to 4K resolution using adaptive directional filtering technology (AMD Radeon Fury products).
Dynamic Contrast Update:
Qualative changes are now content adaptive and provides video enthusiasts with improved video quality and contrast settings (AMD Radeon R8 285, AMD Radeon R9 380 and AMD Radeon Fury products).
DisplayPort to HDMI 2.0 support:
Provides full support for DisplayPort to HDMI 2.0 connections via certified dongles.
Resolved Issues:
[57198] GTA V - game crashes with a TDR error
[59298] Final Fantasy XIV: Heavensward - game crashes when run in DirectX 11 mode on some AMD Radeon R9 390x series products
[76921] The AMD Radeon Settings application will use the system default browser when launching web content
[77703] A crackling noise is heard when running a 3D application in AMD Crossfire mode with Vsync enabled
[78455] Autodesk Max 2016 - A crash may be experienced when launching the application on some AMD Radeon products
[78465] Prepar3D - A TDR error may be experienced when launching the application on some AMD Radeon R9 200 and AMD Radeon R9 300 series products
[80838] A TDR error may be experienced when playing fullscreen video using the Windows 10 Movies & TV app on some laptops with AMD processors and GPU's
[80840] Assassin's Creed Syndicate - Poor scaling may be experienced when launching the game in AMD Crossfire mode
[80939] Secondary adapter may display error code 43 when enabling/disabling AMD Crossfire
[81499] AMD Freesync does not function on some Intel + AMD laptop systems under Windows 7 and Windows 8.1
[81531] Assassin's Creed Syndicate - Flickering may be observed on rain drops that fall on in game characters
[81593] A BSOD error may be encountered when launching Bluray / Windows Media Player with a wireless display
[81790] Skype - The system may hang when connecting to a 1080p video call
[81827] Tom Clancy's Rainbow Six Siege - Random corruption may be experienced in-game
[99999] AMD Freesync™ does not function if a Youtube video is playing alongside a 3D application
Issues Resolved since AMD Catalyst 15.7.1 and included in this driver
[58233] Ashes of the Singularity may fail to launch on some GPUs with 2GB Video Memory.

[58435] Driver installation may halt on some configurations
[58450] Some BENQ 144hz Freesync monitors may lose the signal while uninstalling the driver
[58485] Anti-Aliasing settings not being retained after changes are applied
[58495] DiRT Rally crashes during gameplay and benchmarking when launched in DirectX 11 mode on some BENQ 144HZ Freesync monitors
[58646] Assassin's Creed Unity may experience minor frame stutter when AMD CrossFire mode is enabled
[58677] World of Warships may crash on some AMD Radeon HD 5000 and HD 6000 series products
[58781] The DirectX Diagnostic tool does not report DirectX 12 available on supported products
[58800] Dragon Age: Inquisition may crash if launched in Mantle mode
[59081] The AMD Catalyst Control Center 'update' option fails to download the latest driver
[59403] Ashes of the Singularity ‐ A 'Driver has stopped responding' error may be experienced in DirectX 12 mode
[59474] Diablo 3 crashes in the Act 2 Desolate Sands area of the game
[76924] A TDR error may be experienced while toggling between minimized and maximized mode while viewing 4K YouTube content
[76930] Intermittent playback issues with Cyberlink PowerDVD when connecting to a 3D display with an HDMI cable
[77073] Star Wars: Battlefront is able to use high performance graphics when launched on mobile devices with switchable graphics
[77176] A TDR error is experienced when launching Star Wars: Battlefront while a You Tube video plays in the background
[77255] The secondary graphics adapter is missing in the Device Manager and the AMD Catalyst Control Center after installation of the driver
[77754] A TDR error or crash is experienced when running the Unreal Engine 4 DirectX benchmark
[77786] Video playback of MPEG2 video fails with a playback error/error code message
[77970] Ashes of the Singularity may crash on some AMD 300 series GPUs
[78654] An error may be experienced when installing the latest graphics driver package on some AMD Radeon R9 380 series products
[79577] The Intel graphics is flagged in an error state in the Device Manager in systems with switchable graphics
[79796] The Oculus runtime may crash on launch
[419871] BSOD observed when performing an express uninstall of the display driver in 4K resolution
[421165] Battlefield Hardline becomes unresponsive after toggling the in-game Vsync option.
[421444] Transcoded clips may fail to play on some Drag and Drop devices
[421570] Audio driver is banged out for non-primary ASIC after enabling CF and rebooting system
[422056] 3DMark Farandole may crash when AMD Mantle is selected from the test suite
[422249] A 'missing Dll' error message may be experienced while doing an express uninstall of the current driver
[422249] DLL missing popup message may be encountered when performing an express uninstall of the display driver.
[422261] Mantle-based application may crash when system is woken from sleep mode
[422273] A crash may be experienced on some AMD Radeon R9 300 series products while running the Unigene benchmark
[422291] Battlefield™ 4 may crash if run in Mantle mode with AMD Crossfire enabled
[422342] Cyberlink PowerDVD plays 3D content in 2D mode
[422621] With quad AMD CrossFire mode enabled, TDR or blank display occurs when launching DirectX 9 application in full screen
[422671] Flickering corruption may occur in Dirt Rally with Advanced Blending enabled
[422674] Corruption may occur in DiRT Rally with CMAA enabled with Portrait SLS and AMD CrossFire mode enabled
[422675] Intermittent BSOD occurs when launching a race in Dirt Rally
[422797] Display profiles are not retained after driver upgrade from 14.502 to 15.20
[422800] Some "Kaveri" APU-based systems may experience minor performance drop on PCMark8 video_group_chat & Casual Gaming tests
[422806] Battlefield Hardline crashes on pressing Ctrl+Alt+Del while running in AMD Mantle mode
[422853] Some systems experience a minor performance drop from 15.15 to 15.20 in The Witcher 3: Wild Hunt with HairWorks enabled
[423759] Unable to apply Fill mode in Eyefinity if 2560x1600 and 2560x1440 resolutions are used together
[423924] Unable to create an Eyefinity SLS if one of the displays is a MST display device
[425417] Windows 10 driver installation may halt on some systems with an AMD 990FX chipset and AMD CrossFire enabled.
[425432] Some BENQ 144hz Freesync monitors may lose the signal while uninstalling the driver
[425484] DiRT Rally crashes during gameplay and benchmarking when launched in DirectX 11 mode on some BENQ 144HZ Freesync monitors
[425496] Mad Max ‐ Color corruption is observed when Alt+Ctrl+Del is pressed followed by the Escape key

[425659] Assassin's Creed Unity may experience minor frame stutter when AMD CrossFire mode is enabled
Known Issues:
[58978] Dirt Rally - A crash may be experienced starting a new race with AMD Crossfire and AMD Freesync enabled
[78139] PowerDVD - 3D playback may fail on some configurations using an HDMI 2.0 dongle
[79428] Starcraft 2: Flickering may be observed in the 'Episode 3' campaign
[80251] Fable Legends: The DirectX 12 benchmark may fail to launch on some configurations
[80836] Call of Duty: Black Ops 3 - Flickering or poor performance may be experienced when running in AMD Crossfire mode
[81402] Assassin's Creed Syndicate - A crash may be experienced when setting game to Ultra-High graphics mode
[81403] Flickering may be observed on some Freesync monitors while playing Wolfenstein - The New Order and Battlefield: Hardline with Vsync disabled
[81448] A system restart may be experience when waking the system from sleep mode on some systems with Intel processors
[81489] Unable to create 4x1 or 2.1 portrait mode SLS with 4K displays
[81651] Star Wars: Battlefront - texture corruption may be experienced if the game "Field of View" setting is > 100
[81736] Call of Duty Online - the game may crash if the Printscreen key is pressed on a 4K monitor
[81777] Launching a game from the Game Manager may launch on a single display after enabling and disabling AMD Crossfire in a 3x1 AMD Eyefinity setup
[81809] A crash may be experienced if an HDMI display is a cloned display device on an HP Envy 15 notebook
[81844] Unable to change resolution if a wireless display is the only connected display
[81856] Marginally increased power consumption may be observed during video playback
[81859] Flickering may be experienced on some monitors when AMD Freesync is enabled
[81915] Assassin's Creed Syndicate - Building textures may be missing on some AMD Freesync displays with Vsync enabled
[82083] Ark Survival Evolved - Poor performance may be experienced when running in AMD Crossfire mode
[82093] Star Wars : Battlefront - Some flickering may be experienced in shaded areas of the screen while game levels are loading
[82213] Star Wars : Battlefront - Some users may experience minor flickering or corruption at different game location or while viewing the in-game cinematics
[82387] Assassin's Creed Syndicate - The game may crash if the Gaming Evolved "In Game Overlay" is enabled. A temporary workaround is to disable the AMD Gaming Evolved "In Game Overlay"
Download:
Der AMD Catalyst Mobility für alle AMD Radeon R9 M200 sowie R9 M300 Series wurde ebenfalls aktualisiert und bietet offiziell auch Unterstützung für die Enduro-Technologie. Folgende Notebooks werden allerdings nicht offiziell von dem Treiberpaket unterstützt:
Any notebook launched after this driver release.
Toshiba notebooks (please check with your notebook OEM for driver support for these notebooks)
Sony VAIO notebooks (please check with your notebook OEM for driver support for these notebooks)
Panasonic notebooks (please check with your notebook OEM for driver support for these notebooks)
Komplettpakete für Notebooks:
Links zum Thema: