Note­pad++ ist ein frei­er Text­edi­tor für Win­dows, der unter ande­rem die Syn­tax gän­gi­ger Pro­gram­mier­spra­chen her­vor­hebt und gegen­über dem Win­dows-Ori­gi­nal eini­ge Zusatz­funk­tio­nen bie­tet. Des wei­te­ren kön­nen Plugins instal­liert wer­den, die den Funk­ti­ons­um­fang zusätz­lich erwei­tern.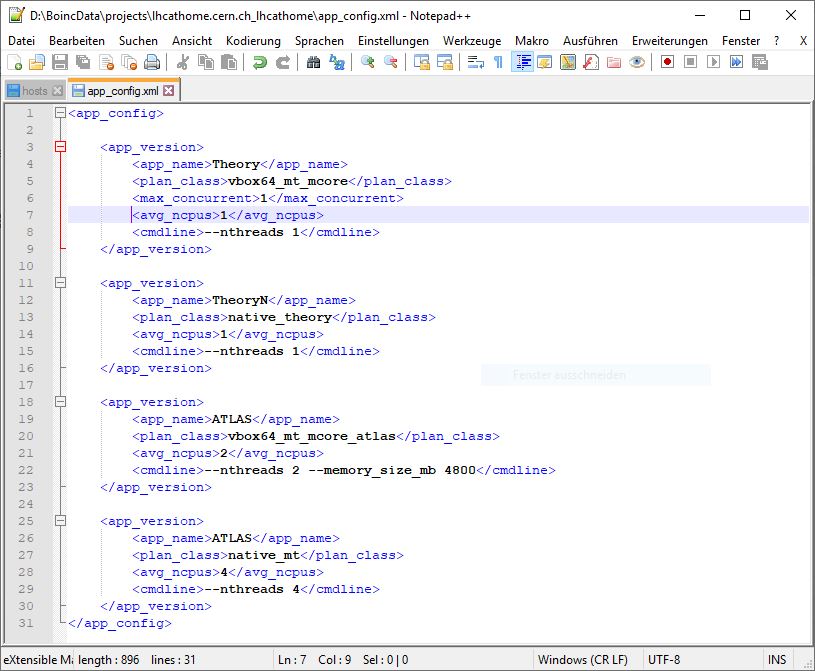 Chan­ge­log:
Notepad++ v7.8 enhancements

&

bug-fixes:

Upgrade Scin­til­la from 4.1.4 to 4.2.0
Fix non Uni­code enco­ding pro­blem in non-Wes­tern language(Chinese or Tur­kish).
Add "No to All" and "Yes to All" opti­ons in Save dia­log.
Add the com­mand line argu­ment "-open­Fol­d­er­sAs­Workspace" to open fol­ders in "fol­der as workspace" panel. Examp­le: note­pad++ ‑open­Fol­d­er­sAs­Workspace c:\src\myProj01 c:\src\myProj02
Enhan­ce plugin sys­tem: allow any plugin to load pri­va­te

DLL

files from the plugin fol­der.
Fix File-Rena­me fai­ling when new name is on a dif­fe­rent dri­ve.
Make "Clear all marks", "Inver­se Book­mark", "Remo­ve Con­se­cu­ti­ve Dupli­ca­te Lines"

&

"Find All Cur­rent Docu­ment" to be macro record­a­ble.
Make "Com­mand Argu­ment Help" Mess­a­ge­Box modal.
Fix Fol­der as Workspace crash and "queue over­flow" issu­es.
Make Com­bobox font mono­s­pace in Find dia­log.
Fix fol­ding in user-defi­ned lan­guages for non-win­dows line endings.
Fix crash of Fol­der as Workspace when too many direc­to­ry chan­ges hap­pen.
Fix '-noses­si­on' over­wri­tes config.xml issue.
Fix the crash due to

NPPM_DESTROYSCINTILLAHANDLE

mes­sa­ge.
Impro­ve

GUI

in Find dia­log for Find Pre­vious

&

Find Next but­tons.
Fix Sort Line as Inte­ger regres­si­on.
Add more

OS

infor­ma­ti­on to debug info.
Fix tab drag­ging issu­es under

WINE

and Reac­tOS.
Fix indent indi­ca­tors con­ti­nue to fol­lo­wing code blocks for Python.
Fix Python fol­ding col­lap­se issue.
Fix crash when sor­ting "out of ran­ge" columns.
Fix find 2 times for the same occur­rence in both ori­gi­nal and clo­ned docu­ments issue.
Fix com­mand line issu­es whe­re file­na­mes have mul­ti­ple white spaces in them.
Fix Docu­ment Pee­ker con­stant­ly chan­ging focus pro­blem.
Make back­ward direc­tion check­box be also on Find dialog's Mark tab.
Add 2 new columns for

HTML

Code in the Cha­rac­ter Panel.
Fix "clear all marks in find dia­log also remo­ves book­marks" issue.
Enhan­ce sup­por­ted lan­guage (on func­tion list or auto-com­ple­ti­on):

LISP

, BaanC,(

PL

/)

SQL

&

COBOL

.
| | |
| --- | --- |
| Down­load: | Note­pad++ |
| Ver­si­on: | 7.8 |
| Datei­grö­ße | 3,35 MiB |
| Ver­öf­fent­licht am: | 11.10.2019 |
| Betriebs­sys­tem: | Win­dows |
| Lizenz: | Free­ware |
| Web­sei­te | Note­pad++ |