For all tho­se gamers buil­ding a white-the­med gaming PC
Tai­pei, Tai­wan – May 6th, 2021 — TUL Cor­po­ra­ti­on, a lea­ding and inno­va­ti­ve manu­fac­tu­rer of AMD gra­phics cards sin­ce 1997, announ­ces that its new­ly HELLHOUND AMD Rade­on™ RX 6700 XT SPECTRAL WHITE gra­phics cards it's now also avail­ab­le in a beau­ti­ful all white color, per­fect for users loo­king to build a tru­ly all-white the­med PC.
HELLHOUND ALSO BUILT FOR BATTLES IN THE SNOW
Power­Co­lor, recent­ly announ­ced and alrea­dy high­ly awar­ded HELLHOUND seri­es, is get­ting a new all-white the­med design, same DNA, same performance…different camouflage!
• White

PCB


• Beau­ti­ful white back­pla­te with gla­cier-white

LED


• White I/O plate
• White illu­mi­na­ted

FANS


• Stun­ning white shroud
We focus on the best gaming expe­ri­ence with no com­pro­mi­ses. The HELLHOUND AMD Rade­on™ RX 6700 XT SPECTRAL WHITE gra­phics card is cool and quiet, built to be ultra-reli­able, and is sure to pro­vi­de deman­ding gamers with super-fast per­for­mance and the most advan­ced visu­al effects for 1440p gaming, as it has been shown in the latest reviews.
The Power of HELLHOUND
To achie­ve the best coo­ling, the Power­Co­lor HELLHOUND AMD Rade­on™ RX 6700 XT gra­phics cards are armed with a trip­le fan design (100mm x 90mm x 100mm), a coo­ler with 5X6Φ nickel-pla­ted heat-pipes, and a smooth nickel-pla­ted cop­per base for effi­ci­ent heat dis­si­pa­ti­on. The HELLHOUND AMD Rade­on™ RX 6700 XT gra­phics card also lever­a­ges an 8+2 pha­se VRM with DrMOS, high poly­mer capa­ci­tors, and two 8‑pin PCI‑E con­nec­tors to deli­ver high-performance.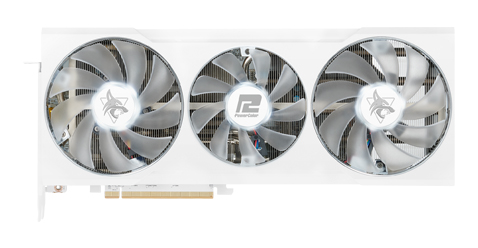 Power­Co­lor HELLHOUND AMD Rade­on™ RX 6700 XT SPECTRAL WHITE Gra­phics Card fea­tures 2560 stream pro­ces­sors with a Boost Clock of up to 2581 MHz and a Game Clock of up to 2424 MHz. With 12GB of GDDR6 high-speed memo­ry clo­cked at 16 Gbps Effec­ti­ve and 96 MB of Infi­ni­ty Cache, which dra­ma­ti­cal­ly redu­ces laten­cy and power con­sump­ti­on, deli­vering hig­her over­all gaming per­for­mance than tra­di­tio­nal archi­tec­tu­ral designs.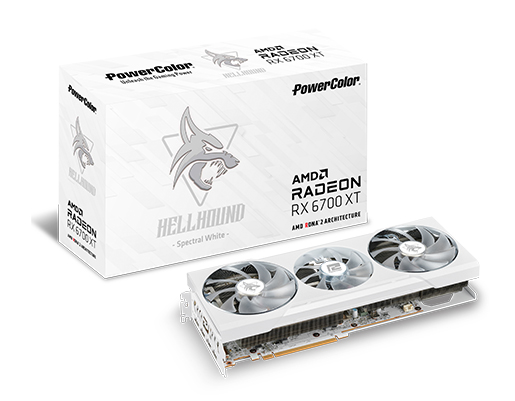 Gra­phics Engine

AXRX

6700XT

12GBD6-3DHLV2

Video Memo­ry

12GB

GDDR6

Stream Pro­ces­sor
2560 Units
Game Clock
2424MHz
Boost Clock
2581MHz
Memo­ry Clock
16.0 Gbps
Memo­ry Interface
192-bit
Bus Stan­dard

PCIE

4.0
Dis­play Connectors
1 x

HDMI

2.1 , 3 x Dis­play­Po­rt 1.4
Form Fac­tor

ATX

Coo­ler
2.5 Slot Trip­le Fan
Power Con­nec­tor
2 x 8‑pin
Cross­fire Support
Yes ( sup­port DirectX®12/Vulkan)
OpenGL
4.6
Direc­tX® Support
12
Mini­mum Sys­tem Power Requi­re­ment (W)

650W

Card Dimension(mm)
305*132*50mm
*Spe­ci­fi­ca­ti­ons sub­ject to chan­ge without notice.
TUL is a lea­ding sup­plier of AMD gra­phics cards under the Power­Co­lor brand. We offer award-win­ning pro­ducts based on our tech­no­lo­gy lea­ding com­pon­ents, qua­li­ty design and superb engi­nee­ring. TUL employs more than 150 talents world­wi­de, with offices in Chi­na, Euro­pe, Rus­sia and USA to sup­port over 300 chan­nel part­ners and dis­tri­bu­tors in 50 plus countries.
For fur­ther infor­ma­ti­on, visit: www.tul.com.tw/global/ For more pro­duct infor­ma­ti­on, visit: www.powercolor.com Or con­ta­ct: pr@powercolor.com