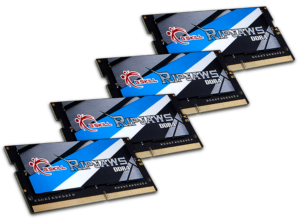 Tai­pei, Tai­wan (20 Octo­ber 2017) – G.SKILL Inter­na­tio­nal Enter­pri­se Co., Ltd., the world's lea­ding manu­fac­tu­rer of extre­me per­for­mance memo­ry and gaming peri­pherals, is thril­led to announ­ce the release of a new high per­for­mance DDR4 Rip­jaws SO-DIMM series for small-form fac­tor (SFF) plat­forms, at DDR4-3800MHz CL18-18–18-38 32GB (4x8GB) at 1.35V, making this the world's fas­test SO-DIMM memo­ry kit. In addi­ti­on, 3 new spe­ci­fi­ca­ti­ons will be added to the Rip­jaws DDR4 SO-DIMM fami­ly, inclu­ding DDR4-3600MHz CL16-16–16-36 32GB (4x8GB), DDR4-3200MHz CL16-16–16-36 32GB (4x8GB), and DDR4-3200MHz CL16-16–16-36 64GB (4x16GB). Such extre­me­ly high speed on SO-DIMM modu­les are achie­ved with the use of the ultra-high per­for­mance Sam­sung B-die DDR4 ICs.
Big Per­for­mance, Small Packa­ge
At Com­pu­tex 2017 in June, G.SKILL demons­tra­ted high-speed Rip­jaws SO-DIMM series at DDR4-3466MHz, and we are now once again rai­sing the speed of the fas­test SO-DIMM memo­ry kit to the inten­se mind-ben­ding speed of DDR4-3800MHz. Vali­da­ted on the latest ASRock X299E-ITX/ac mother­board and the Intel® Core™ i9-7900X X-series Pro­ces­sor, extre­me memo­ry per­for­mance is now a rea­li­ty with small-form fac­tor work­sta­tions.
The fol­lo­wing stress test screen­shot shows the new DDR4-3800MHz memo­ry kit in action with a total run­ti­me of over 9 hours: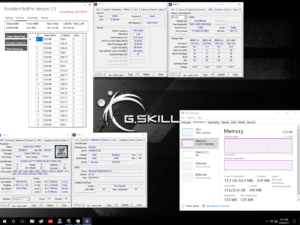 List of new Rip­jaws DDR-4 SO-DIMM Spe­ci­fi­ca­ti­ons

Avai­la­bi­li­ty
The­se new power­ful SO-DIMM memo­ry kit will be avail­ab­le through aut­ho­ri­zed G.SKILL dis­tri­bu­ti­on part­ners in ear­ly Decem­ber 2017.
***
About G.SKILL
Estab­lished in 1989 by PC hard­ware enthu­si­asts, G.SKILL spe­cia­li­zes in high per­for­mance memo­ry, SSD pro­duc­ts, and gaming peri­pherals desi­gned for PC gamers and enthu­si­asts around the world. Com­bi­ning tech­ni­cal inno­va­ti­on and rock solid qua­li­ty through our in-house tes­ting lab and talen­ted R&D team, G.SKILL con­ti­nues to crea­te record-brea­king memo­ry for each genera­ti­on of hard­ware and hold the no. 1 brand tit­le in over­clo­cking memo­ry.