TAIPEI, Tai­wan, Janu­a­ry 9, 2019 – The lea­ding glo­bal mother­board and gra­phics card manu­fac­tu­rer, ASRock, plea­su­re to announ­ce the world's first AMD based Mini STX Plat­form – DeskMi­ni A300 at CES 2019. It adopts with AMD A300 chip­set, not only sup­ports AMD AM4 65W APU, but also pro­vi­des up to 32GB DDR4-2933MHz high-speed memo­ry, which leads to out­stan­ding com­pu­ting power and 3D per­for­mance. DeskMi­ni A300 offers up to 4 sto­rage inter­faces, sup­ports three dis­play out­puts simul­ta­ne­ous­ly, M.2 Wi-Fi modu­le and various access­ories wit­hin 1.9 Liter com­pact size. DeskMi­ni A300 is an ide­al choice to build a home enter­tain­ment PC and mini data cen­ter.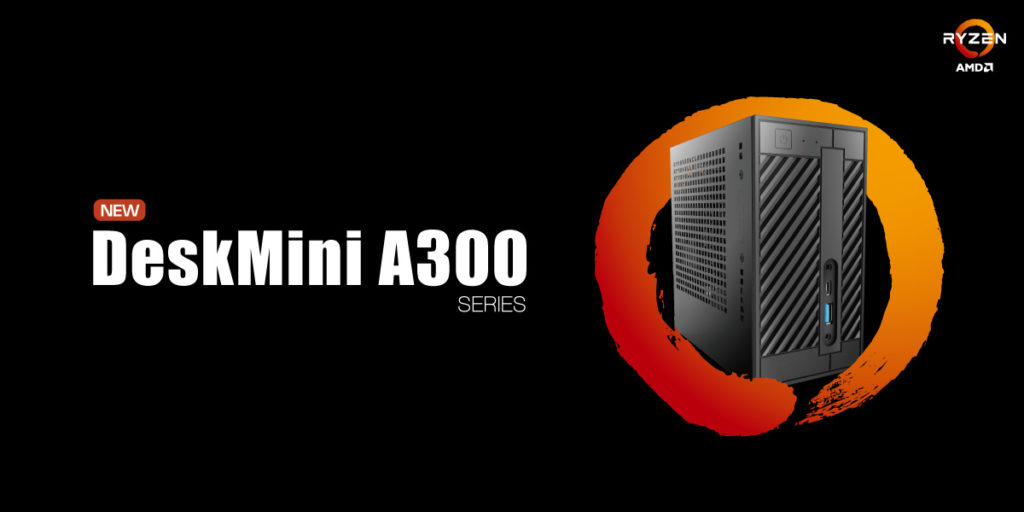 The World's 1st
AMD

Based Mini

STX

Platform

DeskMi­ni A300 fea­tures the brand new A300M-STX mother­board. Con­ti­nuing the design of the ASRock DeskMi­ni series, the AMD AM4 socket is able to sup­port the Bris­tol Ridge and Raven Ridge's 65W APU, as well as two DDR4 SO-DIMM slots, which can sup­port up to 32GB of capa­ci­ty. With over­clo­cking memo­ry modu­le, it will power up 20% of 3D gaming per­for­mance even more . Moreo­ver, the DeskMi­ni A300 sup­ports three dis­play out­puts simul­ta­ne­ous­ly, great­ly impro­ves the user expe­ri­ence.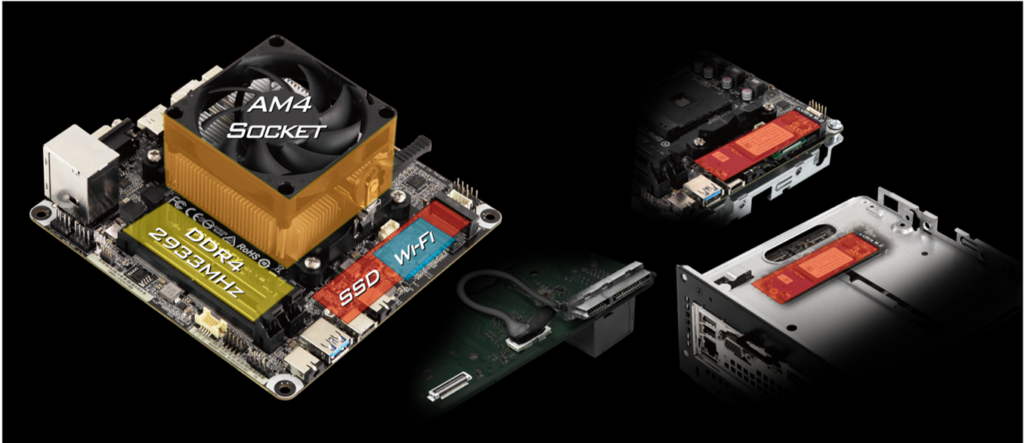 Support Up to Four Storage Devices
The brand new DeskMi­ni A300 equip­ped with two Ultra M.2 (2280) slots for PCIe Gen3 high-speed SSDs and two 2.5″ SATA 6Gb/s inter­face for RAID func­tion. RAID 0 pro­vi­des excel­lent read/write per­for­mance; RAID 1 (Mir­ror) back­up the data, enab­le the DeskMi­ni A300 can be used as a per­so­nal mini-data­ba­se. In addi­ti­on, it also sup­ports USB 3.1 Gen1 Type-C and M.2 Wi-Fi modu­les.
Various Optional Accessories
ASRock pro­vi­des various optio­nal access­ories of DeskMi­ni A300, inclu­des 65W APU coo­ler, rear audio jack cable, VESA mount kit, and Wi-Fi ac kit. With com­pre­hen­si­ve access­ories, DeskMi­ni A300 can satis­fy diver­se demands from all users.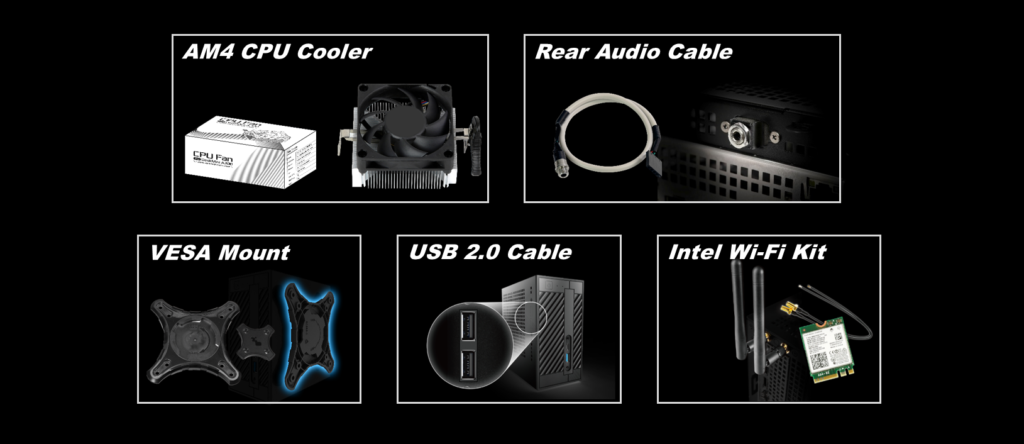 *Test results will vary depen­ding on equip­ment and set­tings.
For more infor­ma­ti­on about DeskMi­ni A300, plea­se check:
https://www.asrock.com/nettop/AMD/DeskMini A300 Series/index.asp