FREMONT, CA – Decem­ber 16th, 2019, 7am PST – CORSAIR®, a world lea­der in high-per­for­mance gaming peri­pherals and enthu­si­ast com­pon­ents, is plea­sed to announ­ce that it has agreed to acqui­re high-per­for­mance con­trol­ler pioneer SCUF Gaming "SCUF®" and its exten­si­ve patent port­fo­lio. The tran­sac­tion is expec­ted to com­ple­te by the end of Decem­ber 2019.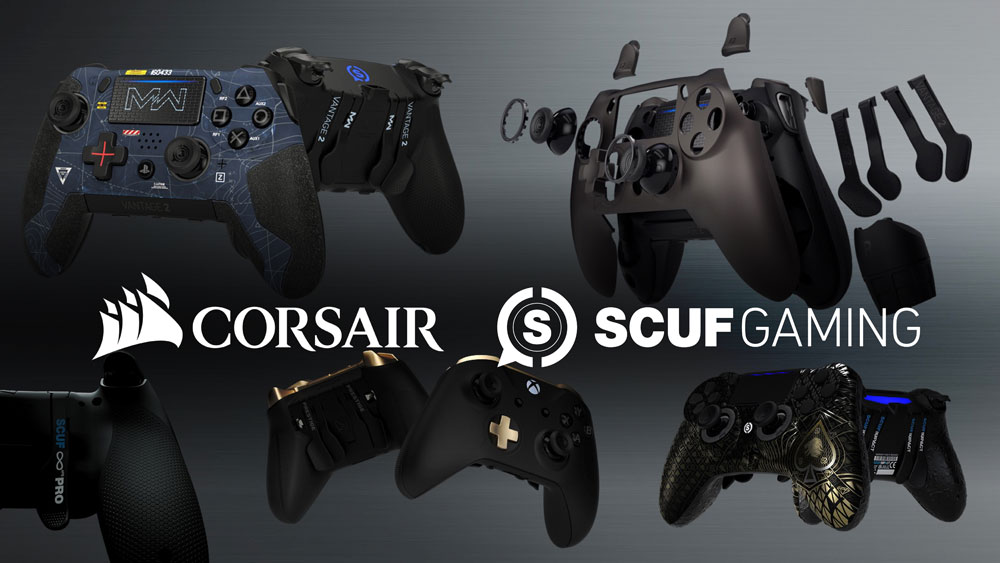 Sin­ce laun­ching in 2011, SCUF has reco­gni­zed that one size does not fit all and set a new stan­dard for per­for­mance con­trol­lers for use with Xbox, Play­Sta­ti­on, and PC. SCUF radi­cal­ly chan­ged the way con­trol­lers are used by rede­signing the lay­out of a con­trol­ler to incre­a­se hand use and impro­ve per­for­mance, matching the evol­ving com­ple­xi­ties of com­pe­ti­ti­ve games.
In com­pa­ri­son to gene­ric game con­trol­lers, SCUF con­trol­lers are modu­lar by fea­ture and design, built to spe­ci­fi­ca­ti­on to shor­ten hand move­ments and gain a mea­sura­ble per­for­mance advan­ta­ge, making it easier for play­ers to tailor the con­trol­ler to their indi­vi­du­al pre­fe­ren­ces. SCUF con­trol­lers fea­ture a vast ran­ge of con­fi­gura­ble com­pon­ents, inclu­ding a paten­ted padd­le con­trol sys­tem, remova­ble back padd­les, a quick-access remap­ping switch, cus­to­miz­ab­le thumbsticks, hair trig­ger, trig­ger stops and exten­ders, choice of D‑pads, and an inter­ch­an­ge­ab­le magne­tic faceplate.
"We are thril­led to great­ly expand our port­fo­lio of indus­try-lea­ding peri­pherals and enter the gaming con­trol­ler space to help gamers play at their best," said Andy Paul, Foun­der and CEO of CORSAIR. "SCUF leads the mar­ket for per­for­mance con­trol­lers and are a key ingre­dient to the suc­cess of count­less esports pro­fes­sio­nals. SCUF will make an excel­lent and win­ning addi­ti­on to the vast lin­eup of award-win­ning CORSAIR and Elga­to products."
"Over the last ten years, we've worked tireless­ly to crea­te the fea­tures that have made SCUF the pre­fer­red con­trol­ler for the majo­ri­ty of top pro­fes­sio­nal gamers. Con­trol­lers are the sin­gle most important con­nec­tion bet­ween an indi­vi­du­al and their game, beco­m­ing an exten­si­on of the play­er to maxi­mi­ze their per­for­mance," said Dun­can Iron­mon­ger, Foun­der and CEO of SCUF Gaming. "We are deligh­ted to join for­ces with CORSAIR, who share simi­lar DNA to SCUF with regards to inno­va­ti­on and design in the gaming mar­ket. CORSAIR has the ope­ra­tio­nal sca­le and net­work to help us bring our inno­va­ti­on to even more gamers."
SCUF is a strong enthu­si­ast gaming brand with an expan­si­ve IP port­fo­lio and deep part­ners­hips wit­hin the esports space. SCUF has a loy­al affi­lia­te net­work and is a licen­sed part­ner of Acti­vi­si­on for Call of Duty, as well as the offi­cial con­trol­ler part­ner of many gaming leagues inclu­ding the NBA 2K League and eMLS.
SCUF Gaming will remain a sepa­ra­te brand wit­hin the CORSAIR fami­ly and will con­ti­nue to ope­ra­te from its HQ in Atlan­ta, as well as regio­nal offices. All exis­ting SCUF Gaming war­ran­ties, purcha­ses, and sup­port are unaf­fec­ted and will con­ti­nue to be pro­vi­ded by SCUF Gaming.
Jones Day ser­ved as legal advi­sor to CORSAIR. McDer­mott Will & Eme­ry ser­ved as legal coun­sel to SCUF Gaming. Sti­fel ser­ved as exclu­si­ve finan­cial advi­sor to SCUF Gaming.
Video
To view the CORSAIR/SCUF Announ­ce­ment video click here:
https://youtu.be/gOyZ2ffU2D0
About CORSAIR
Foun­ded in 1994, CORSAIR has grown from pionee­ring the high-per­for­mance DRAM mar­ket into one of the world's lea­ding pro­vi­ders of high-per­for­mance gaming and strea­ming pro­ducts. CORSAIR offers a com­ple­te ran­ge of pro­ducts to equip gamers, enthu­si­asts, and esports ath­le­tes, inclu­ding mecha­ni­cal key­boards, pre­cisi­on gaming mice, wire­less head­sets, pre­mi­um PC com­pon­ents, and the CORSAIR ONE ful­ly-inte­gra­ted gaming PC. With a com­pa­ny-wide com­mit­ment to qua­li­ty, inno­va­ti­ve design, advan­ced fea­tures and high-per­for­mance, CORSAIR pro­ducts have won thousands of media and indus­try awards, ear­ning their place in gamers' hands and PCs fol­lowing years of deve­lo­p­ment and engi­nee­ring by a team dedi­ca­ted to buil­ding gre­at pro­ducts that they them­sel­ves would want to use.
In 2018 CORSAIR acqui­red Elga­to Gaming, a manu­fac­tu­rer of strea­ming pro­ducts. In 2019 CORSAIR acqui­red Ori­gin Com­pu­ters, a manu­fac­tu­rer of cus­tom high-per­for­mance gaming PCs and laptops.
About SCUF Gaming
SCUF Gaming "SCUF®", is an inno­va­tor and creator of high-per­for­mance gaming con­trol­lers, pro­vi­des supe­ri­or access­ories and cus­to­mi­zed gaming con­trol­lers for con­so­le and PC that are used by top pro­fes­sio­nal gamers as well as casu­al gamers. Built to spe­ci­fi­ca­ti­on, SCUF con­trol­lers offer a num­ber of func­tio­n­al and design fea­tures cus­tom built to incre­a­se hand use and impro­ve game­play. SCUF con­trol­ler fea­tures are cove­r­ed by 103 gran­ted patents, and ano­t­her 55 pen­ding, focu­sing on four key are­as of a con­trol­ler: the back-con­trol func­tions and hand­les, the trig­ger con­trol mecha­nisms, the thumbstick con­trol area and the side-moun­ted con­fi­gura­ble Sax™ but­ton pla­ce­ments. For addi­tio­nal infor­ma­ti­on about SCUF Gaming®, plea­se visit scufgaming.com or fol­low us on Twit­ter, Face­book, Insta­gram, You­Tube or Twitch.
Copy­right © 2019 CORSAIR Com­pon­ents, Inc. All rights reser­ved. CORSAIR, the sails logo, and Ven­ge­an­ce are regis­tered trade­marks of CORSAIR in the United Sta­tes and/or other coun­tries. All other com­pa­ny and/or pro­duct names may be tra­de names, trade­marks, and/or regis­tered trade­marks of the respec­ti­ve owners with which they are asso­cia­ted. Fea­tures, pri­cing, avai­la­bi­li­ty, and spe­ci­fi­ca­ti­ons are sub­ject to chan­ge without notice.