Note­pad++ ist ein frei­er Text­edi­tor für Win­dows, der unter ande­rem die Syn­tax gän­gi­ger Pro­gram­mier­spra­chen her­vor­hebt und gegen­über dem Win­dows-Ori­gi­nal eini­ge Zusatz­funk­tio­nen bie­tet. Des wei­te­ren kön­nen Plugins instal­liert wer­den, die den Funk­ti­ons­um­fang zusätz­lich erwei­tern.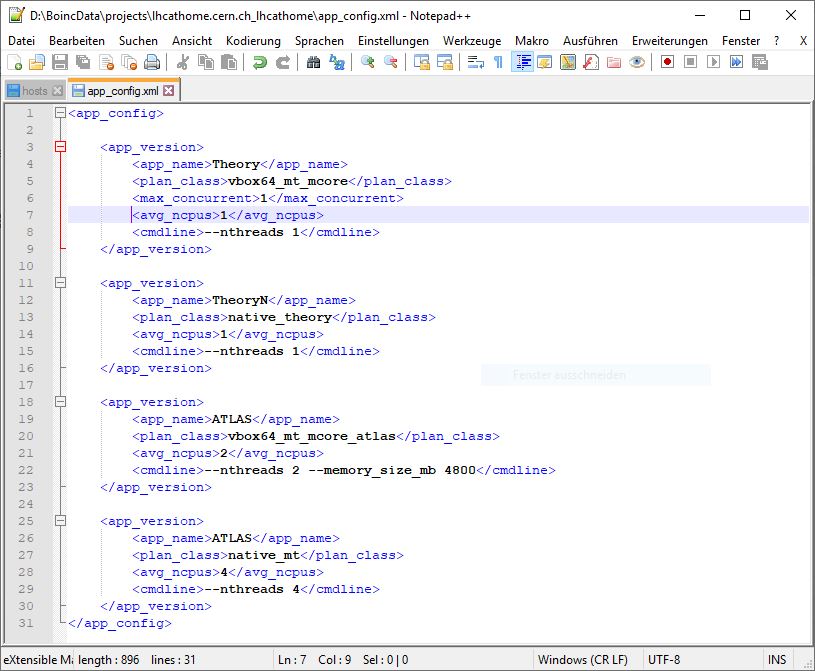 Chan­ge­log:
Notepad++ v7.8.8 enhancements

&

bug-fixes:

Note­pad++ v7.8.8 enhan­ce­ments & bug-fixes:

Fix accen­ted cha­rac­ters in

ANSI

files not found in "find in files" and "replace in files" com­man­ds issu­es.
Add an opti­on to impro­ve ren­de­ring spe­cial Uni­code cha­rac­ters by using Scintilla's Direct­Wri­te tech­no­lo­gy.
Fix

URL

invi­si­ble issue in dark the­mes.
Fix the focus not on the ope­ning new file issue.
Fix Works­pace (Pro­ject panel), Fol­der As Works­pace and func­tion list keep focus issue after dou­ble cli­cking an item.
Add Ctrl+Backspace abi­li­ty to dele­te word for com­bobo­xes in Find/Replace dia­log.
Add abi­li­ty to find-all in selec­ted text.
Fix wrong tre­at­ment of back­slas­hes as escape sequen­ces in auto­com­ple­ti­on.
Enhan­ce "Remo­ve Empty Lines" com­mand: Allow scope to be limi­ted by an acti­ve selec­tion.
Fix loading of pro­ject

&

ses­si­on files by drag

&

drop not working issue.
Fix block selec­tion cur­sor wrong posi­ti­ons after typ­ing

TAB

.
Add con­fir­ma­ti­on prompt to "Replace all in all ope­ned docu­ments" com­mand to avoid

PBKAC

.
| | |
| --- | --- |
| Down­load: | Note­pad++ |
| Ver­si­on: | 7.8.8 |
| Datei­grö­ße | 3,86 MiB (Instal­ler x64) |
| Ver­öf­fent­licht am: | 28.06.2020 |
| Betriebs­sys­tem: | Win­dows |
| Lizenz: | Free­ware |
| Web­sei­te | Note­pad++ |