TAIPEI, Tai­wan, August 6th, 2020 –The lea­ding glo­bal mother­board, gra­phics card and mini PC manu­fac­tu­rer, ASRock, proud­ly announ­ces the all-new Desk­Mi­ni H470 and Desk­Mi­ni X300.

The Power of 10! — DeskMini
H470
ASRock Desk­Mi­ni H470 adopts the Intel® H470 chip­set to sup­port Intel® 10th Gen 65W LGA1200 pro­ces­sors and dual-chan­nel DDR4-2933 memo­ry. Rely­ing on advan­ced power design, it sup­ports exclu­si­ve BFB (Base Fre­quen­cy Boost) Tech­no­lo­gy to allow users to bump non‑K pro­ces­sors speed to enhan­ce sys­tem performance.

Desk­Mi­ni H470 not only fea­tures USB Alter­na­te Mode Type‑C, pro­vi­ding 4K reso­lu­ti­on Dis­play­Po­rt signal, up to 60-watt power deli­very, and 5Gbps data trans­fer through one cable. Also, it sup­ports USB 3.2 Gen2 Type‑A & Type‑C in the front panel to offer rapid con­nec­tion. It brings Ultra M.2, dual SATA 6Gb sto­rages, and M.2 Wi-Fi slot. For supe­ri­or user expe­ri­ence, Desk­Mi­ni H470 sup­ports 3 video out­puts simul­ta­ne­ous­ly via Dis­play­Po­rt, Type‑C DP, HDMI, and D‑Sub.

Unlocked Power – DeskMini
X300
All-new Desk­Mi­ni X300 not only sup­ports AMD latest Ryzen 4000 seri­es APU, but also allows users to adjust CPU/GPU core clock, and tuning vol­ta­ge to exca­va­te APU poten­ti­al power. Desk­Mi­ni X300 sup­ports 8 Cores Ryzen 7 APU and dual-Chan­nel DDR4-3200+MHz (OC) memo­ry, which leads to out­stan­ding com­pu­ting power and 3D performance.

Desk­Mi­ni X300 is equip­ped with two Ultra M.2 (2280) slots for PCIe Gen3 high-speed SSDs and two 2.5″ SATA 6Gbps inter­face for RAID func­tion. Moreo­ver, the Desk­Mi­ni X300 is able to con­nect three dis­play out­puts simul­ta­ne­ous­ly, which great­ly impro­ves the user expe­ri­en­ces. It also sup­ports USB 3.1 Gen1 Type‑C and M.2 Wi-Fi modu­le, and various access­ories wit­hin 1.9 Liter com­pact size.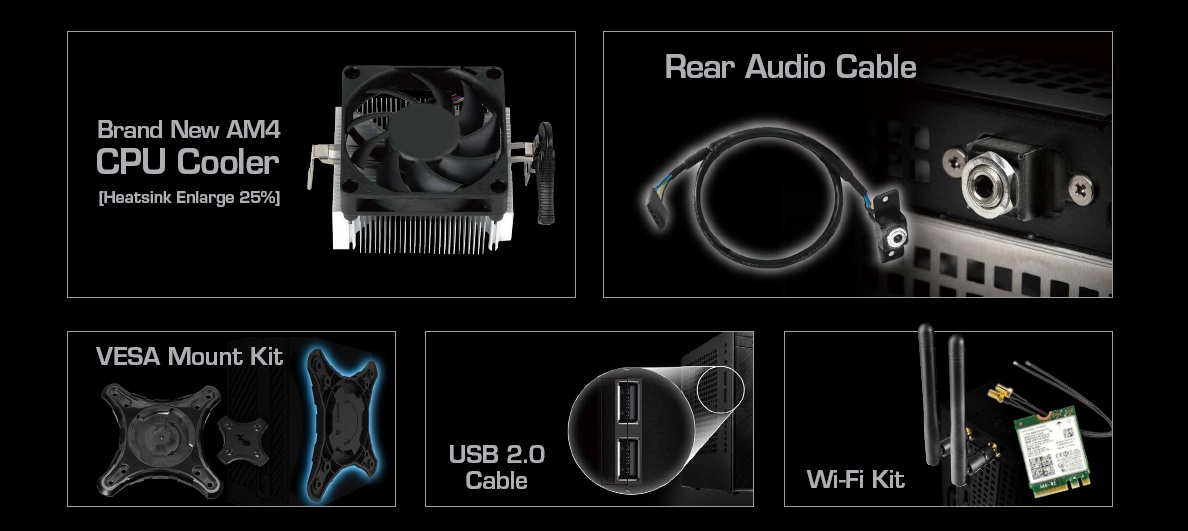 For more infor­ma­ti­on plea­se visit:
https://www.asrock.com/nettop/Intel/DeskMini H470 Series/index.asp
https://www.asrock.com/nettop/AMD/DeskMini X300 Series/index.asp