Der kos­ten­lo­se Uni­ver­sal Media Ser­ver ist ein DLNA-kom­pa­ti­bler UPnP-Medi­a­ser­ver für Win­dows, Linux und macOS, mit dem sich Vide­os, Musik und Bil­der über das Netz­werk vom PC auf DLNA-fähi­ge Gerä­te über­tra­gen las­sen. Neben Fern­se­hern und Smart­pho­nes wer­den auch Spie­le­kon­so­len wie XBox und Play­sta­ti­on unterstützt.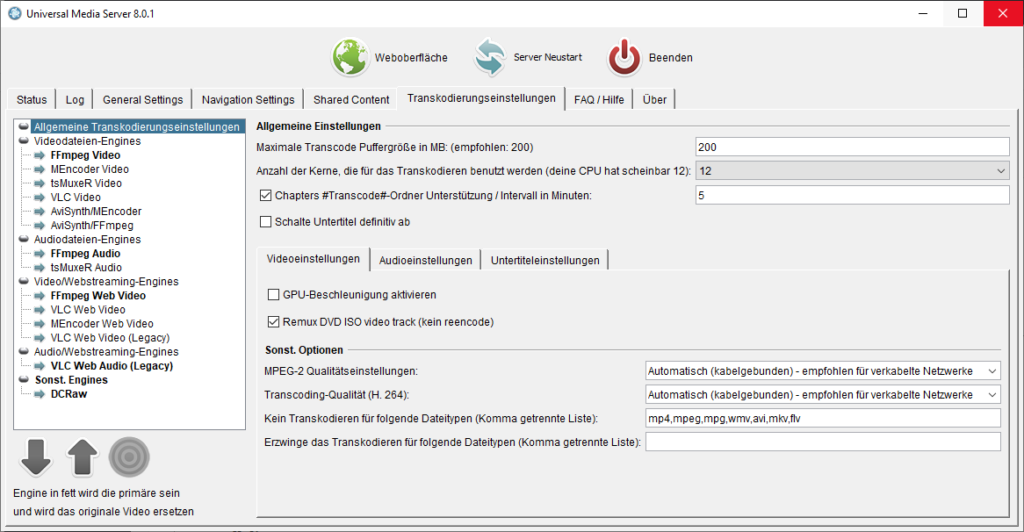 Mul­ti­me­dia­da­tei­en kön­nen dabei vom PC trans­ko­diert (z. B. per FFm­peg, MEn­coder oder tsMu­xeR) wei­ter­ge­ge­ben wer­den. Das in Java geschrie­be­ne Pro­gramm ist für Win­dows, Linux und Mac OS X verfügbar.
Chan­ge­log:
Changes in 9.8.3 from 9.8.2

Gene­ral:

Added opti­on to allow sym­lin­ked files to be tre­at as their real tar­get file (thanks, SurfaceS!)
Fixed hand­ling of web streams while trans­co­ding with

VLC

(thanks, fu2x!)
Fixed sup­port for sub­tit­les with some user and ren­de­rer con­fig combinations
Fixed ren­de­rer con­fi­gu­ra­ti­on chan­ge-detec­tion not always working (thanks, fu2x!)
Fixed various errors on the web inter­face (thanks, SurfaceS!)
Fixed all code lint and enfor­ce it in Git­Hub Actions
Fixed sen­ding empty Musi­c­Brainz requests
Fixed sen­ding unne­cessa­ry net­work requests

Ren­de­rers:

Impro­ved sup­port for Sony Bra­via

XF

series
Impro­ved sup­port for Yama­ha A/V receivers
Impro­ved detec­tion of

VLC

for desktop

Trans­la­ti­on updates via Crowdin:

Chi­ne­se (Tra­di­tio­nal) (100%)
Czech (100%)

Depen­den­ci­es:

Bump assertj-core from 3.18.0 to 3.18.1
Bump com.sun.xml.bind-version from 3.0.0‑

M5

to 3.0.0
Bump icu4j from 68.1 to 68.2
Bump maven-pmd-plugin from 3.13.0 to 3.14.0
Bump Medi­a­In­fo to 20.09
Bump oshi-core from 5.3.4 to 5.3.7
Bump saaj-impl from 1.5.2 to 2.0.0
Bump twel­ve­m­on­keys-imageio-ver­si­on from 3.6 to 3.6.1
Testversion 10.0.0 Alpha1
Gleich­zei­tig wur­de eine ers­te Alpha­ver­si­on von Uni­ver­sal Media Ser­ver 10.0.0 ver­öf­fent­licht, dass zahl­rei­che Neu­hei­ten bie­tet. Wie bei jeder Alpha­ver­si­on soll­te die­se erst ein­mal nur zu Test­zwe­cken ver­wen­det werden.
Chan­ge­log:
Chan­ges in 10.0.0‑a1 from 9.8.3

DLNA

brow­sing:

When brow­sing a

TV

show in the Media Libra­ry, all vide­os across all sea­sons are visible.
The­re are two new fol­ders wit­hin the Movies and

TV

Shows fol­ders — Fil­ter by Pro­gress and Fil­ter by Information.
Fil­ter by Pro­gress con­tains the Wat­ched and Unwat­ched fol­ders which used to sit wit­hin the Vide­os fol­der in the Media Library
Fil­ter by Infor­ma­ti­on lets you fil­ter the vide­os by a new rich meta­da­ta set (actors, gen­res, coun­try, direc­tor, gen­re, IMDb rating, release date).
Along­side that is a simi­lar fol­der Fil­ter by Infor­ma­ti­on which lets you fil­ter the vide­os by

API

meta­da­ta (actors, gen­res, etc.)
New fol­ders Recent­ly Added, Recent­ly Play­ed, In Pro­gress and Most Play­ed are in the Media Library

Web inter­face:

Added bre­ad­crumbs at the top of each page
When in the

TV

Shows area of the Media Libra­ry, the

TV

shows them­sel­ves are shown as thumb­nails, with covers from the

API

When brow­sing a

TV

show, a movie, or a

TV

epi­so­de, any

API

meta­da­ta is dis­play­ed along with a lar­ge cover image, inclu­ding actors, awards, clas­si­fi­ca­ti­on, coun­try, direc­tors, gen­res, plot, ratings, year, and total seasons.
On tho­se pages abo­ve, the colors on the pages are based on the cover image
Cli­cking on an indi­vi­du­al actor, coun­try, direc­tor, gen­re, or start year, takes you to a list of other media that matches that metadata
The last few items in the Recent­ly Added, Recent­ly Play­ed, In Pro­gress and Most Play­ed fol­ders are dis­play­ed on the front page
Each

TV

show and movie has an IMDb icon and direct link if one is found
Fol­der and media covers are shown
Fixed bugs with the Back button
Ver­si­on has moved to the set­tings menu
Minor design updates

Gene­ral:

API

is enab­led even without file­na­me prettifying
Fai­led

API

loo­kups are deboun­ced by 1 week to avoid net­work spam
Chan­ged pret­ti­fied season/episode num­ber for­mat­ting from Seri­es — 101 — Epi­so­de to Seri­es

S01E01

— Episode
Fixed some bugs with pret­ti­fy­ing to sup­port more files
Added sup­port for audio play­list thumb­nails (thanks, sf666!)
Play­list fol­ders are cor­rect­ly iden­ti­fied via UPnP (thanks, sf666!)

Depen­den­cy updates:

Bump jQue­ry from 1.12.0 to 3.5.1
Bump video.js from 7.2.3 to 7.10.1