Der Packer RAR oder eben Win­RAR gilt nach wie vor als einer der leis­tungs­fä­higs­ten sei­ner Art. Als kos­ten­pflich­ti­ge Share­ware hat er es jedoch seit gerau­mer Zeit schwer, auf dem Markt gegen die inte­grier­te Out-of-the-box-Lösung für ZIP-Datei­en unter Micro­soft-Betriebs­sys­te­men oder gar die völ­lig kos­ten­lo­sen und noch dazu Open-Source-Lösun­gen wie 7‑Zip zu bestehen.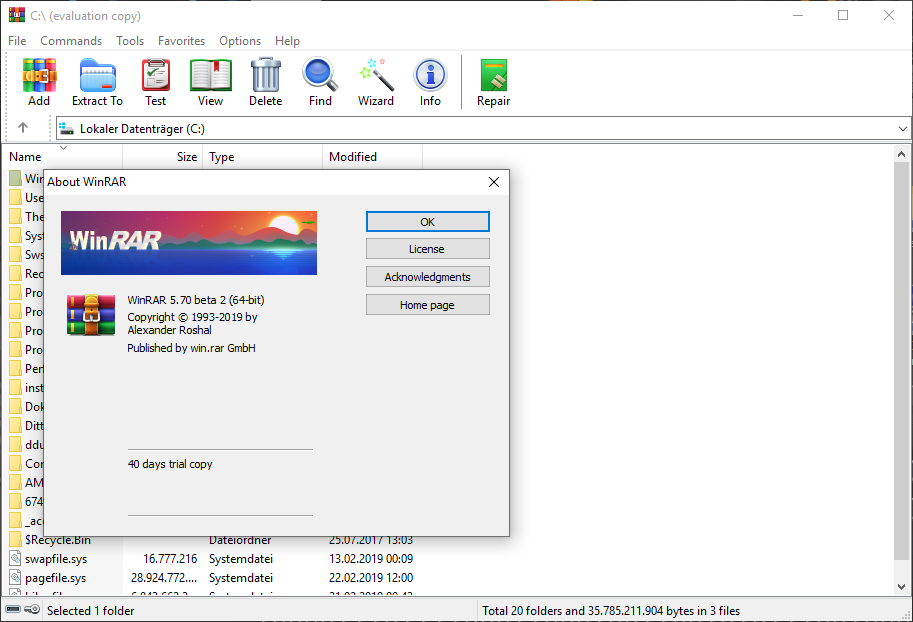 Ver­si­on 5.70 beta 2

1. "Find" com­mand "Disks and fol­ders" drop down list has been ren­a­med
to "Search area". Addi­tio­nal­ly to alrea­dy exis­ting choices,
it inclu­des a new "Selec­ted items" opti­on restric­ting search
to files and fol­ders selec­ted in Win­RAR file list.

2. "Find" com­mand dis­plays the num­ber of found items in sta­tus bar.

3. Swit­ches ‑ta, ‑tb, ‑tn, ‑to now allow any num­ber of modi­fiers
in the same switch to set the same date for all spe­ci­fied times.
For examp­le, ‑tamc20190215 will pro­cess files modi­fied and crea­ted
after 2019-02-15.

New 'o' modi­fier per­mits to switch from AND to OR logic,
so ‑tamco20190215 inclu­des files modi­fied or crea­ted after 2019-02-15.
It is also allo­wed to spe­ci­fy several time fil­te­ring swit­ches
with dif­fe­rent dates in the same com­mand line, like:
‑taco20190201 ‑tbmo20190210

Swit­ches ‑ta and ‑tn also inclu­de files matching the spe­ci­fied date
exact­ly. Swit­ches ‑tb and ‑to exclu­de such files.

4. "Dia­gnostic messages" win­dow dis­plays archi­ve names in a sepa­ra­te
column to pro­vi­de the bet­ter mes­sa­ge visi­bi­li­ty for leng­thy
archi­ve names.

5. Switch ‑isnd[-] in com­mand line Win­RAR mode allows to over­ri­de
"Enab­le sound" opti­on in Win­RAR set­tings. Use ‑isnd to turn sound
noti­fi­ca­ti­ons on and ‑isnd- to turn them off.

6. Bugs fixed:

a) dis­ab­ling "Packed" file list column also affec­ted "Type" column
insi­de of archi­ves lea­ving it blank;

b) Win­RAR issued "The spe­ci­fied pass­word is incor­rect" mes­sa­ge
infi­ni­te­ly when extrac­ting an encryp­ted file from RAR archi­ve
without name encryp­ti­on if a wrong glo­bal pass­word was set;

c) "File list/Files/Exact sizes" opti­on in Win­RAR set­tings
did not work insi­de of archi­ves.
Down­load:
Links zum The­ma: