NUREMBERG, Ger­ma­ny, March 01, 2019 (GLOBE NEWSWIRE) — Today we are plea­sed to announ­ce that Advan­tech, AMD, and Men­tor, a Sie­mens busi­ness, are part­ne­ring tog­e­ther to make AI tech­no­lo­gy more acces­si­ble and easier to imple­ment, which is expec­ted to crea­te more AI-based busi­ness oppor­tu­nities. AI tech­no­lo­gy will take embed­ded sys­tems to the next level with hig­her effi­ci­en­cy and smar­ter sys­tems desi­gned to impro­ve people's lives. For instan­ce, dia­gnostic errors among the 300M dia­gnostic radio­lo­gy images that are cap­tu­red in the US con­tain errors of up to 4%. AI-infu­sed image reco­gni­ti­on using machi­ne lear­ning can see far more detail in MRI and X-ray images than human eyes, so it can impro­ve dia­gnostic accu­ra­cy and help prio­ri­ti­ze tre­at­ment.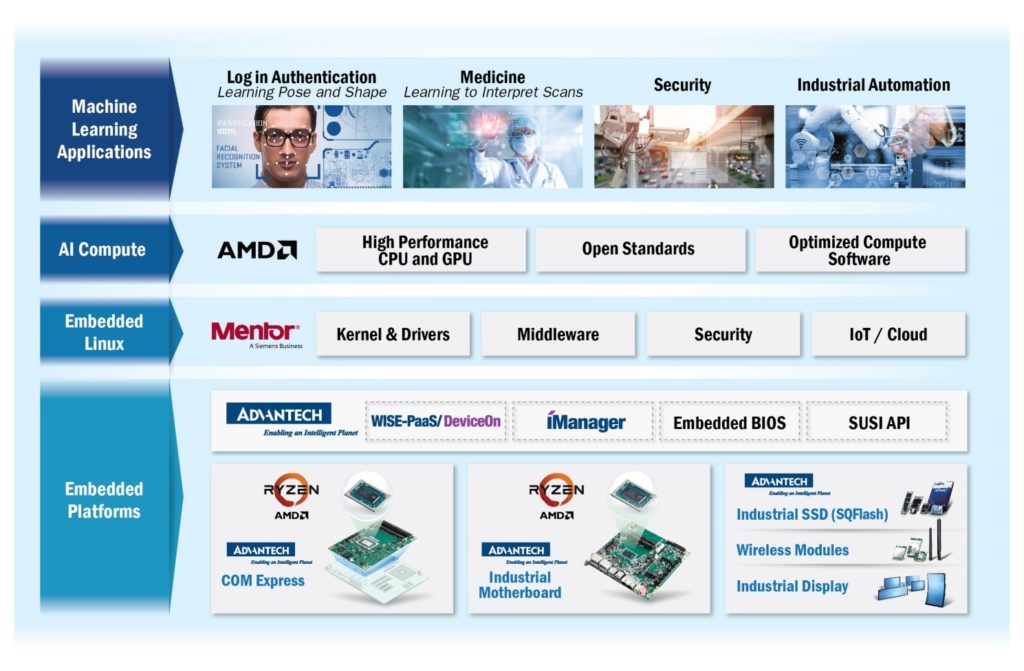 AI tech­no­lo­gy in embed­ded sys­tem is often inte­gra­ted in ser­vice model inno­va­ti­on rather than the manu­fac­tu­red pro­duct and it is high­ly sophisti­ca­ted in the nume­rous tasks it per­forms inclu­ding data collec­tion, data ana­ly­sis, pre-trai­ned models, and infe­rence. In terms of machi­ne lear­ning, pro­gram­med algo­rithms rely on power­ful and reli­able com­pu­ting units for big data con­sump­ti­on. That's why edge com­pu­ting plays an important medi­um to satis­fy the con­nec­tion bet­ween the cloud and sen­sor devices.
With the part­nership of Advan­tech, AMD, and Men­tor, we can help custo­mers acce­le­ra­te AI imple­men­ta­ti­on by inte­gra­ting each party's pro­duc­ts and ser­vices. We are each devo­ting resour­ces to make edge com­pu­ting easier to app­ly so custo­mers can con­cen­tra­te on AI app­li­ca­ti­on deve­lop­ment for their hard­ware and midd­le­wa­re. Advan­tech offers an embed­ded plat­form ( SOM-5871 /AIMB-228) equip­ped with the latest AMD Ryzen™ Embed­ded V1000 pro­ces­ser, in com­bi­na­ti­on with the Men­tor® Embed­ded Linux ope­ra­ting sys­tem. The AMD Ryzen™ Embed­ded V1000 pro­ces­sor sup­ports frame­works, libra­ries, tools, and com­pi­lers for machi­ne visi­on app­li­ca­ti­ons that leverage the full power of the Ryzen pro­ces­sor with Rade­on™ Vega GPU tech­no­lo­gy. More import­ant­ly, the three com­pa­nies embrace open stan­dards such as Open­VX, Open­CL API sup­por­ted on the Linux® ker­nel, so users can migra­te machi­ne lear­ning across diver­se hard­ware archi­tec­tures for a varie­ty of AI app­li­ca­ti­ons.
Rex Lee, Direc­tor of Advan­tech Embed­ded IoT Group, said, "Ever­y­bo­dy can find lots of open source AI tech­no­lo­gies. Howe­ver, inte­gra­ting AI tech­no­lo­gy into embed­ded sys­tems is still a major chal­len­ge. Data collec­tion, model trai­ning, and edge infe­rence sys­tem deploy­ment, nobo­dy can do AIoT alo­ne, that's why Advan­tech works clo­se­ly with our co-crea­ti­on part­ners to acce­le­ra­te AI deploy­ment in embed­ded sys­tems."
"Com­bi­ning the power of the AMD Ryzen™ Embed­ded V1000 pro­ces­sor, machi­ne visi­on soft­ware, and solu­ti­ons from our part­ners Men­tor and Advan­tech, we are hel­ping custo­mers rea­li­ze a future whe­re they can easi­ly crea­te and install app­li­ca­ti­ons enhan­ced by arti­fi­ci­al intel­li­gence into their embed­ded eco­sys­tem," said Ste­phen Turn­bull, direc­tor of pro­duct mar­ke­ting, Embed­ded Solu­ti­ons, AMD. "This will open the doors for count­less uni­que sce­n­a­ri­os and use cases that will not only help the embed­ded indus­try beco­me more com­for­ta­ble with arti­fi­ci­al intel­li­gence, but more import­ant­ly help busi­ness run seam­less­ly and safe­ly."
"Men­tor has a long histo­ry of sup­ply­ing com­mer­ci­al ope­ra­ting sys­tem plat­forms for a varie­ty of embed­ded app­li­ca­ti­ons," sta­ted Scot Mor­ri­son, Gene­ral Mana­ger, embed­ded plat­form tech­no­lo­gy busi­ness unit, Men­tor. "In part­ne­ring with AMD to leverage their hard­ware opti­mi­zed AI ena­b­le­ment, we are joint­ly offe­ring a com­pre­hen­si­ve AI deploy­ment solu­ti­on tight­ly inte­gra­ted with the Advan­tech embed­ded hard­ware plat­forms."
Advan­tech, as a lea­ding intel­li­gent com­pu­ting plat­form pro­vi­der, offers a wide port­fo­lio of embed­ded and auto­ma­ti­on pro­duc­ts and pro­fes­sio­nal design-in ser­vices. Ali­gned with AMD and Mentor's embed­ded Linux solu­ti­ons, we walk custo­mers through the last mile of AI deploy­ment. Pro­duct offe­ring SOM-5871 (COM Express)
– High perf. "Zen" CPU 4 cores / 8 threads with Rade­on™ Vega gra­phics with 11 com­pu­te units & 4K dis­plays — Abundant super speed I/O and expan­si­on bus. PCIe® gen3 & USB 3.1 gen2 up to 10Gbps — Opti­mi­zed DHCS ther­mal solu­ti­on for high TDP design — Sup­ports secu­ri­ty boot & fast boot by cus­to­mi­zed BIOS ser­vice — Sup­ports secu­re memo­ry encryp­ti­on and onboard TPM2.0 func­tion
AIMB-228 (Mini-ITX)
– High perf. Zen CPU 4 cores / 8 threads & 32GB DDR4 SODIMM — Vega GPU with 11 com­pu­te units and Quad 4K dis­play sup­port — Sup­ports PCIe x8, 2 M.2 expan­si­on slots, 6 COM, 4 USB 2.0, 2 USB 3.1 Gen2 con­nec­tors — Sup­ports WISE-PaaS/RMM and embed­ded soft­ware APIs — Sup­ports 12–24V wide vol­ta­ge DC-In
About Advan­tech Advan­tech has the cor­po­ra­te visi­on to "Enab­le an Intel­li­gent Pla­net". The com­pa­ny is a glo­bal lea­der in the fields of IoT intel­li­gent sys­tems and embed­ded plat­forms. To embrace the trends of IoT, big data, and arti­fi­ci­al intel­li­gence, Advan­tech pro­mo­tes IoT hard­ware and soft­ware solu­ti­ons with the Edge Intel­li­gence WISE-PaaS core to assist busi­ness part­ners and cli­ents in con­nec­ting their indus­tri­al chains. Advan­tech is also working with busi­ness part­ners to co-crea­te busi­ness eco­sys­tems that acce­le­ra­te the goal of indus­tri­al intel­li­gence. ( www.advantech.com )
About AMD For near­ly 50 years, AMD has dri­ven inno­va­ti­on in high-per­for­mance com­pu­ting, gra­phics and visua­li­za­ti­on tech­no­lo­gies the buil­ding blocks for gaming, immer­si­ve plat­forms and the dat­a­cen­ter. Hund­reds of mil­li­ons of con­su­mers, lea­ding For­tu­ne 500 busi­nes­ses and cut­ting-edge sci­en­ti­fic rese­arch faci­li­ties around the world rely on AMD tech­no­lo­gy dai­ly to impro­ve how they live, work and play. AMD employees around the world are focu­sed on buil­ding gre­at pro­duc­ts that push the bounda­ries of what is pos­si­ble. For more infor­ma­ti­on about how AMD is enab­ling today and inspi­ring tomor­row, visit the AMD (NASDAQ: AMD) web­site, blog, Face­bookand Twit­ter pages. About Men­tor Men­tor Gra­phics Cor­po­ra­ti­on, a Sie­mens busi­ness, is a world lea­der in elec­tro­nic hard­ware and soft­ware design solu­ti­ons, pro­vi­ding pro­duc­ts, con­sul­ting ser­vices, and award-win­ning sup­port for the world's most suc­cess­ful elec­tro­nic, semi­con­duc­tor, and sys­tems com­pa­nies. Cor­po­ra­te head­quar­ters are loca­ted at 8005 S.W. Boeck­man Road, Wil­son­vil­le, Ore­gon 97070–7777. Web site: http://www.mentor.com.
Advan­tech Media Con­tact Euro­pe Kar­la Fer­rer Pho­ne: +33 (0) 141 19 79 22 Email: karla.ferrer@advantech.fr
Men­tor Media Con­tact Euro­pe Marie Almei­da | EMEA PR & Com­mu­ni­ca­ti­ons Mana­ger Marie_almeida@mentor.com Men­tor, a Sie­mens Busi­ness | www.mentor.com Cell: +33 (0) 6 77 19 80 52 | CEST Cen­tral EU Time