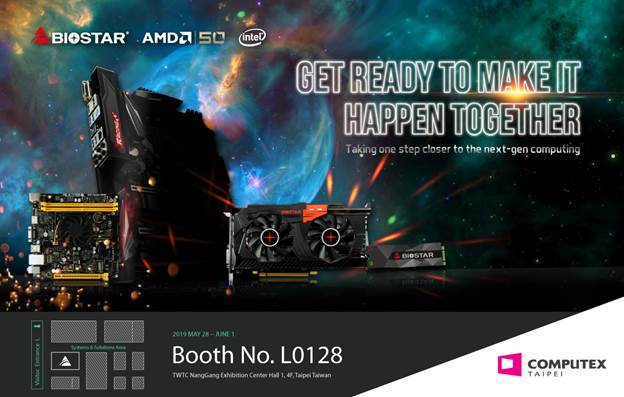 April 30, 2019_Taipei, Tai­wan – BIOSTAR will be laun­ching its latest gaming, home enter­tain­ment, edge com­pu­ting and smart home solu­ti­ons at COMPUTEX held in Tai­pei Nan­gang Exhi­bi­ti­on Cen­ter held bet­ween May 28th and June 1st, 2019. Key laun­ches this year will be BIOSTAR's fourth-genera­ti­on RACING seri­es mother­boards for gaming, the full port­fo­lio of sys­tem-on-chip mother­boards for home enter­tain­ment, ser­ver PCs, and edge com­pu­ting, and its indus­tri­al mother­board as well as Smart home solu­ti­ons. Also on show will be BIOSTAR's latest solid sta­te dri­ves inclu­ding the M500 M.2 NVMe SSD and BIOSTAR's latest gra­phics cards. BIOSTAR will bring a new genera­ti­on of gaming solu­ti­ons to COMPUTEX, taking gaming, home enter­tain­ment, busi­ness solu­ti­ons to the next level.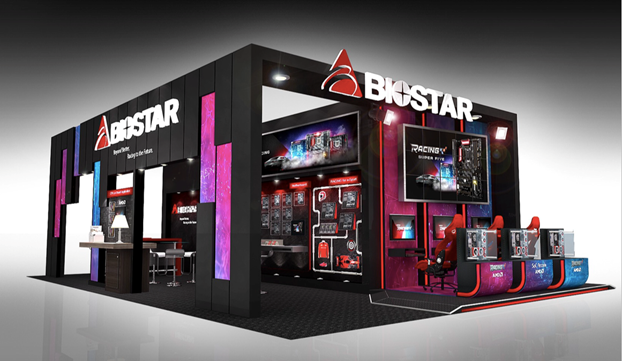 4th Genera­ti­on RACING Seri­es and Next Gen-Gaming Solu­ti­ons
The BIOSTAR RACING Seri­es of high-per­for­mance mother­boards fea­ture the latest tech­no­lo­gies for per­for­mance and aes­the­tics. The BIOSTAR RACING Seri­es is gea­red towards gamers and power users that demand per­for­mance with gre­at sta­bi­li­ty and relia­bi­li­ty. BIOSTAR will be demons­tra­ting the 4th genera­ti­on RACING Seri­es powe­red by AMD RyzenTM desk­top pro­ces­sors and Intel 9th Gen pro­ces­sors to high­light its capa­bi­li­ties in gaming, enter­tain­ment, and pro­fes­sio­nal use.
Fur­ther­mo­re, the famous BIOSTAR SoC mother­boards have All-in-One design with an effi­ci­ent low-pro­fi­le coo­ling solu­ti­on making it slim and ver­sa­ti­le for tight spaces like HTPCs and rack ser­vers. BIOSTAR will demons­tra­te the diver­si­ty of its SoC mother­boards line at COMPUTEX 2019, which extends from ever­y­day home enter­tain­ment to smart home solu­ti­ons and AI edge com­pu­ting sys­tems.
Throughout the exhi­bi­ti­on, BIOSTAR will have exci­ting 5G gaming solu­ti­ons laun­ching with an array of acti­vi­ties, events, givea­ways to kick start COMPUTEX 2019. Visit the BIOSTAR booth at COMPUTEX 2019, Tai­pei Nan­gang Exhi­bi­ti­on Cen­ter, Hall 1, 4F Booth L0128 from May 28th – June 1st, 2019 to see all its latest next genera­ti­on gaming solu­ti­ons.
CONNECT WITH US
Web­site: www.biostar.com.tw
Face­book: www.facebook.com/BiostarHQ
Twit­ter: www.twitter.com/BIOSTAR_Global
Insta­gram: www.instagram.com/biostarofficial
You­Tube: www.youtube.com/user/BiostarTaiwan
Avai­la­bi­li­ty: http://www.biostar.com.tw/app/en/wheretobuy/index.php
ABOUT BIOSTAR
BIOSTAR, is a brand dedi­ca­ted to the pro­duc­tion of mother­boards, gra­phics cards, indus­tri­al com­pu­ting sys­tems, IoT, cryp­to mining equip­ment, and health­ca­re solu­ti­on. Sin­ce its estab­lish­ment in 1986, the BIOSTAR GROUP has beco­me a major mother­board sup­plier in the IT indus­try as well as in IoT, Inter­net of Things. In order to pur­sue the best qua­li­ty and aes­the­tic design, BIOSTAR has inves­ted hea­vi­ly in ID design, equip­ment, glo­bal mar­ke­ting rese­arch as well as R&D. With a con­stant empha­sis on qua­li­ty, BIOSTAR always seeks to bey­ond bet­ter and race to the future.