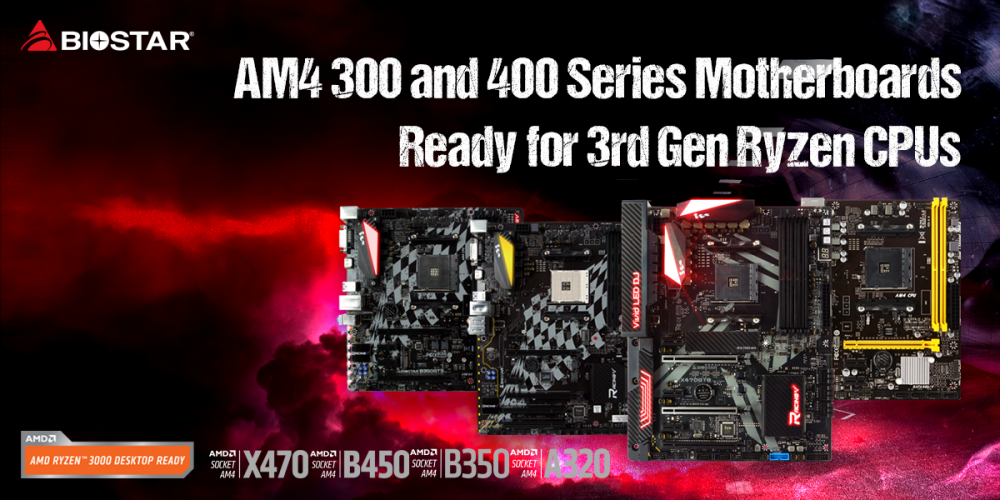 May 14, 2019, Tai­pei, Tai­wan – BIOSTAR,a lea­ding manu­fac­tu­rer of mother­boards, gra­phics cards, and sto­rage devices offers pie­ce of mind for its cus­to­mers, announ­cing the BIOSTAR AMD AM4 300-seri­es and 400-seri­es mother­boards­will be com­pa­ti­ble with upco­m­ing 3rd Gen AMD RYZEN™ CPUs. BIOSTAR's engi­nee­ring team have been working relent­less­ly pri­or to the avai­la­bi­li­ty of the upco­m­ing CPUs to ensu­re BIOSTAR pro­ducts keep their pro­mi­se of ensu­ring cus­to­mers get the best value without worry­ing about future upgrades.
Here is a plan­ned list of 3rd Gen AMD RYZEN com­pa­ti­ble models from BIOSTAR.
Model
B350ET2
B350GT3
B350GT5
B350GTN
B450GT3
X370GT3
X370GT5
X370GT7
X370GTN
X470GT8
X470GTN
A320MD PRO
A320MH PRO
TA320-BTC
TB350-BTC
A320MY-Q7
A320MH
B45M2
B450MHC
B450MH
Hi-Fi B350S1
CONNECT WITH US
Web­site: www.biostar.com.tw
Face­book: www.facebook.com/BiostarHQ
Twit­ter: www.twitter.com/BIOSTAR_Global
Insta­gram: www.instagram.com/biostarofficial
You­Tube: www.youtube.com/user/BiostarTaiwan
Avai­la­bi­li­ty: http://www.biostar.com.tw/app/en/wheretobuy/index.php
ABOUT BIOSTAR
BIOSTAR, is a brand dedi­ca­ted to the pro­duc­tion of mother­boards, gra­phics cards, indus­tri­al com­pu­ting sys­tems, IoT, cryp­to mining equip­ment, and health­ca­re solu­ti­on. Sin­ce its estab­lish­ment in 1986, the BIOSTAR GROUP has beco­me a major mother­board sup­plier in the IT indus­try as well as in IoT, Inter­net of Things. In order to pur­sue the best qua­li­ty and aes­the­tic design, BIOSTAR has inves­ted hea­vi­ly in ID design, equip­ment, glo­bal mar­ke­ting rese­arch as well as R&D. With a con­stant empha­sis on qua­li­ty, BIOSTAR always seeks to bey­ond bet­ter and race to the future.