PuT­TY ist ein Open Source Cli­ent-Pro­gramm für die Netz­werk­pro­to­kol­le SSH, Tel­net und Rlo­gin, mit dem ver­schlüs­sel­te Ver­bin­dun­gen zu Remo­te-Rech­nern her­ge­stellt wer­den kön­nen.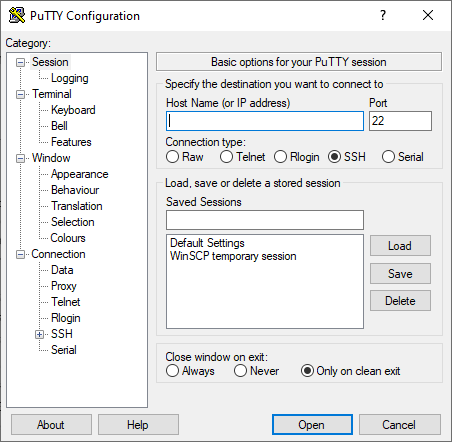 Chan­ge­log:
The­se fea­tures are new in 0.74 (released 2020-06-27):

Secu­ri­ty fix: if an

SSH

ser­ver accep­ted an offer of a public key and then rejec­ted the signa­tu­re, PuT­TY could access freed memo­ry, if the key had come from an

SSH

agent.
Secu­ri­ty fea­ture: new con­fig opti­on to dis­able PuTTY's dyna­mic host key pre­fe­rence poli­cy, if you pre­fer to avoid giving away to eaves­drop­pers which hosts you have stored keys for.
Bug fix: the instal­ler

UI

was ille­gi­ble in Win­dows high-con­trast mode.
Bug fix: con­so­le pass­word input fai­led on Win­dows 7.
Bug fixes in the ter­mi­nal: one instance of the drea­ded "line==

NULL

" error box, and two other asser­ti­on fail­u­res.
Bug fix: poten­ti­al memo­ry-con­suming loop in bug-com­pa­ti­ble pad­ding of an

RSA

signa­tu­re from an agent.
Bug fix:

PSFTP

's buf­fer hand­ling worked bad­ly with some ser­vers (par­ti­cu­lar­ly proftpd's mod_sftp).
Bug fix: cur­sor could be wron­gly posi­tio­ned when res­to­ring from the alter­na­te ter­mi­nal screen. (A bug of this type was fixed in 0.59; this is a case that that fix mis­sed.)
Bug fix: cha­rac­ter cell height could be a pixel too small when run­ning

GTK

PuT­TY on Ubun­tu 20.04 (or any other sys­tem with a simi­lar­ly up-to-date ver­si­on of Pan­go).
Bug fix: old-style (low reso­lu­ti­on) scroll wheel events did not work in

GTK

3 PuT­TY. This could stop the scroll wheel working at all in

VNC

.
| | |
| --- | --- |
| Down­load: | PuT­TY |
| Ver­si­on: | 0.74 |
| Datei­grö­ße | ver­schie­den |
| Ver­öf­fent­licht am: | 27.06.2020 |
| Betriebs­sys­tem: | Win­dows, Linux |
| Lizenz: | Open Source |
| Web­sei­te | PuT­TY |