Zum Inhalt springen
GIGABYTE

B550

VISION

D takes the lead to pass the Thunderbolt™ 3 certification
Pre­mi­um design and mate­ri­als pro­mi­se supe­ri­or trans­fer speed and per­for­mance on AMD plat­form for creators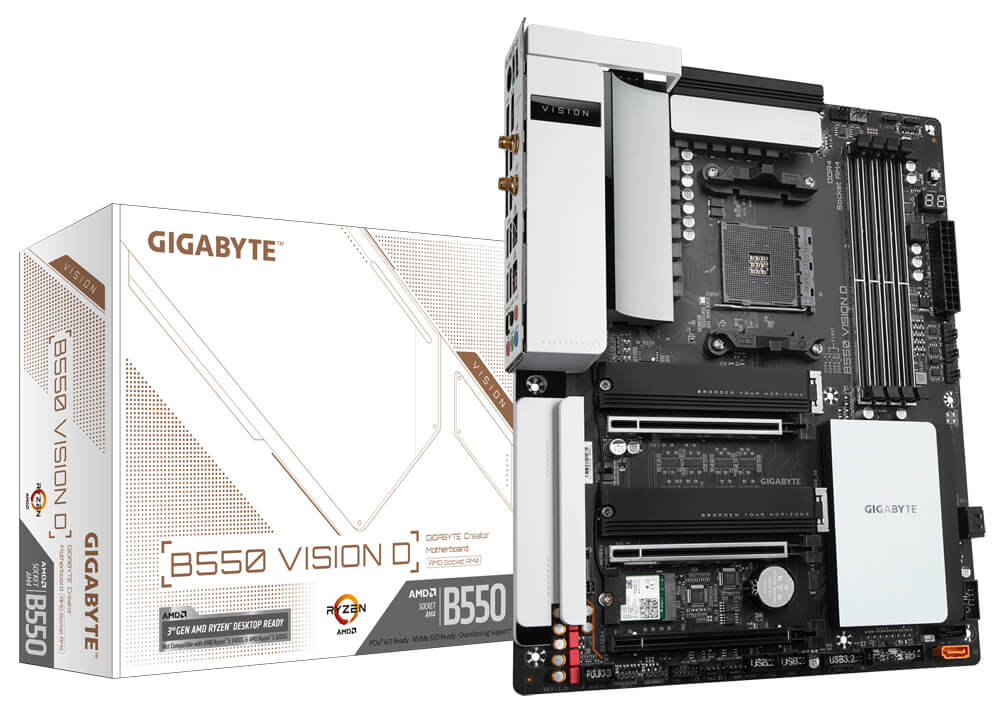 Tai­pei, Tai­wan, August 26, 2020 – GIGABYTE TECHNOLOGY Co. Ltd, a lea­ding manu­fac­tu­rer of mother­boards, gra­phics cards, and hard­ware solu­ti­ons, today announ­ced the B550 VISION D which is exclu­si­ve­ly desi­gned with lea­ding tech­no­lo­gy for con­tent creators has beco­me the first and the world-only Thun­der­bolt™ 3 tech­no­lo­gy-sup­por­ted AMD B550 mother­board. B550 VISION D pro­vi­des 40 Gb/s trans­fer speed for con­tent creators and is com­pa­ti­ble with both PC and MAC plat­forms which makes data sto­rage unli­mi­ted from dif­fe­rent plat­forms. Enhan­ced with com­pre­hen­si­ve func­tions of ligh­t­ing fast net­work, and data secu­ri­ty, B550 VISION D is cer­ti­fied to be the vital choice for con­tent creators and mul­ti­me­dia studios.
"In recent years, you can find that PC pro­ducts exclu­si­ve­ly desi­gned for con­tent creators are incre­a­singly laun­ched in the mar­ket, and expec­ting to take a share bey­ond the gaming mar­ket. We rea­li­zed the key fac­tor is to offer the pre­cise func­tion that creators need," said Jack­son Hsu, Direc­tor of the GIGABYTE Pro­duct Deve­lo­p­ment Divi­si­on. "GIGABYTE has con­duc­ted on creator mother­boards for several years, from the pre­vious DESIGNARE seri­es to the latest VISION D seri­es pro­duct line, we pha­se in the Thun­der­bolt™ func­tion which is very important to con­tent creators. Inheri­ting the fea­tures of mul­ti­cores, opti­mi­zed per­for­mance, and ulti­ma­te trans­fer speed, B550 VISION D takes the lead to pass Intel® Thun­der­bolt™ 3 cer­ti­fi­ca­ti­ons which repres­ents GIGABYTE's pre­ce­ding tech­no­lo­gy and deve­lo­p­ments tru­ly bene­fit the consumers."
In order to pro­vi­de con­tent creators with the most com­ple­ted Thun­der­bolt™ 3 expe­ri­ence, GIGABYTE B550 VISION D mother­board inte­gra­tes Titan Ridge Thunderbolt™3 IC from the begin­ning of pro­duct deve­lo­p­ment which dif­fers from the expan­si­on solu­ti­on of other com­pe­ti­tors. Adop­ted with pre­mi­um mate­ri­als and exclu­si­ve design, B550 VISION D stands out and pas­ses the strict Thunderbolt™3 veri­fi­ca­ti­on to be the first Thun­der­bolt™ 3 cer­ti­fied mother­board among B550 creator seri­es in the world.
B550 VISION D equips two sets of USB Type‑C™ inter­faces with 40Gb/s trans­fer speed, enab­ling users to enjoy the spee­dy access of their crea­ti­on and data without worry­ing that the access of lar­ge files runs slower than the pre­sen­ting. Being com­pa­ti­ble with both PC and Mac plat­forms makes acces­sing data when sharing bet­ween exter­nal devices no more risks. Enhan­ced by Dai­sy chain tech­no­lo­gy, B550 VISION D can con­nect to various peri­pherals with one port to 6 devices, such as Thun­der­bolt™ 3 sto­rage devices, displays,..etc, which crea­te more fle­xi­bi­li­ty and con­ve­ni­en­ce without dealing with com­plex con­nec­ting lines. Gra­phics creators can also con­nect with drawing tablets to turn crea­ti­vi­ty into strokes, or even be shown on the big screen for more detail­ed dis­cus­sion and prompt modi­fi­ca­ti­on at pro­po­sals for more sophisti­ca­ted and accom­plis­hed work.
Bes­i­des the strict­ly cer­ti­fied Thun­der­bolt™ 3 inter­faces, GIGABYTE B550 VISION D adopts supre­me hard­ware design and mate­ri­als, inclu­ding enhan­ced power design, opti­mi­zed ther­mal solu­ti­ons, dual Intel® giga­bit Ether­net and Wi-Fi 6 wire­less net­work which pro­vi­des the high-speed data sto­rage and net­work expe­ri­ence to creators. B550 VISION D sup­ports ECC memo­ry for instant error-che­cking and cor­rec­ting. Moreo­ver, pai­red with Qua­dro gra­phics card, B550 VISION D pres­ents more sta­ble and accu­ra­te qua­li­ty which is true to ori­gi­nal crea­ti­vi­ty with no more worries about the dis­pa­ri­ty bet­ween the out­puts and ori­gi­nal design. Creators who are eager for more pre­cise, more com­pe­ti­ti­ve, more spee­dy data access should never miss the GIGABYTE B550 VISION D motherboard.
For more details, plea­se visit the offi­cial GIGABYTE mother­board website:
https://www.gigabyte.com/tw/Motherboard/B550-VISION-D-rev-10#kf
For more infor­ma­ti­on and news on GIGABYTE pro­ducts, plea­se visit the offi­cial GIGABYTE website:
https://www.gigabyte.com/