19 April 2021-Com­pu­ting hard­ware manu­fac­tu­rer AMD has dona­ted 10 ser­ver sys­tems to the High-Per­for­mance Com­pu­ting Cen­ter Stutt­gart (HLRS) that will be dedi­ca­ted for rese­arch rela­ted to the SARS-CoV‑2 pan­de­mic. The new resour­ces, which were deli­ve­r­ed this week, will also expand HLRS's capa­ci­ty to address future urgent com­pu­ting needs.
The dona­ti­on comes as part of the AMD COVID-19 High Per­for­mance Com­pu­ting Fund, which was estab­lis­hed in April 2020 to pro­vi­de rese­arch insti­tu­ti­ons around the world with com­pu­ting resour­ces to acce­le­ra­te medi­cal rese­arch on COVID-19 and other dise­a­ses. HLRS is among the first Euro­pean HPC cen­ters to recei­ve a dona­ti­on under pha­se two of this program.
The new AMD nodes will be inte­gra­ted into HLRS's Vul­can clus­ter. Each of the dona­ted ser­vers con­tains one AMD EPYC™ pro­ces­sor and eight AMD Instinct™ acce­le­ra­tors, which are opti­mi­zed for app­li­ca­ti­ons invol­ving machi­ne lear­ning, deep lear­ning, and arti­fi­cial intel­li­gence. The ser­ver sys­tems, built by Pen­gu­in Com­pu­ting, will offer 530 TFlops of 64-bit floa­ting-point performance.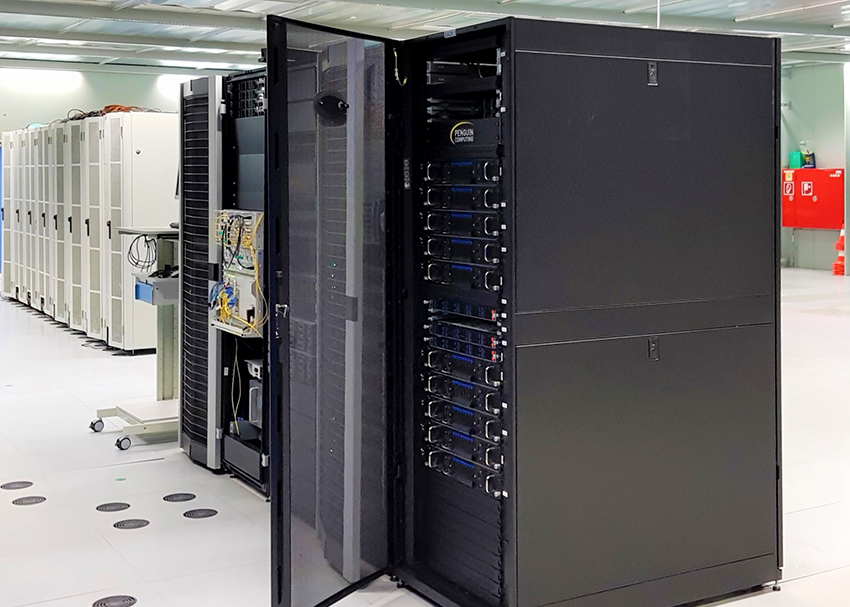 The new hard­ware will sup­port HLRS's acti­vi­ties in the field of Glo­bal Sys­tems Sci­ence. This inclu­des its par­ti­ci­pa­ti­on in the HIDALGO pro­ject, a Cen­ter of Excel­lence (CoE) fun­ded by the Euro­pean Union's Hori­zon 2020 Pro­gram­me, and in the bwHPC-S5 pro­ject, fun­ded by the Sta­te of Baden-Württemberg.
HLRS Direc­tor Micha­el Resch wel­co­med the arri­val of the new nodes, exp­lai­ning, "The COVID-19 cri­sis has been a big wake­up call in Ger­ma­ny and across Euro­pe, showing that new chal­len­ges can ari­se very sud­den­ly and have widespread impacts across socie­ties. Becau­se high-per­for­mance com­pu­ting is incre­a­singly important in sci­en­ti­fic disci­pli­nes that address such chal­len­ges, it is important that HPC cen­ters have suf­fi­ci­ent super­com­pu­ting capa­ci­ty to react to sud­den and urgent sur­ges in need. We are very hap­py for this dona­ti­on from AMD, as it will impro­ve our abi­li­ty to sup­port sci­en­tists in Ger­ma­ny and in the EU who are working to bet­ter under­stand the coro­na­vi­rus pan­de­mic and pro­vi­de insights that governments and health­ca­re orga­niz­a­ti­ons can use to address it."
Alrea­dy, HLRS has begun working with the Ger­man Federal Insti­tu­te for Popu­la­ti­on Rese­arch (Bun­des­in­sti­tut für Bevöl­ke­rungs­for­schung) to imple­ment a model for pre­dic­ting the need for inten­si­ve care units across Ger­ma­ny up to eight weeks into the future. The dai­ly "wea­ther report," which will soon run on the new­ly dona­ted infra­st­ruc­tu­re, could help health experts and government offi­cials bet­ter anti­ci­pa­te when and whe­re inter­ven­ti­ons such as lock­downs could beco­me necessa­ry — or be lifted — in respon­se to chan­ging stres­ses on hos­pi­tals' resources.
"We are very plea­sed to see HLRS bene­fit­ting from our tech­no­lo­gy dona­ti­on and by how they are lever­aging their exper­ti­se to sup­port Germany's effort in the fight against the coro­na­vi­rus pan­de­mic," com­men­ted Mario Sil­vei­ra, Cor­po­ra­te VP AMD EMEA. "The AMD COVID-19 HPC fund is a prime examp­le of how brin­ging tog­e­ther high-per­for­mance com­pu­ting with estee­med rese­arch insti­tu­ti­ons will help deve­lop inno­va­tions that bene­fit the world."
The new AMD com­pu­ting resour­ces at HLRS could poten­ti­al­ly sup­port addi­tio­nal rese­arch on the pan­de­mic requi­ring the ana­ly­sis of lar­ge data sets, inclu­ding topics rela­ted to geno­mics, vac­ci­ne deve­lo­p­ment, dise­a­se trans­mis­si­on, and epi­de­mio­lo­gi­cal mode­ling. Once the cur­rent pan­de­mic is past, the new hard­ware could also enab­le other kinds of rese­arch deman­ded by future cri­ses, such as tho­se resul­ting from dise­a­se, cli­ma­te chan­ge, or social upheaval.