Zum Inhalt springen
Dell — Newest Precision Powerhouse Features
AMD

Ryzen Threadripper

PRO
Pre­cisi­on 7865 Tower unites per­for­mance and com­pu­ting power in AMD-powe­red Pre­cisi­on workstation.
It's no coin­ci­dence that in our 25th anni­ver­s­a­ry year of Dell Pre­cisi­on, we've unvei­led some of the most power­ful work­sta­tions ever – with no signs of slowing. It began ear­lier this year when we intro­du­ced the world's most power­ful 14-inch mobi­le work­sta­tion¹, fol­lo­wed by last month's unvei­ling of the new Pre­cisi­on 7000 Seri­es mobi­le work­sta­tions. Not only do the­se offer the latest tech­no­lo­gi­cal advan­ce­ments, the Pre­cisi­on 7000 Seri­es fea­tures a new form fac­tor for DDR5 memo­ry that we anti­ci­pa­te will beco­me a new indus­try standard.
Which brings us to today, and the intro­duc­tion of the Pre­cisi­on 7865 Tower, fea­turing the AMD Ryzen™ Thre­ad­rip­per™ PRO 5000 WX-Seri­es pro­ces­sors. Whe­ther you're crea­ting the next ani­ma­ted block­bus­ter, deve­lo­ping trend-set­ting AR initia­ti­ves or ana­ly­zing mas­si­ve data sets, this pro­fes­sio­nal work­sta­tion brings tog­e­ther immense power, fle­xi­bi­li­ty and relia­bi­li­ty in one system.
Meet the New Precision 7865 Tower
Today, get­ting more done in less time–and seamlessly–is the name of the game. This new high-per­for­mance tower offers full-spec­trum per­for­mance for a varie­ty of deman­ding pro­fes­sio­nal app­li­ca­ti­ons, powe­red by the latest AMD Ryzen™ Thre­ad­rip­per™ PRO pro­ces­sors. The Pre­cisi­on 7865 Tower is maxi­mi­zed for deman­ding, mul­ti-app­li­ca­ti­on workloads and empowers users to tack­le inten­si­ve, com­plex work­streams more effi­ci­ent­ly. Brid­ging clock speed (valu­able in inter­ac­ti­ve work­flows such as com­pu­ter-aided design) and mul­ti-core com­pu­ta­ti­on (nee­ded for work­flows such as ren­de­ring or simu­la­ti­on), the Pre­cisi­on 7865 Tower powers data sci­ence, gra­phic design, engi­nee­ring, ima­ging, and VR and AI initia­ti­ves without compromise.
Desi­gned for engi­neers, archi­tects, creators and desi­gners who depend on mixed-use work­flows, the Pre­cisi­on 7865 Tower comes with up to 64 CPU cores, up to 56TB sto­rage, optio­nal Thun­der­bolt™ 3, up to 1TB of DDR4 ECC memo­ry with RMT Pro and a full suite of pro­fes­sio­nal gra­phics opti­ons (up to 32GB AMD Rade­on™ PRO W6800 or up to 48GB NVIDIA RTX A6000 gra­phics). The Pre­cisi­on 7865 Tower allows you to crea­te and ren­der simul­ta­ne­ous­ly, without sacri­fi­cing performance.
More power shouldn't mean more heat. The new­ly desi­gned chas­sis fea­tures a hexa­go­nal ven­ting pat­tern that sup­ports dedi­ca­ted air chan­nels for cri­ti­cal com­pon­ents. This enhan­ces both ther­mal effi­ci­en­cy and acoustic per­for­mance, mea­ning you can focus on work while the sys­tem runs smooth­ly and quiet­ly. This is all packed into a chas­sis that's 14% smal­ler than the Pre­cisi­on 7820 Tower.
Users will see Dell's long­time and ever-gro­wing com­mit­ment to ser­vicea­bi­li­ty reflec­ted in the Pre­cisi­on 7865 work­sta­tion. Ser­vicing and upgrading are made simp­ler with con­ve­ni­ent front and side access. A look insi­de reve­als tool-less inte­riors and orga­ni­zed, color-coded com­pon­ents that make it more intui­ti­ve to upgrade memo­ry, sto­rage or gra­phics cards as power deman­ds incre­a­se. Loo­king to the future, Dell engi­neers prio­ri­ti­zed upgradabi­li­ty and sca­la­bi­li­ty to not only meet the per­for­mance needs of today but also to grow and evol­ve along­side the pros who use them.
Mission Critical Reliability Meets Enhanced Experience
Becau­se per­for­mance and pro­duc­ti­vi­ty across a varie­ty of app­li­ca­ti­ons and mul­ti-threa­ded work­flows need to be at an all-time high, relia­bi­li­ty and secu­ri­ty are vital. Pro­fes­sio­nal soft­ware cer­ti­fi­ca­ti­ons backed by rigo­rous tes­ting and bench­marks help ensu­re app­li­ca­ti­ons are opti­mi­zed and ful­ly func­tio­n­al. Eli­te part­ners, inclu­ding lea­ding film and video tech­no­lo­gy com­pa­ny Black­ma­gic Design, pro­vi­de an excep­tio­nal and expan­ded user experience.
"We are see­ing cus­to­mers, from first time filmma­kers to huge stu­di­os, using DaVin­ci Resol­ve Stu­dio with incre­a­singly intri­ca­te and high-res video work­flows. The tech­no­lo­gy they need to crea­te must be reli­able as well as power­ful," said Dan May, Pre­si­dent, Black­ma­gic Design. "The new Pre­cisi­on 7865 Tower, with the AMD Ryzen™ Thre­ad­rip­per™ PRO, pro­vi­des high per­for­mance and com­plex com­pu­ta­ti­on, giving our cus­to­mers a power­ful and con­fi­gura­ble sys­tem to run Black­ma­gic Design Resol­ve Studio."
Addi­tio­nal­ly, Dell Opti­mi­zer for Pre­cisi­on soft­ware makes the sys­tem smar­ter, using AI to learn your work style and respond to your needs, auto­ma­ti­cal­ly impro­ving app­li­ca­ti­on per­for­mance, and pre­sen­ting spe­cia­li­zed repor­ting and analytics.
The Pre­cisi­on 7865 Tower fea­tures a thought­ful design that makes it easy to access the insi­de of the machi­ne, while the lock­able chas­sis with intru­si­on detec­tion hel­ps keep it secu­re. TPM 2.0 (trus­ted plat­form modu­le) and self-encryp­t­ing dri­ves crea­te a com­pre­hen­si­ve solu­ti­on that users can depend on to help pro­tect sen­si­ti­ve data, intel­lec­tu­al pro­per­ty and con­fi­den­ti­al pro­jects. Roun­ding out the ease of use, fre­quent­ly used USB Type‑C and A ports are con­ve­ni­en­t­ly loca­ted on the front of the tower, and car­ry­ing hand­les make the tower more por­ta­ble when needed.
Con­ti­nuing our focus on pro­vi­ding solu­ti­ons to fit a varie­ty of work envi­ron­ments and teams, the Pre­cisi­on 7865 Tower deli­vers fast net­work speeds (1Gb and 10Gb nati­ve), sup­por­ting work from home and allowing mul­ti­ple users on one tower vir­tual­ly. With the help of AMD PRO Mana­gea­bi­li­ty, the Pre­cisi­on 7865 deli­vers secu­re out-of-band and remo­te manage­ment, giving IT admi­nis­tra­tors the abi­li­ty to sup­port employees' needs regard­less of loca­ti­on so they can be and work whe­re­ver they want.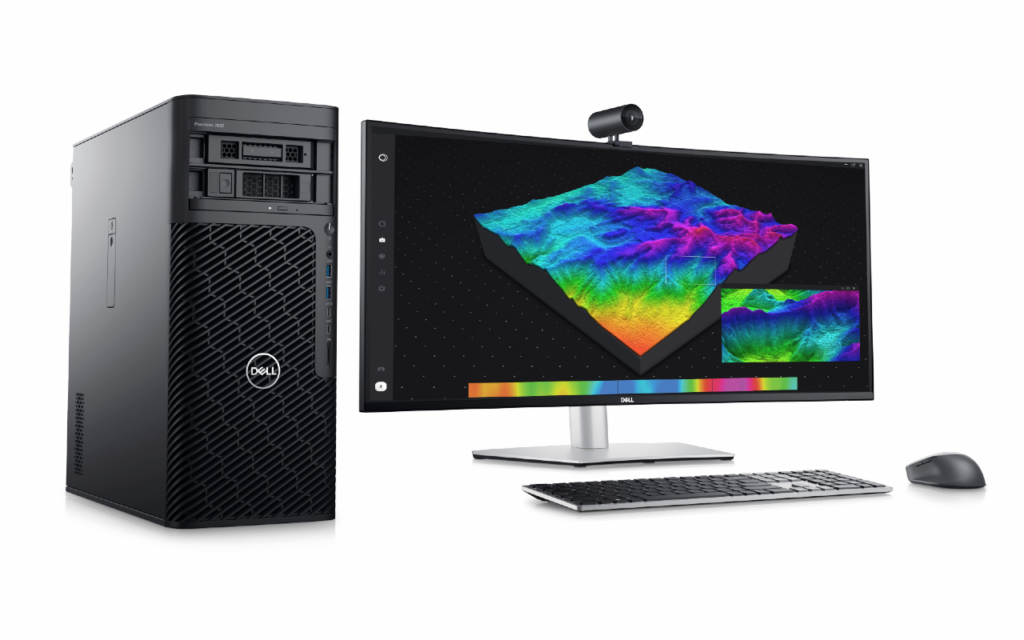 Final Words
The Dell Pre­cisi­on 7865 Tower will be avail­ab­le this sum­mer glo­bal­ly, with pri­ces announ­ced clo­ser to ship­ping. There's no bet­ter way to cele­bra­te our 25th anni­ver­s­a­ry than by con­ti­nuing to push bounda­ries and crea­ting the tools our cus­to­mers need to do the same. And the Pre­cisi­on 7865 Tower is just that.