Tai­pei, Tai­wan, 27th Decem­ber 2018 – GIGABYTE has brought the impres­si­ve com­pu­te and I/O capa­bi­li­ties of AMD EPYC to a new sin­gle socket tower ser­ver that can sup­port four GPGPU cards, making it ide­al for SOHO, SME, uni­ver­si­ties or other orga­niz­a­ti­ons requi­ring a cost effec­ti­ve, high per­for­mance engi­ne for simu­la­ti­on, machi­ne lear­ning or other AI, HPC or data pro­ces­sing workloads. VGA gra­phics cards may also be instal­led ins­tead, tur­ning the W291-Z00 into a power­ful tool for CAD mode­ling or 3D rendering.
The W291-Z00 is built around GIGABYTE's MZ01-CE1 ser­ver mother­board, sup­por­ting a sin­gle AMD EPYC 7000 seri­es pro­ces­sor with up to 32 cores and 64 threads, making it gre­at for app­li­ca­ti­ons that are opti­mi­zed for mul­ti-threa­ding. The mother­board fea­tures 8 x DIMM slots to sup­port the EPYC's 8 memo­ry chan­nels, for a total capa­ci­ty of 1,024GB of DDR4 memory.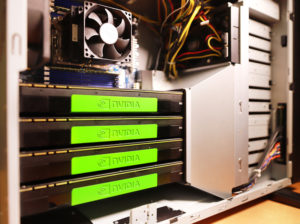 Perhaps one of the most impres­si­ve high­lights of the W291-Z00 is the abi­li­ty to sup­port up to four acti­ve VGA or pas­si­ve GPGPU cards*, espe­cial­ly com­pa­red with com­pe­ting solu­ti­ons that requi­re a dual socket CPU plat­form to sup­port a simi­lar num­ber of cards. The­re­fo­re, the W291-Z00 offers an excel­lent value pro­po­si­ti­on to cus­to­mers loo­king for a non-rack­mount stan­da­lo­ne ser­ver that still can offer den­se GPU capa­ci­ty and com­pu­te power. GPUs sup­por­ted by the W291-Z00 will inclu­de the Tes­la V100 or Rade­on MI25 for machi­ne lear­ning workloads, as well as NVIDIA's Qua­dro, GeFor­ce & Titan seri­es VGA cards, offe­ring a varie­ty of workload pos­si­bi­li­ties for this sys­tem.*GPU card type sup­por­ted & quan­ti­ty sup­por­ted varies accord­ing to mecha­ni­cal and ther­mal con­si­de­ra­ti­ons. For more infor­ma­ti­on, plea­se con­sult the QVL list down­load­a­ble from the W291-Z00 pro­duct page.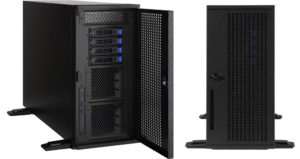 For high capa­ci­ty sto­rage, the front of the W291-Z00 fea­tures four hot-swapp­a­ble dri­ve bays to install 3.5" or 2.5" SATA or SAS HDD / SSD dri­ves. Intern­al­ly, the W291-Z00 also fea­tures an onboard M.2 slot for a high speed flash sto­rage dri­ve. Addi­tio­nal M.2 dri­ves for flash sto­rage may be instal­led via an M.2 riser card (such as GIGABYTE's CMT2014, CMT4032 or CMT4034) from one of W291-Z00's five expan­si­on slots (four PCIe Gen3 x16 slots and one PCIe Gen3 x8 slot).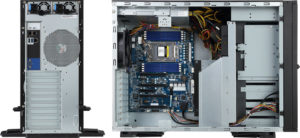 The W291-Z00 also fea­tures many other ser­ver class relia­bi­li­ty and main­ten­an­ce fea­tures com­mon across GIGABYTE's rack­mount ser­ver pro­ducts, inclu­ding an Aspeed AST2500 base­board manage­ment con­trol­ler for remo­te manage­ment. Sys­tem coo­ling is pro­vi­ded by four power­ful inter­nal fans: three 120x38mm fans and one 92x25mm fan. Fan speed can be adjus­ted via GIGABYTE's con­so­le manage­ment UI accord­ing to the type of GPU card instal­led: full speed for pas­si­ve-coo­led GPGPU cards, or redu­ced speed when acti­ve coo­led VGA cards are instal­led, which also redu­ces sys­tem noi­se when the tower ser­ver might be nee­ded to ope­ra­te in an office envi­ron­ment. The W291-Z00 would even be ide­al to be used with a water coo­ling sys­tem for even quie­ter ope­ra­ti­on. And to ensu­re the sys­tem remains reli­able and sta­ble even when run­ning with a full load of GPGPU cards, the tower ser­ver inclu­des dual red­un­dant 1600W Pla­ti­num power sup­ply units.
To express your inte­rest or make an enqui­ry regar­ding the W291-Z00, plea­se con­ta­ct GIGABYTE by email: server.grp (at) gigabyte.com