Der Packer RAR oder eben Win­RAR gilt nach wie vor als einer der leis­tungs­fä­higs­ten sei­ner Art. Als kos­ten­pflich­ti­ge Share­ware hat er es jedoch seit gerau­mer Zeit schwer, auf dem Markt gegen die inte­grier­te Out-of-the-box-Lösung für ZIP-Datei­en unter Micro­soft-Betriebs­sys­te­men oder gar die völ­lig kos­ten­lo­sen und noch dazu Open-Source-Lösun­gen wie 7‑Zip zu bestehen.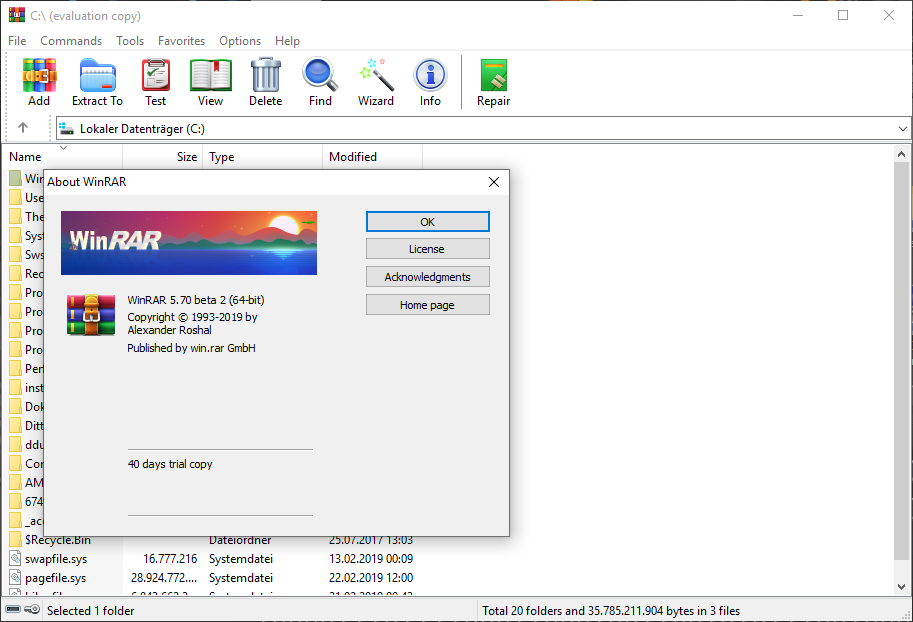 Ver­si­on 5.71 beta 2

1. Mas­ter pass­word pro­ces­sing:

a) if pass­word stored in com­pres­si­on pro­fi­le is pro­tec­ted
with mas­ter pass­word and user ent­e­red a wrong mas­ter pass­word
after choo­sing a pro­fi­le, "the spe­ci­fied pass­word is incor­rect"
mes­sa­ge is dis­play­ed befo­re repea­ting request;

b) if ‑cp<profile_name> switch is used, pro­fi­le stores a pass­word
pro­tec­ted with mas­ter pass­word and user can­cels the mas­ter
pass­word prompt, the ent­i­re archi­ving com­mand is can­cel­led.
Pre­vious ver­si­ons con­ti­nued archi­ving wit­hout a pass­word.

2. When repai­ring archi­ves in com­mand line, it is allo­wed to spe­ci­fy
a name of exis­ting desti­na­ti­on fol­der also wit­hout trai­ling path
sepa­ra­tor. Pre­vious­ly "r" com­mand accep­ted only "dest­fol­der\" for­mat.

Path sepa­ra­tor is still requi­red if desti­na­ti­on fol­der does not exist.

3. Bugs fixed:

a) Win­RAR could crash when attemp­t­ing to dis­play some types of archi­ve
comments in GUI shell, resul­ting in a deni­al of ser­vice;

b) cur­rent archi­ve name was not updated in hint mes­sa­ge asso­cia­ted
with tray icon when repai­ring several archi­ves in back­ground.
Down­load:
Links zum The­ma: