TAIPEI, Tai­wan, May 27th, 2019 –The lea­ding glo­bal mother­board 'gra­phics card and small form fac­tor manu­fac­tu­rer, ASRock, is proud to announ­ce and show­ca­se the latest PC pro­ducts, which inclu­de mother­boards, small form fac­tor PC and gra­phics cards, at the upco­m­ing COMPUTEX Tai­pei 2019. ASRock wel­co­mes visi­tors to expe­ri­ence our lea­ding pro­ducts and tech­no­lo­gies at booth #L0410 of the Tai­pei Nan­gang Exhi­bi­ti­on Cen­ter Hall 1 in Tai­pei, Tai­wan from May 28 th to June 1 st, 2019.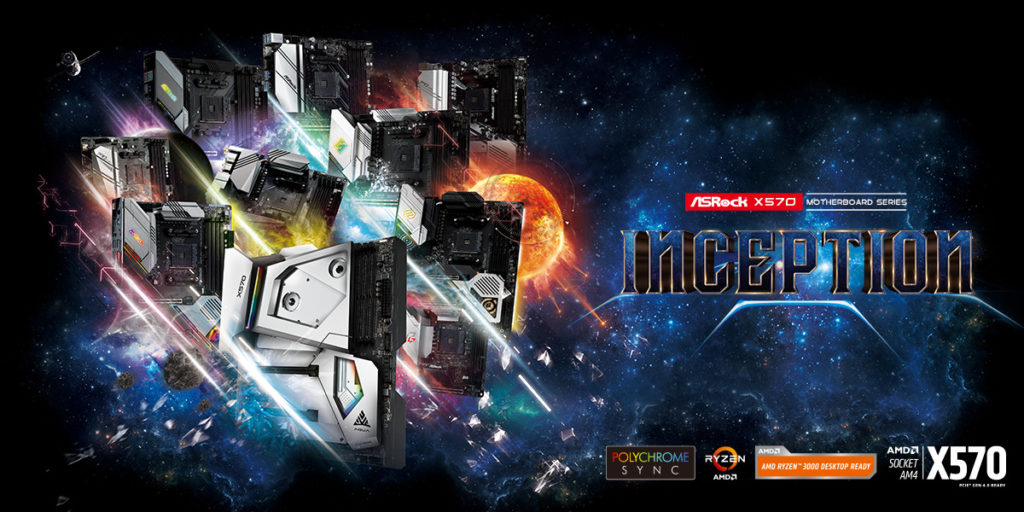 The New
AMD

X570

Chipset Motherboards

ASRock will reve­al the latest crea­ti­on based on the revo­lu­tio­na­ry AMD X570 chip­set. The new pro­duct is fil­led with many exci­ting fea­tures and new tech­no­lo­gy such as the sup­port of PCI Express® 4.0 stan­dard, this spe­ci­fi­ca­ti­on dou­bles the through­put of PCIe 3.0 and pro­vi­des speeds up to a stag­ge­ring 16 GT/s. And not only that , the new X570 mother­boards also comes with a Wi-Fi 6 (802.11ax) high-effi­ci­en­cy wire­less net­work, bet­ter coo­ling solu­ti­ons, even more eye catching designs as well as RGB ligh­t­ing effects, pro­vi­ding a total solu­ti­on and com­ple­te tech­no­lo­gy bre­akthrough to accom­mo­da­te data cen­ter and high-speed con­su­mer applications.

During COMPUTEX 2019, ASRock tea­med up with Phi­son Elec­tro­nics and will be demo­ing the incredi­ble speed of PCI Express 4.0 with their latest PCIe 4.0 x4 NVMe M.2 SSD solu­ti­on. Sin­ce this new stan­dard was sup­por­ted across the who­le X570 mother­board seri­es, PCI Express 4.0 sto­rage devices will soon be the future for every per­for­mance enthusiast.

"We are exci­ted the launch of AMD X570 chip­set based mother­board at COMPUTEX 2019 to acce­le­ra­tes the speed of PCI Express to the next level, in order to hand­le the high per­for­mance com­pu­ting requi­red fas­ter PCI Express band­width, "said Chris Lee, Gene­ral Mana­ger of ASRock Mother­board & Gaming Peri­pherals BU. "The part­ners­hip with Phi­son will demons­tra­te the incredi­ble data trans­fer speed with ASRock X570 seri­es mother­board and Phi­son PCIe Gen4x4 NVMe SSD, to meet the PC enthu­si­ast most deman­ding per­for­mance for various applications."

"We are hap­py to be a strong con­tri­bu­tor of AMD's PCIe 4.0 eco­sys­tem. In joint for­ce with AMD's lea­ders­hip Ryzen™ and X570 chip­sets and Gen4 enab­led mother­board part­ners, Phison's will be releasing its own PCIe Gen4x4 NVMe PS5016-E16 SSD solu­ti­on to the mar­ket, com­ple­ting the world's first con­su­mer afford­a­ble PCIe 4.0 PC app­li­ca­ti­on plat­form", said K.S. Pua, chair­man and CEO of PHISON. "Through the stra­te­gic alli­an­ces, eco­sys­tem part­ners can final­ly embrace the growth of emer­ging app­li­ca­ti­on mar­kets that can bene­fit from high-per­for­mance com­pu­ting, such as 5G ser­vices and 8K HD con­tents, unlo­cking the gate to the new tech­no­lo­gy era."
The New Phantom Gaming and Taichi Series Concept Graphics Cards
In terms of gra­phics card, ASRock is also full of topics: ASRock will demons­tra­te the brand-new 2019 con­cept gra­phics cards, inclu­ding the cur­rent Phan­tom Gaming seri­es and the first-expo­sed Tai­chi seri­es. The new Phan­tom Gaming U Rade­on™ RX 590 8G OC gra­phics card is the world's first AMD Rade­on- RX 590 gra­phics card with ARGB LEDs. With ASRock's ARGB/RGB LED mother­boards, it allows users to build their own uni­que ligh­t­ing effect sys­tem. Tog­e­ther with the flagship AMD Rade­on VII gra­phics card, as well as Rade­on RX Vega seri­es and Rade­on RX 500 seri­es pro­ducts, the Phan­tom Gam­ning U crea­tes a line of gra­phics cards to satisfy the needs of every customer.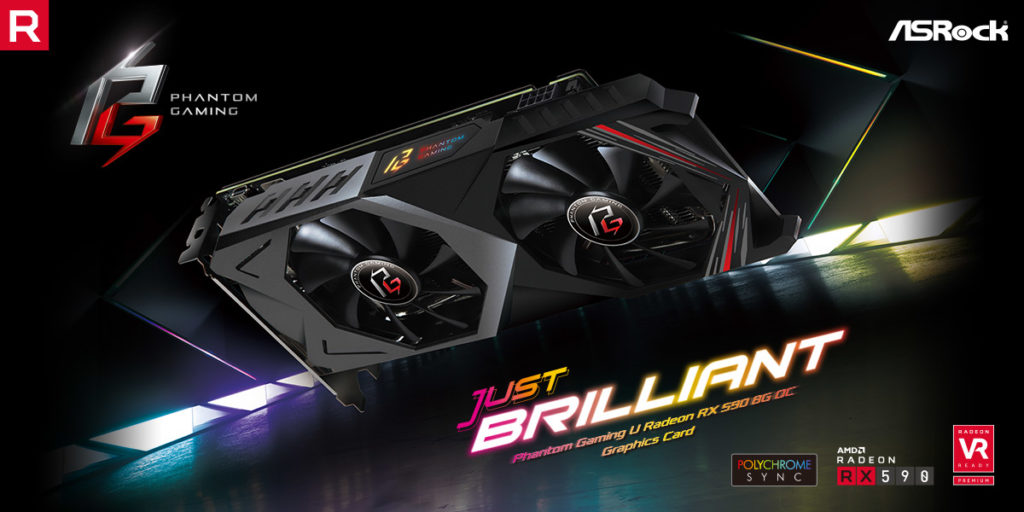 The World's First Thunderbolt™ 3 Graphics Card
ASRock will be showing the world's first Thin Mini-ITX form fac­tor – RX570TM-ITX/TBT gra­phics card, which adap­ts with AMD Rade­on™ RX570 gra­phics card and sup­ports Intel® Thun­der­bolt™ 3 technology.
The RX570TM-ITX/TBT gra­phics card is not only the first gra­phics card with a Thun­der­bolt™ 3 Type‑C inter­face which sup­ports 40Gb/s trans­fer rate and power deli­very, but it also fea­tures 4 USB 3.1 Gen1 ports, Giga­bit Ether­net, and SATA 6Gb/s inter­face. The RX570TM-ITX/TBT gra­phics card is based on the Thin Mini-ITX con­cept. With this gra­phics card, All-in-One PC manu­fac­tu­rers can deve­lop their own Thun­der­bolt moni­tors with 3D per­for­mance and power char­ging with less effort. Moreo­ver, it would be able to fit in a mini ITX chas­sis. By con­nec­ting a note­book through Thun­der­bolt™ 3 Type‑C inter­face, it hel­ps to incre­a­se the notebook's 3D com­pu­ting power and char­ge the note­book at the same time.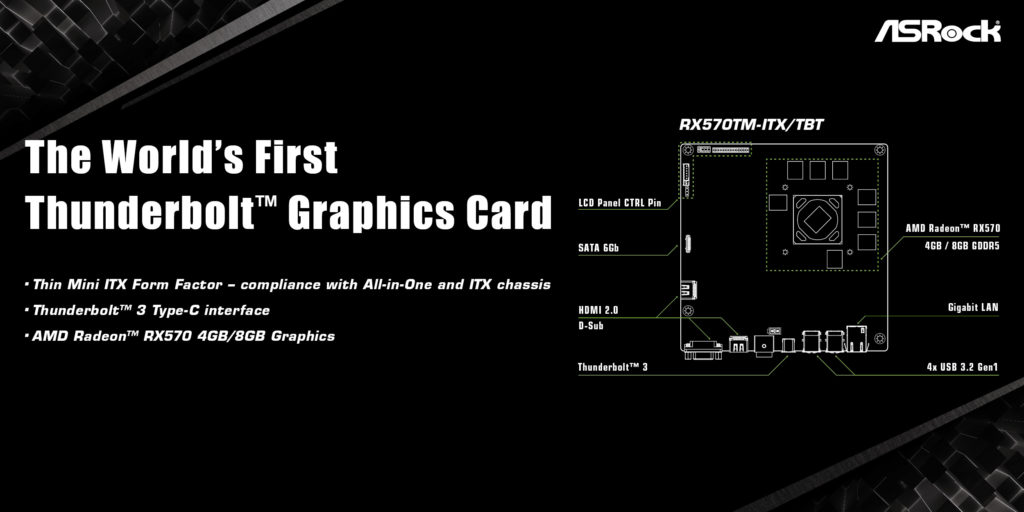 Exhibition Dates
&

Hours:

- May 28 th ~ 31st , 2019 – 9:30 am ~ 5:30pm
— June 1st , 2019 — 9:30 am ~ 4:00 pm
— Venue: Tai­pei Nan­gang Exhi­bi­ti­on Cen­ter, Hall 1 (No.1, Jing­mao 2nd Rd., Nan­gang District, Tai­pei City 11568, Taiwan)
— Booth: L0410