ThinkCentre M75n and M75n IoT Nano form factor desktops available now
June 24, 2020 – Today, Leno­vo announ­ced its latest Think­Cent­re ultra-small form fac­tor "Nano" desk­tops. The 350ml Think­Cent­re M75n is the smal­lest desk­top in the Think­Cent­re port­fo­lio and is per­fect­ly sui­ted to respond to the ways and spaces in which peop­le now work. Powe­red by AMD Ryzen™ PRO pro­ces­sors, with solid sta­te sto­rage and Win­dows 10, the M75n deli­vers power­ful desk­top per­for­mance and robust secu­ri­ty hel­ping users accom­plish their dai­ly tasks.
The Think­Cent­re M75n IoT is an intel­li­gent edge com­pu­ting device with power­ful AMD Ath­lon™ pro­ces­sors that can pro­tect, collect, ana­ly­ze and inter­pret real-time data from mul­ti­ple sources hel­ping busi­nes­ses opti­mi­ze pro­duc­tion or maxi­mi­ze effi­ci­en­ci­es.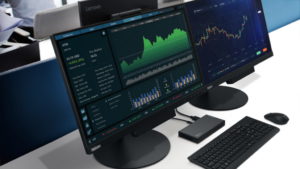 Power­ful Pro­duc­ti­vi­ty
Think­Cent­re M75n fea­tures opti­ons that are pro­ven to boost employee pro­duc­ti­vi­ty, like Modern Stand­by, which allows users to recei­ve emails, Voice over IP calls, and instant messages while the device is in stand­by mode and then rapidly resu­mes to full func­tion. Even though it's only 22mm thin, Think­Cent­re M75n doesn't sacri­fice con­nec­ti­vi­ty for size. It has all the ports users need to stay con­nec­ted to peri­pherals, net­works, and access­ories. Users can also con­nect to two dis­plays for mul­ti­tas­king, plus a full-size key­board and mou­se, head­pho­nes, and more. A USB Type‑C port loca­ted on the front panel offers fast char­ging of com­pa­ti­ble devices and quick data sharing.
Today's desk­tops need a fle­xi­ble pur­po­se. The M75n can be moun­ted any­whe­re with the appro­pria­te access­ories — on the wall, behind a moni­tor, under the table­top. Or keep it free for ulti­ma­te grab-and-go por­ta­bi­li­ty. Weig­hing just 505 grams, the M75n is a por­ta­ble work­hor­se enab­ling easy tran­si­ti­on from office to home for maxi­mum pro­duc­ti­vi­ty Sim­ply con­nect Think­Cent­re M75n to an exter­nal key­board, mou­se and up to two dis­plays for a mul­ti-moni­tor, ergo­no­mic, full desk­top com­pu­ting expe­ri­ence.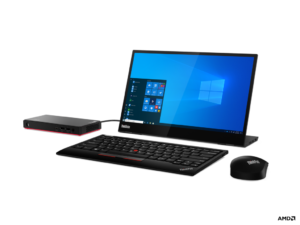 Real-Time Data Ana­ly­sis, Any­ti­me, Any­whe­re
Ide­al for inte­gra­ting into wareh­ouse, retail and health­ca­re edge com­pu­ting envi­ron­ments, the Think­Cent­re M75n IoT sup­ports WiFi and Blue­tooth®, wire­less con­nec­tions to effi­ci­ent­ly trans­port data to the cloud or data cen­ter. It can also ser­ve as a dedi­ca­ted Thin­Cli­ent for the per­fect Work-From-Home plat­form that can be secu­re­ly deploy­ed and mana­ged remo­te­ly as a cloud based or desk­top as a ser­vice model. In order to sup­port the Edge com­pu­te and Thin­Cli­ent solu­ti­ons, the M75n IoT sup­ports a varie­ty of OS opti­ons and main­tains built-in dri­ver sup­port for older OS ver­si­ons to ensu­re back­wards com­pa­ti­bi­li­ty.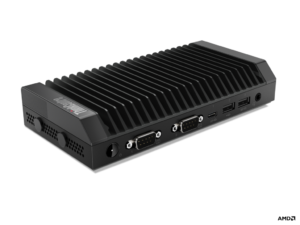 The pre­vious­ly announ­ced Think­Cent­re M90n is also now avail­ab­le with 4G/LTE WWAN for enhan­ced high-speed con­nec­ti­vi­ty in more remo­te loca­ti­ons. As inte­gral devices wit­hin Lenovo's Smar­tEdge solu­ti­ons frame­work, the Nano IoT desk­tops can pro­cess and inter­pret data from mul­ti­ple sources (sen­sors, inver­ters, sirens, dis­plays, came­ras, and more) effi­ci­ent­ly and send only what mat­ters to the cloud or data cen­ter with redu­ced laten­cy.
Fur­ther­mo­re, Think­Cent­re devices pro­tect cri­ti­cal data and busi­ness pro­ces­ses with the rein­for­ced secu­ri­ty of ThinkS­hield solu­ti­ons. Think­Cent­re Nano desk­tops have built-in secu­ri­ty fea­tures, such as a dTPM 2.0 chip, Smart USB pro­tec­tion, indi­vi­du­al USB port dis­a­ble­ment, and a chas­sis intru­si­on switch, plus many more secu­ri­ty fea­tures that can be cus­to­mi­zed to meet your uni­que needs.
Pri­cing and Avai­la­bi­li­ty1
Think­Cent­re M75n is avail­ab­le now, star­ting at $539.
Think­Cent­re M75n IoT is avail­ab­le now, star­ting at $329.
Think­Cent­re M90n IoT is avail­ab­le now, star­ting at $539.
Visit http://www.lenovo.com/think/ for more infor­ma­ti­on.
About Leno­vo
Leno­vo (HKSE: 992) (ADR: LNVGY) is a $50 bil­li­on For­tu­ne Glo­bal 500 com­pa­ny that employs 57,000 employees and ope­ra­tes in 180 mar­kets around the world. Focu­sed on a bold visi­on to deli­ver smar­ter tech­no­lo­gy for all, we are deve­lo­ping world-chan­ging tech­no­lo­gies that crea­te a more inclu­si­ve, trust­worthy and sus­tainab­le digi­tal socie­ty. By designing, engi­nee­ring and buil­ding the world's most com­ple­te port­fo­lio of smart devices and infra­st­ruc­tu­re, we are also lea­ding an Intel­li­gent Trans­for­ma­ti­on – to crea­te bet­ter expe­ri­en­ces and oppor­tu­nities for mil­li­ons of cus­to­mers around the world. To find out more, visit https://www.lenovo.com, fol­low us on Lin­kedIn, Face­book, Twit­ter, You­Tube, Insta­gram, Wei­bo and read about the latest news via our Sto­ry­Hub.
LENOVO and THINKCENTRE are trade­marks of Leno­vo. AMD, RYZEN and ATHLON are trade­marks of Advan­ced Micro Devices, Inc. All other trade­marks are the pro­per­ty of their respec­ti­ve owners. ©2020, Leno­vo Group Limi­ted.
1 Pri­ces do not inclu­de tax and do not inclu­de ship­ping or opti­ons and are sub­ject to chan­ge without noti­ce; addi­tio­nal terms and con­di­ti­ons app­ly. Resel­ler pri­ces may vary. All offers sub­ject to avai­la­bi­li­ty. Leno­vo reser­ves the right to alter pro­duct offe­rings, fea­tures and spe­ci­fi­ca­ti­ons at any time without noti­ce.