Desi­gned for the AMD EPYC™ Platform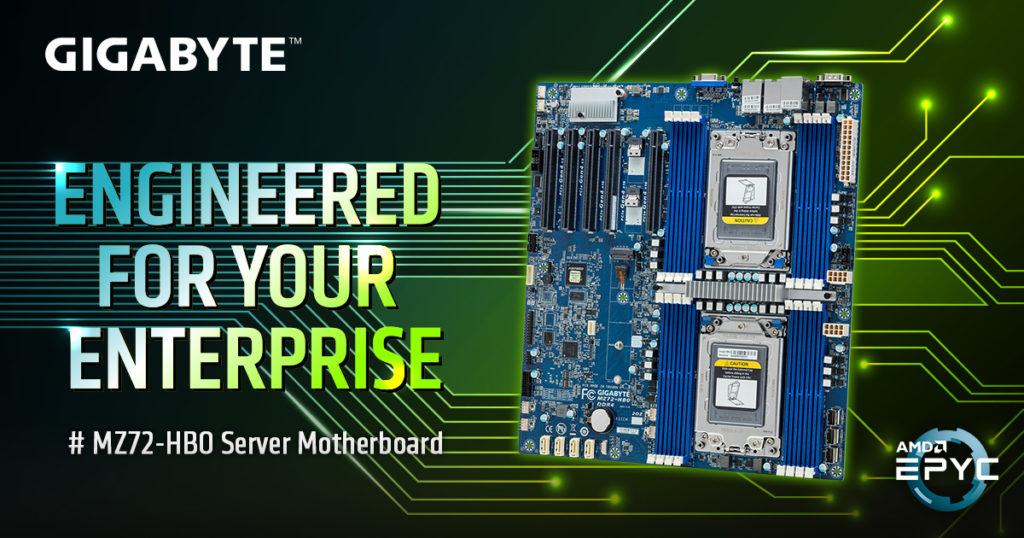 Tai­pei, Tai­wan, August 20th 2020 – GIGABYTE Tech­no­lo­gy, (TWSE: 2376), an indus­try lea­der in high-per­for­mance ser­vers and work­sta­tions, today unvei­led a new high per­for­mance mother­board desi­gned for dual AMD EPYC (Rome) pro­ces­sors. This is the first dual socket AMD EPYC mother­board by GIGABYTE, and it tar­gets small busi­nes­ses that are loo­king for high com­pu­te in a small tower or rack ser­ver. Whe­ther as a pro­fes­sio­nal work­sta­tion, sys­tem vir­tua­liz­a­ti­on, media edi­tor, or even a high-den­si­ty sto­rage ser­ver, the MZ72-HB0 is extre­me­ly fle­xi­ble and capable.
The MZ72-HB0 comes in a stan­dard E‑ATX form fac­tor giving it the fle­xi­bi­li­ty for a diver­se ran­ge of envi­ron­ments. It also caters more towards the 2nd Gen AMD EPYC line of pro­ces­sors becau­se of the addi­ti­on of PCIe 4.0, which has impro­ved speeds and band­width bene­fi­t­ing 100G/200G Ether­net, Infi­ni­Band, NVMe dri­ves, and acce­le­ra­tors. The sup­port for PCIe 4.0 extends into expan­si­on slots, whe­re the­re are five PCIe 4.0 slots that can be used for GPUs, acce­le­ra­tors, sto­rage devices, or net­wor­king. The­re are a gre­at deal of opti­ons for this mother­board, inclu­ding the abi­li­ty to hand­le a 280W AMD EPYC processor.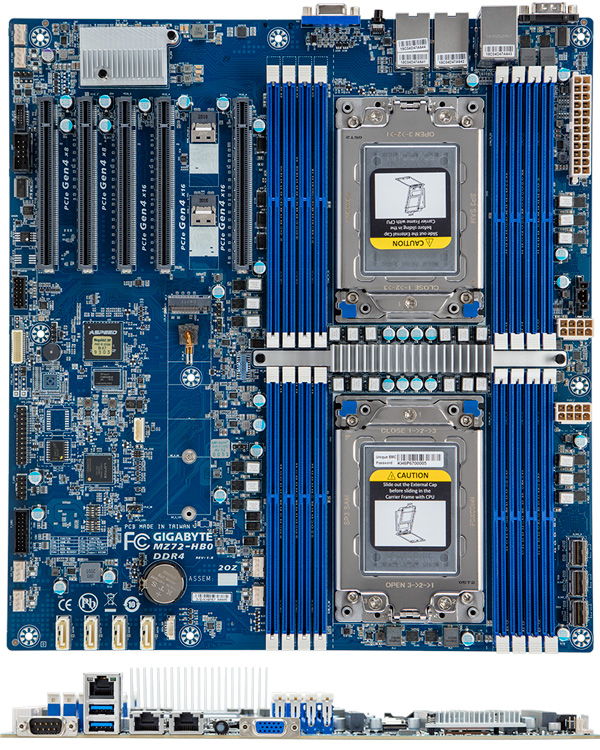 With sup­port for dual pro­ces­sors, the MZ72-HB0 has 16 DIMM slots, 8 DIMMs per CPU, and sup­port for 8 memo­ry chan­nels. This allows for DDR4-3200 in one DIMM per chan­nel, or DDR4-2933 in two DIMMs per chan­nel, and up to 4TB of memo­ry. GIGABYTE has also inclu­ded ple­nty of sto­rage and LAN ports. The sto­rage opti­ons: 4 x SATAIII, 2 x Slim­S­AS for U.2, 3 x Slim­S­AS for eit­her 12 x SATAIII or 3 x U.2, and 1 x M.2 (@Gen4 x 4). For net­wor­king, the­re is a dual-port 10GbE Broad­com con­trol­ler, and 1 mLAN port. To round it out, the­re is a manage­ment con­trol soft­ware bund­led with the MZ72-HB0.
As part of GIGABYTE's value pro­po­si­ti­on, GIGABYTE pro­vi­des GIGABYTE Manage­ment Con­so­le (GMC) for BMC ser­ver manage­ment via a web brow­ser based plat­form. Whe­ther for ser­ver moni­to­ring, updating BIOS and firm­ware, or remo­te manage­ment, GMC deli­vers. Addi­tio­nal­ly, GIGABYTE Ser­ver Manage­ment (GSM) soft­ware can be down­loa­ded and used to moni­tor and mana­ge mul­ti­ple ser­vers. GMC and GSM offer a gre­at value while redu­cing licen­se and cus­to­mer main­ten­an­ce costs.
To learn more: https://www.gigabyte.com/Server-Motherboard/MZ72-HB0-rev-1x.
For all GIGABYTE ser­vers and rela­ted pro­ducts, visit https://www.gigabyte.com/.
For fur­ther enqui­ries or assi­s­tance, con­ta­ct us direct­ly through server.grp@gigabyte.com.
* AMD, the AMD Arrow logo, EPYC and com­bi­na­ti­ons the­re­of are trade­marks of Advan­ced Micro Devices, Inc. Other pro­duct names used in this publi­ca­ti­on are for iden­ti­fi­ca­ti­on pur­po­ses only and may be trade­marks of their respec­ti­ve companies.