Impro­ved GPU Laten­cy on the AMD EPYC™ Platform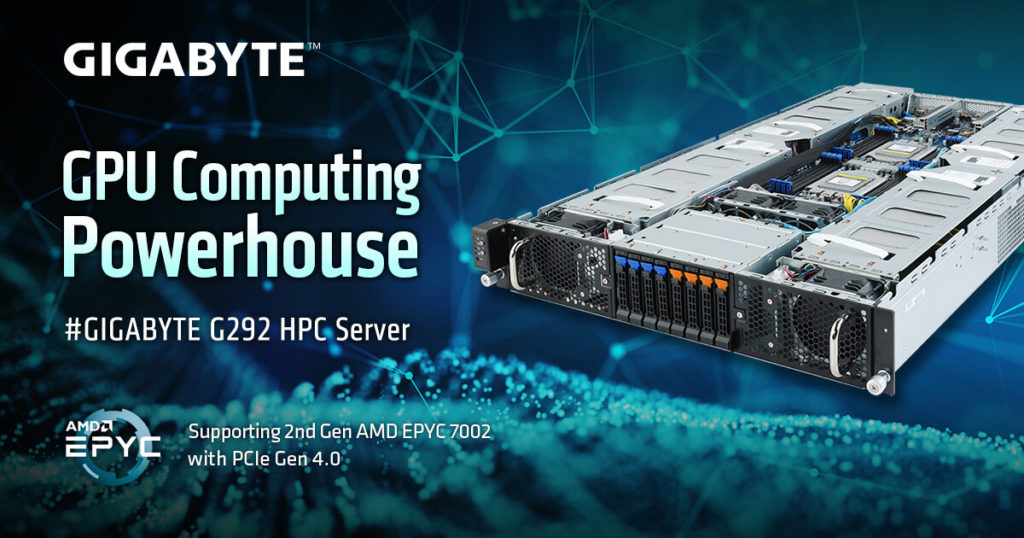 Tai­pei, Tai­wan, Sep­tem­ber 3rd 2020 – GIGABYTE Tech­no­lo­gy, (TWSE: 2376), an indus­try lea­der in high-per­for­mance ser­vers and work­sta­tions, today announ­ced two new G‑series ser­vers, G292-Z44 and G292-Z24, for sci­en­ti­fic com­pu­ting, AI, as well as data ana­ly­tics. GIGABYTE G‑series ser­vers are desi­gned for GPGPU depen­dent workloads. With the addi­ti­on of Broad­com® PCIe swit­ches, GIGABYTE ser­vers have enhan­ced the poten­ti­al for GPU com­pu­ting by expan­ding the num­ber of con­nec­ted GPUs while impro­ving latency.
Hig­her Band­width for GPUs:
On the back of the 2nd Gen AMD EPYC plat­form, expan­ding PCIe 4.0 con­nec­ti­vi­ty is one of the key fea­tures for the new 2U G292-Z44 and G292-Z24 ser­vers, and the new GIGABYTE ser­vers boost the capa­bi­li­ties of GPU acce­le­ra­tors given the ever-incre­a­sing matu­ra­ti­on of PCIe 4.0. With the 2x incre­a­se in band­width per port from pri­or genera­ti­on, trans­fer speeds bene­fit enter­pri­se level GPUs, such as the NVIDIA A100 or AMD Rade­on MI50.
Model Name

G292-Z44

G292-Z24

Pro­ces­sors
Dual
Sin­gle
Memo­ry
8‑channel

DDR4

16 DIMMs (up to

4TB

)
8 DIMMs (up to

2TB

)
Speed up to 3200MHz
PCIe Slots
8 x PCIe x16 slots (Gen4 x16) for GPUs
2 x PCIe x16 (Gen4 x16) low-pro­fi­le slots

LAN

2 x 10GbE

BASE

‑T

LAN


1 x GbE

MLAN

2 x 10GbE

SFP

+

LAN


1 x GbE

MLAN

Sto­rage
4 x

SATA

/

SAS

and 4 x U.2
6 x

SATA

/

SAS

and 2 x U.2
Impro­ved GPU to GPU latency:
More resour­ces, whe­ther GPUs or FPGAs, are nee­ded to be con­nec­ted to a sin­gle or dual CPU ser­ver. So as not to be limi­ted by the num­ber of PCIe lanes avail­ab­le, a PCIe switch expands the num­ber of con­nec­ted GPUs. Here is whe­re Broadcom's swit­ches are cru­cial. Broad­com is a lea­der in pro­du­cing PCIe swit­ches with impres­si­ve­ly low laten­cy. By uti­li­zing PCIe swit­ches, the G292-Z44 and G292-Z24 are able to have up to 8 x GPUs (Gen4 x16).
Remo­te and Mul­ti­ple Ser­ver Management:
As part of GIGABYTE's value pro­po­si­ti­on, GIGABYTE pro­vi­des GIGABYTE Manage­ment Con­so­le (GMC) for BMC ser­ver manage­ment via a web brow­ser based plat­form. Whe­ther for ser­ver moni­to­ring, updating BIOS and firm­ware, or remo­te manage­ment, GMC deli­vers. Addi­tio­nal­ly, GIGABYTE Ser­ver Manage­ment (GSM) soft­ware is free to down­load and used to moni­tor and mana­ge mul­ti­ple ser­vers. GMC and GSM offer a gre­at value while redu­cing licen­se and cus­to­mer main­ten­an­ce costs.
For the G292-Z24 visit: https://www.gigabyte.com/GPU-Server/G292-Z24-rev-100
For the G292-Z44 visit: https://www.gigabyte.com/GPU-Server/G292-Z44-rev-100
For all GIGABYTE ser­vers, visit https://www.gigabyte.com/
For fur­ther enqui­ries or assi­s­tance, con­ta­ct GIGABYTE direct­ly at server.grp@gigabyte.com
* AMD, the AMD Arrow logo, EPYC and com­bi­na­ti­ons the­re­of are trade­marks of Advan­ced Micro Devices, Inc. Other pro­duct names used in this publi­ca­ti­on are for iden­ti­fi­ca­ti­on pur­po­ses only and may be trade­marks of their respec­ti­ve companies.