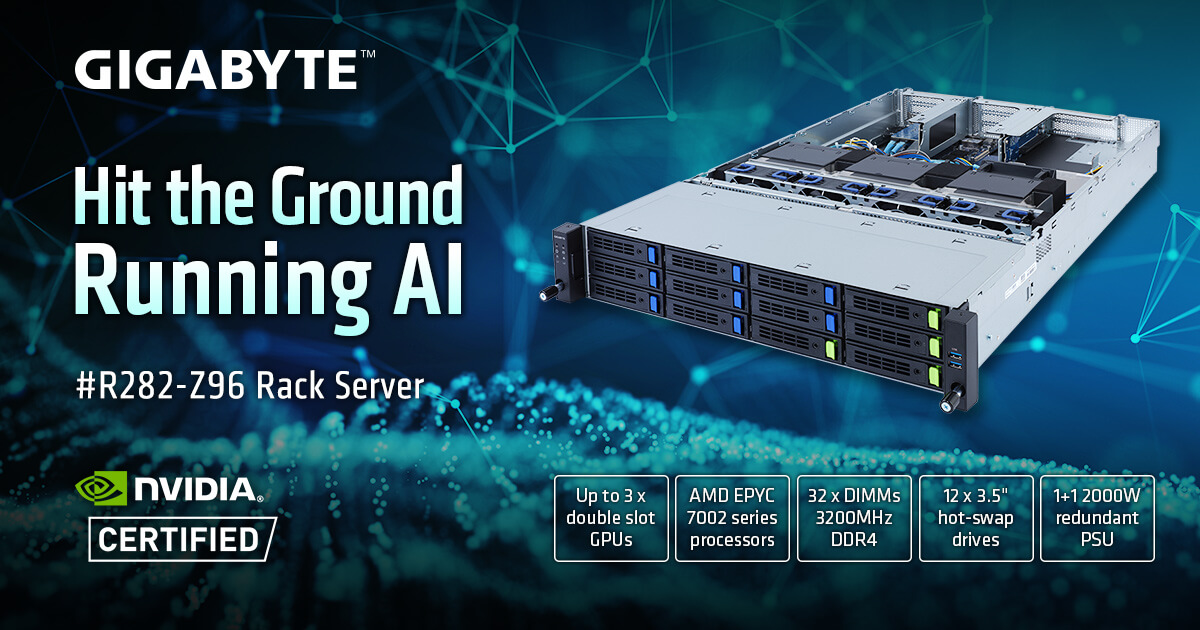 Tai­pei, Tai­wan, Janu­a­ry 26th 2021 – GIGABYTE Tech­no­lo­gy, (TWSE: 2376), an indus­try lea­der in high-per­for­mance ser­vers and work­sta­tions, today announ­ced the R282-Z96, which is a well balan­ced approach for fast sto­rage and high com­pu­te that is also one of five ser­vers by GIGABYTE in the new­ly announ­ced NVIDIA pro­gram named NVIDIA Cer­ti­fied. The pro­gram will help to ensu­re GIGABYTE ser­vers are up and run­ning quick­ly for AI workloads.
NVIDIA Cer­ti­fied:
Com­plex AI workloads, inclu­ding clus­ters, are beco­m­ing more com­mon and sys­tem inte­gra­tors and IT staff must quick­ly adapt to the chan­ging tech­no­lo­gy. In order to impro­ve sys­tem com­pa­ti­bi­li­ty and con­fi­dence, NVIDIA has intro­du­ced the NVIDIA Cer­ti­fied Pro­gram that vali­da­tes ser­vers based on hard­ware and NVIDIA NGC Catalog's soft­ware. Cur­r­ent­ly the NVIDIA Cer­ti­fied sys­tems focus on NVIDIA Ampere archi­tec­tu­re and NVIDIA Mel­lanox net­work adap­ters, but the pro­gram will expand. As well, cus­to­mers that are fami­li­ar with NVIDIA NGC Sup­port Ser­vices can use the ser­vices for NVIDIA Certified.
Intro­duc­tion to R282-Z96:
Balan­cing sto­rage volu­me and fast through­put, the R282-Z96 also has high CPU and GPU com­pu­te poten­ti­al. It is a well-balan­ced ser­ver desi­gned for various workloads. The R282-Z96 sup­ports high-end, 280W, dual AMD EPYC 7002 seri­es CPUs, and has 32 DIMMs that sup­port fast 3200MHz (2DPC) memo­ry con­fi­gu­ra­ti­on. For sto­rage, the­re are 8 x 3.5" bays for SATA dri­ves and 4 x 3.5" hybrid bays for NVMe or SATA dri­ves. SAS dri­ves are also sup­por­ted with an addi­tio­nal SAS card. For GPU com­pu­ting, 4 x full-height full-length (Gen4 x16) slots are avail­ab­le, and room for 3 x FHFL dou­ble slot GPUs. As well, net­wor­king can be expan­ded with the 2 x OCP mez­za­ni­ne slots. Onboard the mother­board is a sin­gle M.2 drive.
Model Name

R282-Z96

CPU

2 x

AMD

EPYC

7002 Seri­es Processors
Memo­ry
32 x DIMMs (3200MHz

DDR4

)
Sto­rage
8 x 3.5″/2.5″

SATA


4 x 3.5″/2.5″

SATA

/Gen4 NVMe
Expan­si­on Slots
4 x

FHFL

(Gen4 x16)
1 x

OCP

3.0 (Gen4 x16)
1 x

OCP

2.0 (Gen3 x8)
1 x M.2 (Gen4 x4)

LAN

Ports
2 x 1GbE
Power Sup­ply
1+1

2000W

80Plus Platinum
Remo­te and Mul­ti­ple Ser­ver Management:
As part of GIGABYTE's value pro­po­si­ti­on, GIGABYTE pro­vi­des GIGABYTE Manage­ment Con­so­le (GMC) for BMC ser­ver manage­ment via a web brow­ser based plat­form. Whe­ther for ser­ver moni­to­ring, updating BIOS and firm­ware, or remo­te manage­ment, GMC deli­vers. Addi­tio­nal­ly, GIGABYTE Ser­ver Manage­ment (GSM) soft­ware is free to down­load and used to moni­tor and mana­ge mul­ti­ple ser­vers. GMC and GSM offer gre­at value while redu­cing licen­se and cus­to­mer main­ten­an­ce costs.
Learn more about GIGABYTE ser­vers: https://www.gigabyte.com/
Fur­ther enqui­ries or assi­s­tance: server.grp@gigabyte.com
Fol­low GIGABYTE on Face­book: facebook.com/gigabyteserver
Fol­low GIGABYTE on Twit­ter: twitter.com/GIGABYTEServer
* NVIDIA, the NVIDIA logo, NGC, HGX, and Mel­lanox are trade­marks and/or regis­tered trade­marks of NVIDIA Cor­po­ra­ti­on in the U.S. and other coun­tries. All other trade­marks and copy­rights are the pro­per­ty of their respec­ti­ve owners.