Zum Inhalt springen
BIOSTAR

ANNOUNCES

NEW

AMD

RADEON

™

RX

6600

GRAPHICS

CARD
BOOST YOUR GAMING EXPERIENCE TO THE NEXT LEVEL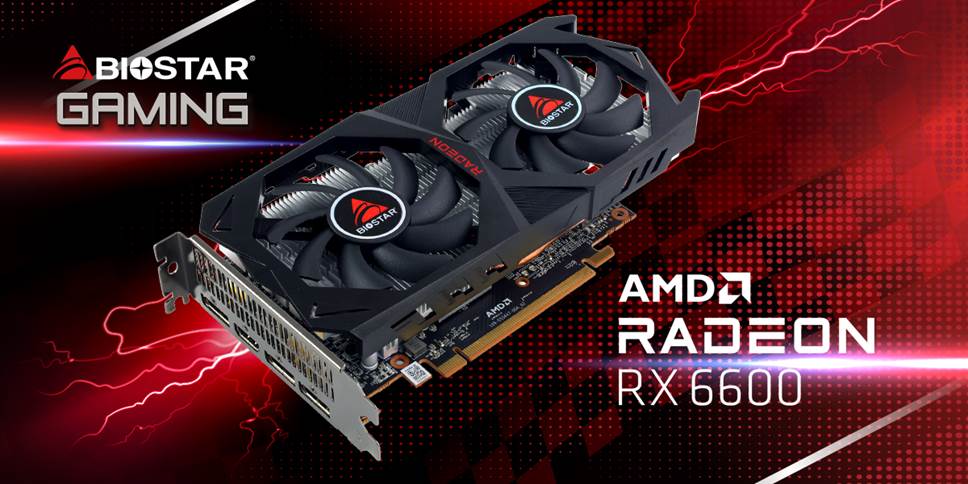 Novem­ber 2nd, 2021, Tai­pei, Tai­wan - BIOSTAR, a lea­ding manu­fac­tu­rer of mother­boards, gra­phics cards and sto­rage devices, today announ­ced the new BIOSTAR AMD Rade­on™ RX 6600 gra­phics card.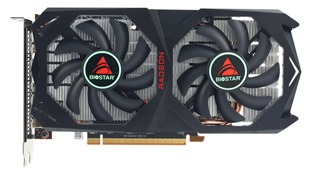 Built on the bre­akthrough AMD RDNA™ 2 gaming archi­tec­tu­re, the new BIOSTAR AMD Rade­on RX 6600 gra­phics card offers 8GB of GDDR6 memo­ry on a 128-bit bus, 32MB of high-per­for­mance AMD Infi­ni­ty Cache and sup­port for high-band­width PCI® Express 4.0 tech­no­lo­gy. Opti­mi­zed for per­for­mance, power effi­ci­en­cy and dura­bi­li­ty, the new BIOSTAR AMD Rade­on RX 6600 gra­phics card enab­les high-frame­ra­te 1080p gaming in the latest AAA titles.
The BIOSTAR AMD Rade­on RX 6600 gra­phics card offers 28 com­pu­te units with a Game Clock fre­quen­cy of 2,044 MHz and a Boost Clock fre­quen­cy of up to 2,491 MHz, enab­ling incredi­ble 1080p gaming expe­ri­en­ces without brea­king a sweat. In addi­ti­on, sup­port for Dis­play­Po­rt™ 1.4 with DSC and HDMI™ 2.1 VRR enab­les crisp, vivid video output.

Pro­vi­ding a host of addi­tio­nal advan­ced fea­tures, inclu­ding AMD Smart Access Memo­ry™, AMD Rade­on Image Shar­pe­ning, AMD Rade­on Anti-Lag tech­no­lo­gy and more, the new gra­phics card is desi­gned to bring next-genera­ti­on desk­top gaming expe­ri­en­ces to the mid­ran­ge mar­ket. It also sup­ports AMD Fide­li­ty­FX™ Super Reso­lu­ti­on, an open-source spa­ti­al ups­ca­ling solu­ti­on desi­gned to incre­a­se frame­ra­tes in select tit­les while deli­vering high-reso­lu­ti­on gaming experiences.

The new BIOSTAR AMD Rade­on RX 6600 gra­phics card is ide­al for 1080p gaming, pro­vi­ding an ide­al blend of per­for­mance and image qua­li­ty for excep­tio­nal gaming expe­ri­en­ces, and a wealth of fea­tures and the power to easi­ly out­per­form its rivals.
Con­nect with US
Face­book: www.facebook.com/BiostarHQ
Twit­ter: https://twitter.com/BIOSTAR_Global
Insta­gram: www.instagram.com/biostarofficial
Lin­kedin: https://bit.ly/3eJvF6I
You­Tube: www.youtube.com/user/BiostarTaiwan
Avai­la­bi­li­ty: http://www.biostar.com.tw/app/en/wheretobuy/index.php
BIOSTAR VIP Care: https://store.biostar.com.tw/customer

ABOUT BIOSTAR
BIOSTAR, is a pro­fes­sio­nal brand dedi­ca­ted to the pro­duc­tion of mother­boards, gaming mother­boards, SSD, gra­phics cards, indus­tri­al com­pu­ting sys­tems, IoT, cryp­to mining equip­ment, health­ca­re solu­ti­ons and motor start bat­te­ry. Sin­ce its estab­lish­ment in 1986, BIOSTAR has beco­me a major mother­board sup­plier in the IT indus­try. In order to pur­sue the best qua­li­ty and aes­the­tic design, BIOSTAR has inves­ted hea­vi­ly in ID design, equip­ment, glo­bal mar­ke­ting rese­arch as well as R&D. With a con­stant empha­sis on qua­li­ty, BIOSTAR always seeks to impro­ve bey­ond bet­ter and race to the future.