AMD hat die ers­te Ver­si­on des neu­en Gra­fik­trei­bers Rade­on Soft­ware Crim­son Edi­ti­on ver­öf­fent­licht, die eine Viel­zahl neu­er sowie ver­bes­ser­ter Fea­tures beinhal­tet. Detail­lier­te Infor­ma­tio­nen hier­zu kön­nen der zuge­hö­ri­gen News ent­nom­men wer­den. Besit­zer älte­rer Gra­fik­kar­ten soll­ten beach­ten, dass VLIW-basier­te Rade­ons nicht mehr unter­stützt wer­den – sel­bi­ges gilt für ent­spre­chen­de APUs mit VLIW-Gra­fik­kern. Für jene Model­le hat AMD einen sepa­ra­ten Beta­trei­ber bereit­ge­stellt. Das Trei­ber-Team will sich künf­tig voll­stän­dig auf die GCN-Archi­tek­tur kon­zen­trie­ren.
Eine voll­stän­di­ge Lis­te der vom Trei­ber unter­stütz­ten Hard­ware sowie sämt­li­cher beho­be­ner und bekann­ter Pro­ble­me kann den offi­zi­el­len Release Notes ent­nom­men wer­den. Soll­tet Ihr von Pro­ble­men betrof­fen sein, die dar­in nicht auf­ge­führt wer­den, dann könnt Ihr das offi­zi­el­le Cata­lyst Crew Feed­back Form ver­wen­den, um das Trei­ber-Team dar­auf auf­merk­sam zu machen. Eine Hil­fe­stel­lung für das For­mu­lar könnt Ihr hier fin­den.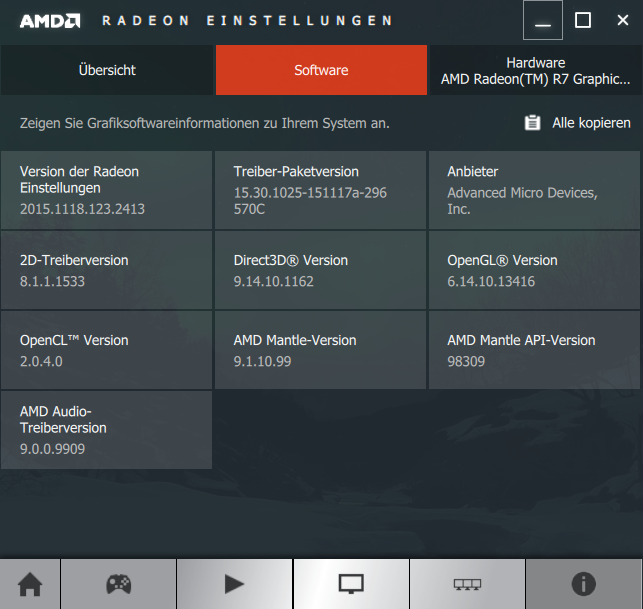 AMD Rade­on Soft­ware Crim­son Edi­ti­on WHQL — CCC-Soft­warein­for­ma­ti­on
Die Trei­ber ste­hen für Win­dows 10, 8.1 und 7 zum Down­load bereit. Win­dows 8 wur­de letzt­mals mit dem Cata­lyst 14.4 WHQL offi­zi­ell unter­stützt. Vis­ta-Nut­zer kön­nen den Win­dows-7-Trei­ber eben­falls instal­lie­ren, aller­dings hat uns AMD zu ver­ste­hen gege­ben, dass Micro­softs unge­lieb­ter Spross in der Qua­li­täts­si­che­rung und Ent­wick­lung nur noch eine unter­ge­ord­ne­te Rol­le spielt.
Was ist neu?
High­lights of AMD Rade­on Soft­ware Crim­son Edi­ti­on
Rade­on Soft­ware Crim­son Edi­ti­on is AMD's revo­lu­tio­na­ry new gra­phics soft­ware that deli­vers rede­si­gned func­tio­n­a­li­ty, super­char­ged gra­phics per­for­mance, remar­kab­le new fea­tures, and inno­va­ti­on that rede­fi­nes the over­all user expe­ri­ence.
Rade­on Set­tings:
Rade­on Set­tings is the new, stream­li­ned user inter­face, engi­nee­red to bring out the best of AMD gra­phics hard­ware. User-fri­end­ly and fea­ture-rich, Rade­on Set­tings is light­ning fast and starts upto 10x times faster1 than the pre­vious AMD Cata­lyst™ Con­trol Cen­ter. Rade­on Set­tings pro­vi­des a brand new game mana­ger, impro­ved AMD Over­dri­ve opti­ons per game and new video, dis­play and Eye­fi­ni­ty tabs.
New Install UI:
The dri­ver instal­ler now pro­vi­des a brand new, stream­li­ned user expe­ri­ence with a redu­ced num­ber of clicks requi­red, pro­vi­ding bet­ter usa­bi­li­ty and an easy to install user expe­ri­ence.
Liquid VR:
The AMD Rade­on Soft­ware Crim­son edi­ti­on is the first publicly avail­ab­le dri­ver that enab­les all Liquid­VR fea­tures, which are cur­r­ent­ly being vali­da­ted and tested by VR head­set manu­fac­tu­rers and eco­sys­tem part­ners.
Asyn­chro­nous Shaders:
A fea­ture that has been exten­si­ve­ly used by game con­so­le deve­lo­pers is now avail­ab­le to PC Gamers. Asy­chro­nous Shaders break com­plex seri­al workloads into smal­ler par­al­lel tasks, ther­e­by allo­wing idle GPU resour­ces to be used more effi­ci­ent­ly and par­al­lel workloads allow tas­kes to be com­ple­ted much fas­ter.
Shader Cache:
The shader cache fea­ture allows com­plex shaders to be cached, ther­e­by resul­ting in redu­ced game load times, lower CPU usa­ge and redu­ced stut­te­ring and laten­cy during gameplay2.
Opti­mi­zed Flip Queue Size:
The opti­mi­zed Flip Queue Size pro­vi­des users with the very latest key­board and mou­se posi­tio­nal infor­ma­ti­on during game­play to redu­ce input laten­cy on Direc­tX 9 , Direc­tX 10 and Direc­tX 11 app­li­ca­ti­ons. This fea­ture is a dri­ver opti­mi­za­ti­on, the­re­fo­re it is auto­ma­ti­cal­ly enab­led and requi­res no user con­fi­gu­ra­ti­on or set­up.
Free­sync Enhan­ce­ments:
Minimum/Maximum dis­play rate is now listed in Rade­on Set­tings
Low frame­ra­te com­pen­sa­ti­on to redu­ce or eli­mi­na­te jud­der when app­li­ca­ti­on

FPS

falls below the mini­mum refresh rate of an

AMD

Free­sync enab­led dis­play
New sup­port for

AMD

Free­sync with

AMD

Cross­fire in Direc­tX 9 tit­les
Custom Reso­lu­ti­on Sup­port:
This fea­ture pro­vi­des users more con­trol over dis­play capa­bi­li­ties allo­wing the user to crea­te custom dis­play pro­files to attempt to dri­ve their dis­play with cho­sen reso­lu­ti­on, timings, refresh rates and pixel clocks.
Frame Pacing Enhan­ce­ments:
Frame pacing sup­port is now exten­ded to Direc­tX 9 tit­les.
Frame Rate Tar­get Con­trol Enhan­ce­ments:
FRTC enhan­ce­ments inclu­de: power saving capa­bil­ty, sup­port for Direc­tX 9 tit­les and an exten­ded ran­ge for tar­get con­trol (30 — 200 FPS).
Updated Video Fea­ture sup­port for 'Car­ri­zo' pro­duc­ts:
Fluid­Mo­ti­on for smoot­hing play­back of 24/30

FPS

video using Cyber­link Power­DVD 15 for Blu-Ray play­back
Impro­ved edge enhan­ce­ment for shar­per images
Impro­ved de-interlacing for inter­la­ced con­tent
Power Opti­mi­za­ti­on:
Impro­ved power opti­mi­za­ti­ons for video, gaming and FRTC enab­led gaming envi­ron­ments (AMD Rade­on R7 360, AMD Rade­on R9 380, AMD Rade­on R9 390 series and AMD Rade­on Fury series)..
Direc­tio­n­al Sca­ling:
Enhan­ced image qua­li­ty for 1080p media con­tent sca­led to 4K reso­lu­ti­on using adap­ti­ve direc­tio­n­al fil­te­ring tech­no­lo­gy (AMD Rade­on Fury pro­duc­ts).
Dyna­mic Con­trast Update:
Quala­ti­ve chan­ges are now con­tent adap­ti­ve and pro­vi­des video enthu­si­asts with impro­ved video qua­li­ty and con­trast set­tings (AMD Rade­on R8 285, AMD Rade­on R9 380 and AMD Rade­on Fury pro­duc­ts).
Dis­play­Port to HDMI 2.0 sup­port:
Pro­vi­des full sup­port for Dis­play­Port to HDMI 2.0 con­nec­tions via cer­ti­fied don­gles.
Resol­ved Issu­es:
[57198]

GTA

V — game cras­hes with a

TDR

error
[59298] Final Fan­ta­sy

XIV

: Hea­vens­ward — game cras­hes when run in Direc­tX 11 mode on some

AMD

Rade­on

R9

390x series pro­duc­ts
[76921] The

AMD

Rade­on Set­tings app­li­ca­ti­on will use the sys­tem default brow­ser when laun­ching web con­tent
[77703] A crack­ling noi­se is heard when run­ning a

3D

app­li­ca­ti­on in

AMD

Cross­fire mode with Vsync enab­led
[78455] Auto­desk Max 2016 — A crash may be expe­ri­en­ced when laun­ching the app­li­ca­ti­on on some

AMD

Rade­on pro­duc­ts
[78465] Prepar3D — A

TDR

error may be expe­ri­en­ced when laun­ching the app­li­ca­ti­on on some

AMD

Rade­on

R9

200 and

AMD

Rade­on

R9

300 series pro­duc­ts
[80838] A

TDR

error may be expe­ri­en­ced when play­ing full­screen video using the Win­dows 10 Movies

&

TV

app on some lap­tops with

AMD

pro­ces­sors and

GPU

's
[80840] Assassin's Creed Syn­di­ca­te — Poor sca­ling may be expe­ri­en­ced when laun­ching the game in

AMD

Cross­fire mode
[80939] Secon­da­ry adap­ter may dis­play error code 43 when enabling/disabling

AMD

Cross­fire
[81499]

AMD

Free­sync does not func­tion on some Intel +

AMD

lap­top sys­tems under Win­dows 7 and Win­dows 8.1
[81531] Assassin's Creed Syn­di­ca­te — Fli­cke­ring may be obser­ved on rain drops that fall on in game cha­rac­ters
[81593] A

BSOD

error may be encoun­te­red when laun­ching Blu­ray / Win­dows Media Play­er with a wire­less dis­play
[81790] Sky­pe — The sys­tem may hang when con­nec­ting to a 1080p video call
[81827] Tom Clancy's Rain­bow Six Sie­ge — Ran­dom cor­rup­ti­on may be expe­ri­en­ced in-game
[99999]

AMD

Free­sync™ does not func­tion if a You­tube video is play­ing along­si­de a

3D

app­li­ca­ti­on
Issu­es Resol­ved sin­ce AMD Cata­lyst 15.7.1 and inclu­ded in this dri­ver
[58233] Ashes of the Sin­gu­la­ri­ty may fail to launch on some GPUs with

2GB

Video Memo­ry.
[58435] Dri­ver instal­la­ti­on may halt on some con­fi­gu­ra­ti­ons
[58450] Some

BENQ

144hz Free­sync moni­tors may lose the signal while unin­stal­ling the dri­ver
[58485] Anti-Alia­sing set­tings not being retai­ned after chan­ges are app­lied
[58495] DiRT Ral­ly cras­hes during game­play and bench­mar­king when laun­ched in Direc­tX 11 mode on some

BENQ

144HZ

Free­sync moni­tors
[58646] Assassin's Creed Unity may expe­ri­ence minor frame stut­ter when

AMD

Cross­Fire mode is enab­led
[58677] World of War­ships may crash on some

AMD

Rade­on

HD

5000 and

HD

6000 series pro­duc­ts
[58781] The Direc­tX Dia­gnostic tool does not report Direc­tX 12 avail­ab­le on sup­por­ted pro­duc­ts
[58800] Dra­gon Age: Inqui­si­ti­on may crash if laun­ched in Mant­le mode
[59081] The

AMD

Cata­lyst Con­trol Cen­ter 'update' opti­on fails to down­load the latest dri­ver
[59403] Ashes of the Sin­gu­la­ri­ty - A 'Dri­ver has stop­ped respon­ding' error may be expe­ri­en­ced in Direc­tX 12 mode
[59474] Dia­blo 3 cras­hes in the Act 2 Deso­la­te Sands area of the game
[76924] A

TDR

error may be expe­ri­en­ced while toggling bet­ween mini­mi­zed and maxi­mi­zed mode while viewing

4K

You­Tube con­tent
[76930] Inter­mit­tent play­back issu­es with Cyber­link Power­DVD when con­nec­ting to a

3D

dis­play with an

HDMI

cable
[77073] Star Wars: Battle­front is able to use high per­for­mance gra­phics when laun­ched on mobi­le devices with swit­cha­ble gra­phics
[77176] A

TDR

error is expe­ri­en­ced when laun­ching Star Wars: Battle­front while a You Tube video plays in the back­ground
[77255] The secon­da­ry gra­phics adap­ter is mis­sing in the Device Mana­ger and the

AMD

Cata­lyst Con­trol Cen­ter after instal­la­ti­on of the dri­ver
[77754] A

TDR

error or crash is expe­ri­en­ced when run­ning the Unre­al Engi­ne 4 Direc­tX bench­mark
[77786] Video play­back of

MPEG2

video fails with a play­back error/error code mes­sa­ge
[77970] Ashes of the Sin­gu­la­ri­ty may crash on some

AMD

300 series GPUs
[78654] An error may be expe­ri­en­ced when instal­ling the latest gra­phics dri­ver packa­ge on some

AMD

Rade­on

R9

380 series pro­duc­ts
[79577] The Intel gra­phics is flag­ged in an error sta­te in the Device Mana­ger in sys­tems with swit­cha­ble gra­phics
[79796] The Ocu­lus run­ti­me may crash on launch
[419871]

BSOD

obser­ved when per­forming an express unin­stall of the dis­play dri­ver in

4K

reso­lu­ti­on
[421165] Battle­field Hard­li­ne beco­mes unre­spon­si­ve after toggling the in-game Vsync opti­on.
[421444] Trans­coded clips may fail to play on some Drag and Drop devices
[421570] Audio dri­ver is ban­ged out for non-pri­ma­ry

ASIC

after enab­ling

CF

and reboo­ting sys­tem
[422056] 3DMark Faran­do­le may crash when

AMD

Mant­le is selec­ted from the test sui­te
[422249] A 'mis­sing Dll' error mes­sa­ge may be expe­ri­en­ced while doing an express unin­stall of the cur­rent dri­ver
[422249]

DLL

mis­sing popup mes­sa­ge may be encoun­te­red when per­forming an express unin­stall of the dis­play dri­ver.
[422261] Mant­le-based app­li­ca­ti­on may crash when sys­tem is woken from sleep mode
[422273] A crash may be expe­ri­en­ced on some

AMD

Rade­on

R9

300 series pro­duc­ts while run­ning the Uni­ge­ne bench­mark
[422291] Battle­field™ 4 may crash if run in Mant­le mode with

AMD

Cross­fire enab­led
[422342] Cyber­link Power­DVD plays

3D

con­tent in

2D

mode
[422621] With quad

AMD

Cross­Fire mode enab­led,

TDR

or blank dis­play occurs when laun­ching Direc­tX 9 app­li­ca­ti­on in full screen
[422671] Fli­cke­ring cor­rup­ti­on may occur in Dirt Ral­ly with Advan­ced Blen­ding enab­led
[422674] Cor­rup­ti­on may occur in DiRT Ral­ly with

CMAA

enab­led with Por­trait

SLS

and

AMD

Cross­Fire mode enab­led
[422675] Inter­mit­tent

BSOD

occurs when laun­ching a race in Dirt Ral­ly
[422797] Dis­play pro­files are not retai­ned after dri­ver upgrade from 14.502 to 15.20
[422800] Some "Kave­ri" APU-based sys­tems may expe­ri­ence minor per­for­mance drop on PCMark8 video_group_chat

&

Casu­al Gaming tests
[422806] Battle­field Hard­li­ne cras­hes on pres­sing Ctrl+Alt+Del while run­ning in

AMD

Mant­le mode
[422853] Some sys­tems expe­ri­ence a minor per­for­mance drop from 15.15 to 15.20 in The Wit­cher 3: Wild Hunt with Hair­Works enab­led
[423759] Unab­le to app­ly Fill mode in Eye­fi­ni­ty if 2560x1600 and 2560x1440 reso­lu­ti­ons are used tog­e­ther
[423924] Unab­le to crea­te an Eye­fi­ni­ty

SLS

if one of the dis­plays is a

MST

dis­play device
[425417] Win­dows 10 dri­ver instal­la­ti­on may halt on some sys­tems with an

AMD

990FX

chip­set and

AMD

Cross­Fire enab­led.
[425432] Some

BENQ

144hz Free­sync moni­tors may lose the signal while unin­stal­ling the dri­ver
[425484] DiRT Ral­ly cras­hes during game­play and bench­mar­king when laun­ched in Direc­tX 11 mode on some

BENQ

144HZ

Free­sync moni­tors
[425496] Mad Max - Color cor­rup­ti­on is obser­ved when Alt+Ctrl+Del is pres­sed fol­lo­wed by the Escape key
[425659] Assassin's Creed Unity may expe­ri­ence minor frame stut­ter when

AMD

Cross­Fire mode is enab­led
Known Issu­es:
[58978] Dirt Ral­ly — A crash may be expe­ri­en­ced star­ting a new race with

AMD

Cross­fire and

AMD

Free­sync enab­led
[78139] Power­DVD —

3D

play­back may fail on some con­fi­gu­ra­ti­ons using an

HDMI

2.0 don­gle
[79428] Star­craft 2: Fli­cke­ring may be obser­ved in the 'Epi­so­de 3' cam­pai­gn
[80251] Fab­le Legends: The Direc­tX 12 bench­mark may fail to launch on some con­fi­gu­ra­ti­ons
[80836] Call of Duty: Black Ops 3 — Fli­cke­ring or poor per­for­mance may be expe­ri­en­ced when run­ning in

AMD

Cross­fire mode
[81402] Assassin's Creed Syn­di­ca­te — A crash may be expe­ri­en­ced when set­ting game to Ultra-High gra­phics mode
[81403] Fli­cke­ring may be obser­ved on some Free­sync moni­tors while play­ing Wol­fen­stein — The New Order and Battle­field: Hard­li­ne with Vsync dis­ab­led
[81448] A sys­tem restart may be expe­ri­ence when waking the sys­tem from sleep mode on some sys­tems with Intel pro­ces­sors
[81489] Unab­le to crea­te 4x1 or 2.1 por­trait mode

SLS

with

4K

dis­plays
[81651] Star Wars: Battle­front — tex­tu­re cor­rup­ti­on may be expe­ri­en­ced if the game "Field of View" set­ting is > 100
[81736] Call of Duty Online — the game may crash if the Print­s­creen key is pres­sed on a

4K

moni­tor
[81777] Laun­ching a game from the Game Mana­ger may launch on a sin­gle dis­play after enab­ling and dis­ab­ling

AMD

Cross­fire in a 3x1

AMD

Eye­fi­ni­ty set­up
[81809] A crash may be expe­ri­en­ced if an

HDMI

dis­play is a clo­ned dis­play device on an

HP

Envy 15 note­book
[81844] Unab­le to chan­ge reso­lu­ti­on if a wire­less dis­play is the only con­nec­ted dis­play
[81856] Mar­gi­nal­ly increa­sed power con­sump­ti­on may be obser­ved during video play­back
[81859] Fli­cke­ring may be expe­ri­en­ced on some moni­tors when

AMD

Free­sync is enab­led
[81915] Assassin's Creed Syn­di­ca­te — Buil­ding tex­tures may be mis­sing on some

AMD

Free­sync dis­plays with Vsync enab­led
[82083] Ark Sur­vi­val Evol­ved — Poor per­for­mance may be expe­ri­en­ced when run­ning in

AMD

Cross­fire mode
[82093] Star Wars : Battle­front — Some fli­cke­ring may be expe­ri­en­ced in shaded are­as of the screen while game levels are loa­ding
[82213] Star Wars : Battle­front — Some users may expe­ri­ence minor fli­cke­ring or cor­rup­ti­on at dif­fe­rent game loca­ti­on or while viewing the in-game cine­ma­tics
[82387] Assassin's Creed Syn­di­ca­te — The game may crash if the Gaming Evol­ved "In Game Over­lay" is enab­led. A tem­pora­ry work­around is to dis­able the

AMD

Gaming Evol­ved "In Game Over­lay"
Download:
Der AMD Cata­lyst Mobi­li­ty für alle AMD Rade­on R9 M200 sowie R9 M300 Series wur­de eben­falls aktua­li­siert und bie­tet offi­zi­ell auch Unter­stüt­zung für die Endu­ro-Tech­no­lo­gie. Fol­gen­de Note­books wer­den aller­dings nicht offi­zi­ell von dem Trei­ber­pa­ket unter­stützt:
Any note­book laun­ched after this dri­ver release.
Toshi­ba note­books (plea­se check with your note­book

OEM

for dri­ver sup­port for the­se note­books)
Sony

VAIO

note­books (plea­se check with your note­book

OEM

for dri­ver sup­port for the­se note­books)
Pana­so­nic note­books (plea­se check with your note­book

OEM

for dri­ver sup­port for the­se note­books)
Kom­plett­pa­ke­te für Note­books:
Links zum The­ma: