Der "DRAM Cal­cu­la­tor for Ryzen" hilft beim Über­tak­ten des Arbeits­spei­chers auf Platt­for­men mit AMDs Ryzen-Pro­zes­so­ren, indem auf Basis der Daten des ein­ge­setz­ten Arbeits­spei­chers Vor­schlä­ge für die Ein­stel­lun­gen der Timings gemacht wer­den.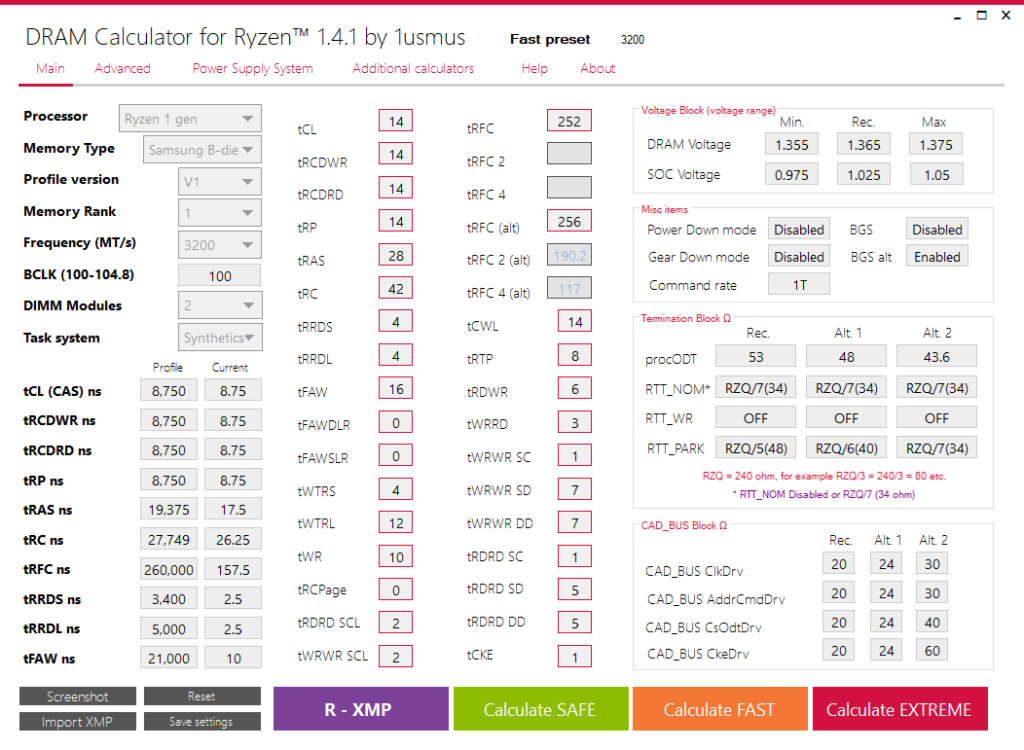 v1.5.0.5 (May 7th, 2019)

Fixed crash when you click "save set­tings" on Main tab
Fixed error in the names (

RRDS

/

RRDL

), tab MEM­bench
Updated infor­ma­ti­on in the tab "About"
Fixed

AFR

save pre­set (3200–3333mhz)

v1.5.0 (May 7th, 2019)

Main Chan­ges

Added fea­ture to com­pa­re cur­rent sys­tem timings with recom­men­ded ones. Turns on with the but­ton "Com­pa­re timings".
Added the abi­li­ty to select the topo­lo­gy of the mother­board. Sheet box with the name "Topo­lo­gy". The mea­ning of this under­ta­king is a more accu­ra­te pre­dic­tion of pro­cODT /

RTT

set­tings. Of cour­se, the func­tion is not per­fect and with each update of the cal­cu­la­tor the pre­dic­tion accu­ra­cy will increa­se.
Par­ti­al­ly clea­ned the "Main" tab of infor­ma­ti­on that is not used and clut­ters the user inter­face. This is a small advan­ce towards the ease of use of this app­li­ca­ti­on.

SOC

vol­ta­ge pre­dic­tion blocks have under­go­ne signi­fi­cant chan­ges for each genera­ti­on of Ryzen pro­ces­sors.
Ano­t­her recom­men­da­ti­on is tem­pora­ri­ly added to the

CAD_BUS

block.
Recy­cling of most pre­sets for each type of memo­ry. The rea­son is simp­le — new bios make new adjust­ments.
Block "Misc items" recei­ved new pre­dic­tion algo­rithms. In par­ti­cu­lar, the

GDM

pre­dic­tion.
Impro­ved sup­port for sys­tem con­fi­gu­ra­ti­ons con­sis­ting of 4 DIMMs.
Impro­ved algo­rithm for cal­cu­la­ting pro­files "Debug".
Cor­rec­tions of sud­den crash pro­grams in the cal­cu­la­ti­ons.
Fixed a pro­blem when during the import of the html pro­fi­le the memo­ry type was auto­ma­ti­cal­ly swit­ched to Sam­sung b‑die mode.
Added but­ton link to sys­tem set­up gui­de using Ryzen

DRAM

Cal­cu­la­tor. This but­ton is loca­ted in the "Help" tab.
Updated infor­ma­ti­on in the "About" tab and added feed­back to me via Twit­ter.

Key fea­tures of MEM­bench

Sup­port for pro­ces­sors with 1 to 32 threads (tem­pora­ry restric­tions) .
Error wit­hin 0.5%.
Auto­ma­tic deter­mi­na­ti­on of the num­ber of threads in the sys­tem.
Uni­fied rating for desk­top and

HEDT

pro­ces­sors (

AMD

and Intel).
Qua­li­ta­tively imple­men­ted mul­ti-threa­ding.
Thanks to the

HCI

6 ker­nel (free­ware), this pro­duct is free for the end user. I also want to note that this ver­si­on is not modi­fied (does not con­tain hacks).
Com­ple­te absence of the influ­ence of the pro­ces­sor fre­quen­cy on the bench­mark result.
The result is affec­ted by each timing (pic­tu­re with the­mes, see below).
Abi­li­ty to work in the mode of ordi­na­ry memo­ry check with a fixed delay­ed stop at a cer­tain sta­ge and this sta­ge is deter­mi­ned by you.
Four pre­sets for ben­ching "Easy mode", "Default mode", "Custom mode" and "Mem­test".
Easy mode is desi­gned spe­ci­fi­cal­ly for sys­tems with a small amount of instal­led

RAM

.
Easy to use bench­mark, you need to select only MEM­bench mode and click "Run".
Pro­vi­si­on of full-fled­ged sys­tem infor­ma­ti­on for the Ryzen pro­ces­sors (for Intel, the timing-deter­mi­ning block is not yet con­nec­ted).
Abi­li­ty to save two own results for fur­ther com­pa­ri­son.
Dis­play infor­ma­ti­on in the chart.
A win­dow-table with infor­ma­ti­on about the cur­rent sta­te of ben­ching or memo­ry che­cking.

"

Screen­shot" But­ton
All pos­si­ble pro­tec­tion against situa­ti­ons of low memo­ry in the sys­tem.
Does not use swap file.
Loy­al stress

CPU

test in "Default mode".
Down­load: DRAM Cal­cu­la­tor for Ryzen v1.5.0.5 — Win 10, 8, 7 (32 Bit & 64 Bit)
Links zum The­ma: