Der "DRAM Cal­cu­la­tor for Ryzen" hilft beim Über­tak­ten des Arbeits­spei­chers auf Platt­for­men mit AMDs Ryzen-Pro­zes­so­ren, indem auf Basis der Daten des ein­ge­setz­ten Arbeits­spei­chers Vor­schlä­ge für die Ein­stel­lun­gen der Timings gemacht wer­den.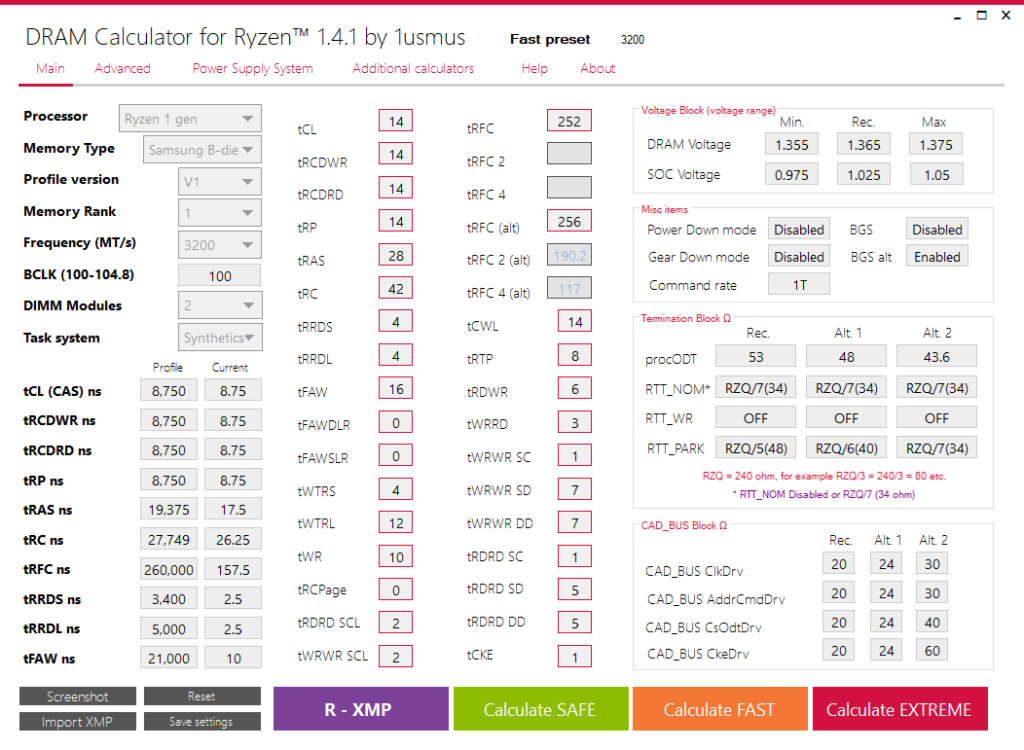 DRAM Cal­cu­la­tor for Ryzen 1.5.1 chan­ge­log

Updated Micron E / H die pre­sets (3533 max)
Debug pro­fi­le is avail­ab­le only for

SAFE

pre­sets (in case if do not start the sys­tem when using

V1

or

V2

).
Minor adjust­ments to cal­cu­la­te Debug pro­files.
Small chan­ges in pre­sets for Sam­sung b‑die.
Redu­ced activa­ti­on time for tool­tips for the Main tab.
Added hint for "Topo­lo­gy".
Fix crash pro­gram due to incor­rect saving of user set­tings.
For

OEM

, the fre­quen­cy limit has been increa­sed to 3533.
Cos­me­tic edits in the About tab.
Added links to Ger­man and Ukrai­ni­an com­mu­nities.

MEM­bench 0.7 chan­ge­log

Fixed a glo­bal error when the app­li­ca­ti­on refu­sed to start due to an incor­rect request for sys­tem infor­ma­ti­on (Sys­tem info).
Fixed a bug when star­ting the

RTC

degra­ded the speed of MEM­bench.
Fixed a bug whe­re empty Ram size or Task Scope fields cau­sed sys­tem cras­hes.
Impro­ved accu­ra­cy of results + increa­se the speed of the bench­mark.
Added an alter­na­ti­ve mode Stop at (task mode) — Total. Now he is reco­men­ded for bench­mark. Of cour­se, you can activa­te the old Sin­gle mode, but the results will be wor­se.
Remo­ved the out­put of infor­ma­ti­on about the speed of the test. This para­me­ter was used to debug MEM­bech and is not valu­able to users.
Added pop-up hints for MEM­bench.
A slight chan­ge in the color sche­me MEM­bench. Color graphs vary depen­ding on the mode used. Thanks to this, in the future it will be easier for you to reco­gni­ze the mode in which the test was done.
Added sys­tem time in Sys­tem info. Vali­da­ti­on time is a pre­re­qui­si­te.
Added "Max

RAM

" but­ton. Cal­cu­la­ti­on of the maxi­mum-free ammount of

RAM

. Ide­al for Mem­test mode.
Fixed a bug whe­re the app­li­ca­ti­on allo­wed Mem­test to run when the­re was a shor­ta­ge of

RAM

.
Added but­ton-link to MEM­bench results page.
Down­load: DRAM Cal­cu­la­tor for Ryzen v1.5.1 (Win 10, 8, 7 (32 Bit & 64 Bit))
Links zum The­ma: