Abseits der schlagzeilenträchtigen High-End-Hardware hat AMD die Tage eine neue GPU-Familie für den embedded Bereich vorgestellt, die AMD Embedded Radeon E9170 Series. Sie basiert auf der 2016 präsentierten Polaris-Architektur und soll neue Maßstäbe setzen in Sachen Performance pro Watt.
Key Application Benefits of the E9170 Series
Digital casino games: Helping reduce energy consumption and operating costs, the E9170 Series GPU cuts down on operating costs for entry level and midrange casino gaming systems, as well as lowers thermal dissipation that impacts facility air conditioning costs. Support for five independent and simultaneous displays allows companies to create an eye-catching experience with more pixels and more action. DirectX® 12 support enables higher frames per second and reduced latency, and cross-platform Vulkan® API support helps ensure better image quality while decreasing CPU processing bottlenecks.
Thin clients: Thin clients powered by the E9170 Series GPU can have a smaller hardware footprint than traditional PC systems, and can have lower heat output and provide cooler workspaces in densely-staffed and space-constrained environments such as stock exchange trading floors. Additionally, 4K graphics resolution provides crisp visual clarity when thin clients are in split-screen display mode, improving the end-user experience.
Medical displays: The high-performance 4K graphics resolution in the E9170 Series GPU helps improve the accuracy of clinical diagnoses in X-Ray machines and ultrasounds as well as with bone tissue and analysis, helping medical professionals to enhance patient care.
Retail and digital signage: Cost-conscious signage companies integrating the E9170 Series GPU can drive up to five simultaneous 4K displays for a stunning visual experience that holds viewer attention without incurring a premium processor price.
Industrial: The Radeon E9170 Series GPU in the reliable MCM format enables the stability required for the most stringent shock and vibration tests in environments such as airplane cockpits, in addition to driving multiple displays.​​
Die Eckdaten lauten wiefolgt: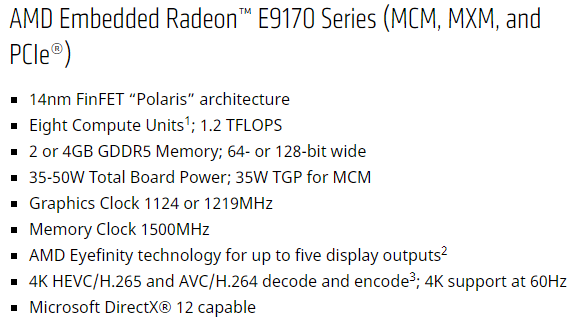 Folgende Modelle sind zu erwarten:




Quelle: Pressemitteilung