Zum Inhalt springen
Schlagwort:
Epyc 9004
Für die am 10. Novem­ber von AMD vor­ge­stell­ten Epyc 9004 Ser­ver­pro­zes­so­ren der vier­ten Zen-Genera­ti­on rei­chen wir hier die bei­den Prä­sen­ta­ti­on "EPYC 9004 LAUNCH — KEYNOTE PRESENTATION" und "4TH GEN AMD EPYC CPU ARCHITECTURE" noch nach. (…) Wei­ter­le­sen »
New 2‑
GPU

pedestal design, high-density with front I/O and all-flash storage servers maximize performance and energy efficiency for the data center

[cap­ti­on id="attachment_67032" align="aligncenter" width="900"]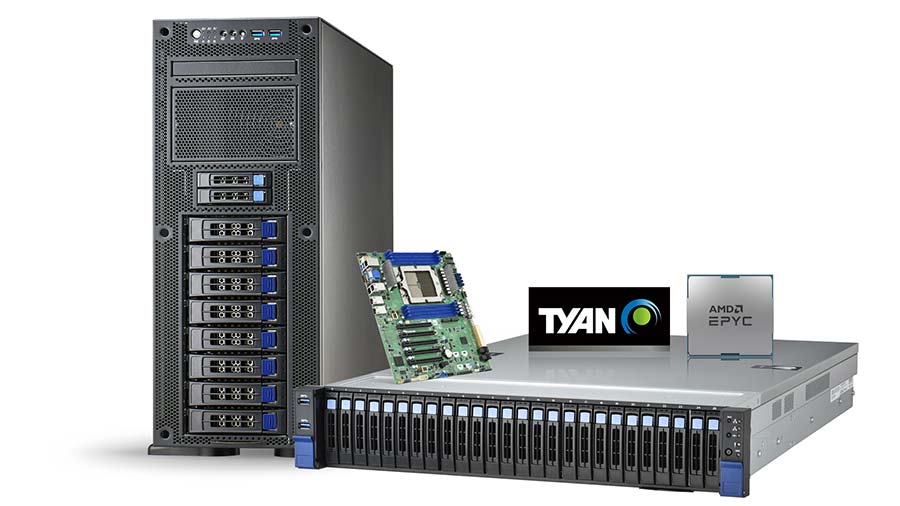 Pro­ducts :
S8050
FT65TB8050
GC68AB8056
TS70AB8056
TS70B8056
[/caption]
Dal­las, Texas – Super­com­pu­ting 2022 – Nov 15, 2022 – TYAN®, an indus­try-lea­ding ser­ver plat­form design manu­fac­tu­rer and a MiTAC Com­pu­ting Tech­no­lo­gy Cor­po­ra­ti­on sub­si­dia­ry, brings the latest HPC, cloud and sto­rage plat­forms powe­red by AMD EPYC™ 9004 Seri­es pro­ces­sors for the next genera­ti­on ser­ver archi­tec­tu­re and ener­gy effi­ci­en­cy at SC22, Booth #2000 in the Kay Bai­ley Hut­chi­son Con­ven­ti­on Cen­ter Dal­las on Novem­ber 14–17.
"Facing the post-COVID eco­no­my world, data cen­ters are requi­red to build on more envi­ron­ment­al­ly friend­ly, secu­re and fle­xi­ble fea­tures to respond to the gro­wing of tele­wor­king, video strea­ming, IoT and 5G," said Dan­ny Hsu, Vice Pre­si­dent of MiTAC Com­pu­ting Tech­no­lo­gy Corporation's Ser­ver Infra­st­ruc­tu­re BU. "TYAN's new ser­ver plat­forms, powe­red by 4th Gen AMD EPYC pro­ces­sors, effi­ci­ent­ly enab­le data cen­ters by doing more tasks with the same num­ber of ser­vers." (…) Wei­ter­le­sen »
Over 90%-lower fan power con­sump­ti­on for huge saving on data cen­ter ope­ra­ti­on Supe­ri­or liquid-coo­­ling solu­ti­ons: Over 90%-lower fan power con­sump­ti­on for huge saving on data-cen­­ter ope­ra­ti­ons New ther­mal design: Hard-dri­­ve tray design with 44%-wider ven­ti­la­ti­on holes, plus opti­mi­zed lay­out to mini­mi­ze impe­dance and enhan­ce air­flow No. 1 Bench­mark: World-record-set­­­ting per­for­mance with 24 results on the latest SPEC CPU2017 (…) Wei­ter­le­sen »